July 1994 Articles
Cover Story
Allen Howie
Features
Wally Stewart
Paul Moffett
Columns
Berk Bryant
Jim Galipeau
Jan Winders
Paul Moffett
Henry C. Mayer
Keith Clements
Todd Hildreth
Darrell Elmore
Duncan Barlow
Alan Rhody
CD Reviews
Mark Clark
Kevin Gibson
Kory Wilcoxson
Kory Wilcoxson
Allen Howie
John Goodin
Kory Wilcoxson
Mark Clark
Allen Howie
Kory Wilcoxson
Mark Clark
Kevin Gibson
Allen Howie
Kevin Gibson
Bob Bahr
Performance Reviews
Paul Moffett
Michael Campbell
Todd Hildreth
Jean Metcalfe
Life Of The Party
Mike Swayze
John Goodin
Allen Howie
William Brents
Jean-Marie Ebel
Interviews
Bob Bahr
Paul Moffett
Paul Moffett
Preview
Jean Metcalfe
Bob Bahr
Photos
Letha Marshall
LASC
Jean Metcalfe
Jean Metcalfe
Bookmark Louisville Music News.net with these handy
social bookmarking tools:
Available RSS Feeds
- Top Picks
- Today's Music
- Editor's Blog
- Articles
Add Louisville Music News' RSS Feed to Your Yahoo!

Phoenix Hill Tavern Opens Deck Bar
By Paul Moffett
The Deck, which has been open since Derby Week, is merely the latest extension of the Phoenix, which has grown steadily since its beginning in what is now the Taproom. With entrances at either end, one into the game arcade, the other into the rear entrance of the Saloon, close by the stairs rising to the Roof Garden, the number of possible paths through the club is accordingly increased. The result is that patrons, once in the club, are likely to stay longer, wander more and, of course, spend more money.
Paralleling the rest of the club, the Deck has a very long covered bar, table seating under umbrellas and music, both recorded and live. A deejay plays recorded music when Dem Reggae Bon is not holding forth on weekends.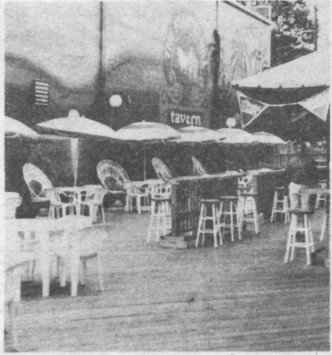 The Deck Bar at Phoenix Hill Tavern. Photo by Paul Moffett
There is also a mobile barbecue grill which is currently cooking hot dogs, brats and corn in the husk, according to manager Courtland Rose.
Rose told a story of learning about the hazards of barbecuing on the grill.
"We had an outdoor event in the driveway [where the deck bar is now located], with a canopy over it all," he said. "I fired up the grill to start barbecuing, forgetting about the cover.
"The smoke stayed right under the canopy and cleared everybody out," he finished, chuckling at the memory.
As is usual with the marketing-savvy club, there is a happy hour on Fridays from 5-8, with free peanuts, cheap beer and cheap grill food, all under the heavens.
The full-wall mural on the Roppel Radiator building was painted by Elite Sign Co.