July 1994 Articles
Cover Story
Allen Howie
Features
Wally Stewart
Paul Moffett
Columns
Berk Bryant
Jim Galipeau
Jan Winders
Paul Moffett
Henry C. Mayer
Keith Clements
Todd Hildreth
Darrell Elmore
Duncan Barlow
Alan Rhody
CD Reviews
Mark Clark
Kevin Gibson
Kory Wilcoxson
Kory Wilcoxson
Allen Howie
John Goodin
Kory Wilcoxson
Mark Clark
Allen Howie
Kory Wilcoxson
Mark Clark
Kevin Gibson
Allen Howie
Kevin Gibson
Bob Bahr
Performance Reviews
Paul Moffett
Michael Campbell
Todd Hildreth
Jean Metcalfe
Life Of The Party
Mike Swayze
John Goodin
Allen Howie
William Brents
Jean-Marie Ebel
Interviews
Bob Bahr
Paul Moffett
Paul Moffett
Preview
Jean Metcalfe
Bob Bahr
Photos
Letha Marshall
LASC
Jean Metcalfe
Jean Metcalfe
Bookmark Louisville Music News.net with these handy
social bookmarking tools:
Available RSS Feeds
- Top Picks
- Today's Music
- Editor's Blog
- Articles
Add Louisville Music News' RSS Feed to Your Yahoo!

George M. Who?
By Leslie Turner
We're sitting in the Derby Dinner Playhouse, entranced by the development of the characters, believing the brash, unyielding confidence of Jim Hesselman as George, loving the vaudevillian flavor of the characters and costumes, being pulled into the story like a hooked trout, and my husband leans over and says, "This is great, but I really don't get it -- did this really happen? Just like most of you, he's wondering, "George who?"
I've heard you can tell how large and important a comet is by how many years its trail can be seen after it has passed by. Perhaps it is also true you can tell how large and important a composer is by how many years after his passing we continue to sing his songs and hum the tunes.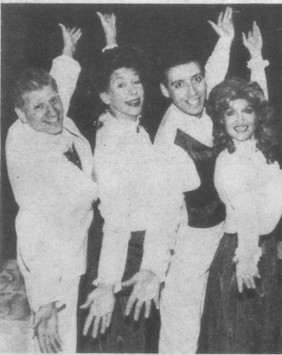 George M! cast members, left to right, Bill Hanna, Sandra Simpson, Jim Hesselman and Barbara Cullent.
If this is true, George M. Cohan was very large and important indeed. Problem. Everybody knows the songs, nobody knows the name (unless you're over 50 or grew up with show tunes blaring in your ear like me). "Yankee Doodle Dandy," "Over There," "You're a Grand Old Flag," and dozens of other patriotic tunes have seen us through two world wars and millions of school concerts and recitals over the years. "Give My Regards to Broadway" is a classic, and personified the influence Cohan had on Broadway itself from its very beginnings.
"George M!" is the musical about the man, although we are all probably more familiar with the motion picture, "Yankee Doodle Dandy" (oh, that guy!). Smartly staged and produced, you'll find this musical much more enjoyable knowing from the start who it is about. It will save you a lot of effort at the beginning so you can relax and enjoy the character portrayals, story, and of course the show-stopping musical classics.
Sandra Simpson, as George's mother Nellie, and Bill Hanna as father Jerry Cohan were a joy to watch as they aged sixty years in a couple of hours. Actually, the first twenty years only took a few minutes! Tap sequences were also enjoyable, mostly due to their rarity in more recent musicals. This is a fun production to watch. The leading character isn't Prince Charming, the plot is based on truth and, therefore, not as predictable as you may expect, and the actors succeeded in pulling off a challenging job between mostly unfamiliar story lines, a fast-paced time line and character development based on real people in real scenes with real problems. (I didn't know Cohan wrote "H-A-R-R-I-G-A-N"!)
Also of note were the Barnstormers. They were the best I had ever seen them. Staging was more fun, songs more entertaining and singing as good as always. Also, they tickled us with a taste of "A Chorus Line," coming up later this summer.
"George M!" continues through July 17 at Derby Dinner Playhouse in Clarksville, Ind. Reservations can be made by calling 812-288-8281.