March 2018 Articles
Columns
Paul Moffett
Eddy Metal
Eddy Metal
Blogs
Got Shows?
Send Them To Us
Bookmark Louisville Music News.net with these handy
social bookmarking tools:
Available RSS Feeds
- Top Picks
- Today's Music
- Editor's Blog
- Articles
Add Louisville Music News' RSS Feed to Your Yahoo!

Issue:


I've Got A Mind To Ramble
A good indication of the quality of respect for a blues performer is the number of blues musicians in the audience. This was the situation for the Charlie Musselwhite concert at the Cherokee Blues Club on May 24.
There were guitarists Rick Mason, Rob Pickett, Curtis Marlatt and Pen Bogert; and there were the harpmen Billy Bird, Joe Pinkerton and Jim Rosen all in attendance to pay respect for one of the grand masters of the blues harmonica.
This was also an evening of anticipation for it was the first appearance of a national act to the new Cherokee. When I arrived around 9:30 p.m. the back room was packed with admirers pushed right up to the edge of the stage. No room for dancing this night.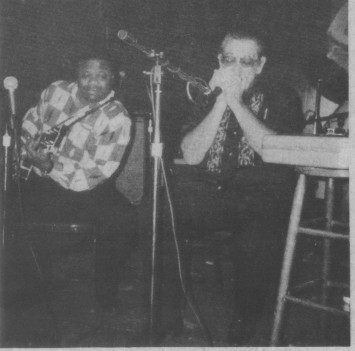 Charlie Musselwhite, at right, and Andrew Jones performed at the Cheokee Blues Club on May 24. Photo by Keith Clements
Charlie plays with the ease of a veteran who has been performing since his formative years in Memphis where he frst played the blues on guitar. In the mid-sixties, he moved to Chicago, learning and jamming on harmonica with the great blues musicians on the South and West sides and occasionally Maxwell Street. In 1970 he moved to California where he has been living ever since, recording and performing periodically.
After a period of illness Charlie is back in fne form these last few years with what he describes as his best band. Felton Crews is his bassist and Tommy Hill is on drums.
There was a wonderful interplay between Charlie' s harp and Andrew "Jr. Boy" Jones' lead guitar. That night he played many songs from his two Alligator albums, Signature and In My Time. During the latter part of his nonstop performance, he brought out his blond wood Guild guitar to do a few solo acoustical numbers like "Brownsville Blues" and "Stingaree." The highlight of the evening was Charlie's encore, "Christo Redemptor," one of the most soulful harp instrumentals in his vast blues repertoire.
Some of you will remember the great show Charlie did several years ago when he jammed with Jim Rosen at the Rudyard Kipling. Charlie was back again for the 1992 Waterside Arts and Blues Festival with the same band he had at the Cherokee.
As Bob Porter used to say on his Portraits in Blue show, "When Charlie Musselwhite comes to your town, don't miss it."
•
Larry McCray Interview
I was asked to do a "phoner" (telephone interview) with one of the blues headliners for this year's Waterside Festival. On Saturday, July 2, Larry McCray and Tinsley Ellis will be on the Budweiser main stage. Since I knew about Tinsley Ellis, I opted to interview Larry. A time was set up with his manager and I called him at his home in Saginaw, Michigan. The night before I had listened to his two releases, Ambition and Delta Hurricane, on Pointblank/Charisma Records, to get reacquainted with his music.
Larry said that the songs on Ambition were recorded in 1987 and 1988 on a sixteen-track in the basement studio of a friend, David Robinson, in Detroit. This was when Larry was working the second shift on the GM assembly line. His latest release was produced by Mike Vernon and recorded in 1992. Delta Hurricane has come a long way, with his music now more frenzied. Larry attributed the improvement to playing lots of one-nighters and festivals. This experience helped in developing a better stage presence.
He has played the Chicago Blues Festival, Legends, King Biscuit Blues Festival, Eureka Springs Blues Festival and the Mississippi Valley Blues Festival in Davenport, Iowa. In late July he will be performing at the Pocono Blues Festival in Pennsylvania and then doing a tour of the United Kingdom in August.
His star is rising fast and he is already being compared to Robert Cray. Larry said there is a difference, for he is developing a "deeper, more distorted sound" with his Flying V Gibson guitar by contrasting aggressive rock blues with gentle ballads, while Robert is more of a soul performer. Larry's deep, strong vocals impressed me as much as his guitar work. He mentioned Brook Benton, Little Milton, Bobby Bland and gospel music all having influenced his singing.
Larry records and travels with a three-piece band that includes his brother Steve McCray on drums, Noel Neal, the brother of Kenny Neal, on bass guitar and the ever-animated Tony Zamagni on synthesizer and B3 organ. Tony used to play with Ronnie Earl back when the band played at the Red Baen in April 1990.
Larry said that he has never been to Louisville before and is looking forward to performing at the Waterside. Maybe, just maybe, there will be a guitar jam with Tinsley and Larry to cap off an already hot night of blues.