April 2018 Articles
Cover Story
Paul Moffett
Columns
Eddy Metal
Eddy Metal
Blogs
Got Shows?
Send Them To Us
Bookmark Louisville Music News.net with these handy
social bookmarking tools:
Available RSS Feeds
- Top Picks
- Today's Music
- Editor's Blog
- Articles
Add Louisville Music News' RSS Feed to Your Yahoo!

Issue:
Summer Lights' Shines Bright
By Wally Stewart
Leaving Nashville's Summer Lights festival last year I promised to be found at this year's event "wherever the feet are moving."
Those feet started moving June 2 on the three blocks of closed Deadrick Street between bookend main stages at the Metropolitan Courthouse and the Legislative Plaza about an hour before the sun started fading. They were still hopping an hour before midnight on June 5 when I reluctantly headed for home.
In between times the air was supersaturated with a stunning diversity of artistic talent in dance, music and other forms, spread over five simultaneously running stages and the street area itself.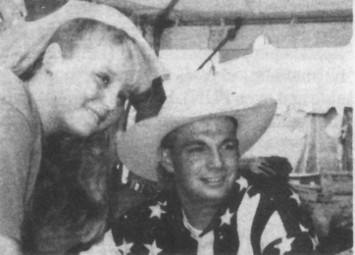 John Brennan and an unidentified fan. Photo by Wally Stewart
Cajun/zydeco, Tex-Mex, soul, symphony, gospel, children's music, alternative and more could be found along with blues, lots of country, R&B and rock.
MY feet started moving on Thursday to the invigorating blues of, first, Skeeter Brandon, then Johnny Neel, before catching the last part of killer guitarist Mike Henderson's rockabilly show.
They got into full swing on Friday night as Jo-El-Sonnier's cajun sound got the Courthouse crowd's blood pumping with energy that didn't stop until long after Louisville native Jonell Mosser had danced and sung the now-overflowing area into an R&B frenzy.
Described as "Nashville's own bawdy mama," she followed the first Music City concert in 20 years of legendary keyboardist and Blood, Sweat & Tears founder Al Kooper. Jonell's performance capped "KY Day" at SL and included vocal help late in the set from Sam Anderson of Louisville's lovesauce & soulbones.
L&S had just concluded their horns-and-soul singing, feel-good extravaganza a couple of blocks away, exciting those fans jammed together at one of the side-street stages.
If the group felt nervous before their first Music City show it wasn't visible as they came out with their signature number "Lovesauce and Soulbones." Among Anderson's sizeable list of credits is a 1986 tour with Earth, Wind & Fire, and his call-and-response efforts with the audience were extremely effective. While listening I kept thinking, "What a voice!"
L&S is certainly not a one-man show; each member is greatly skilled and collectively they are impressive. I'll get another taste of them as soon as I can. L&S was the "middle" of "KY Day"; beginning it in the afternoon was Owensboro's 19-year-old Jon Brennan.
Jon gained a lot of national exposure as a member of last year's MTV series "The Real World" and is currently on his first tour, titling it after the series.
He fronted a five-piece band, mixing traditional country and country rock while displaying a lot of stage presence gained by singing at Goldie's Opry House in Owensboro.
As I watched him I recalled one of his MTV roommates saying, "I judge performers by how the crowd reacts." By that standard this young singer's initial gig in Nashville was a big success, as he received lots of applause and was swamped afterwards at an autograph session.
Other Summer Lights highlights were getting to hear some of Al Kooper after L&S (I wish they had been on at different times); Don Henry, and the Cactus Bros., both of whom have played Louisville's Homefront shows; waltzing and fox-trotting with local resident Joy and her friends; Tom Prasada-Rao singing his classic "Different Strokes for Different Folks" on a songwriter stage; and hearing violinist Mark O'Conner, bassist Victor Wooten, and cellist Mike Kott produce great sounds together while doing tricks on skateboards.
A very exceptional treat was sitting a few feet from Shelby Lynne on Saturday night as she absolutely wowed her listeners with big-band sounds from long ago, an 18-piece orchestra and a voice that captured my senses; I'm glad I didn't miss her.
Very well known artists Donna Summer and Diamond Rio were festival closers at the two bookends, each entertaining a sea of faces.
Program coordinator Erika Wollam and others involved outdid themselves in this 13th Summer Lights. Next year's festival will start the Thursday after Memorial Day. If you're attracted call 615-726-1875.
Perhaps our feet will be moving at the same stage.