July 1994 Articles
Cover Story
Allen Howie
Features
Wally Stewart
Paul Moffett
Columns
Berk Bryant
Jim Galipeau
Jan Winders
Paul Moffett
Henry C. Mayer
Keith Clements
Todd Hildreth
Darrell Elmore
Duncan Barlow
Alan Rhody
CD Reviews
Mark Clark
Kevin Gibson
Kory Wilcoxson
Kory Wilcoxson
Allen Howie
John Goodin
Kory Wilcoxson
Mark Clark
Allen Howie
Kory Wilcoxson
Mark Clark
Kevin Gibson
Allen Howie
Kevin Gibson
Bob Bahr
Performance Reviews
Paul Moffett
Michael Campbell
Todd Hildreth
Jean Metcalfe
Life Of The Party
Mike Swayze
John Goodin
Allen Howie
William Brents
Jean-Marie Ebel
Interviews
Bob Bahr
Paul Moffett
Paul Moffett
Preview
Jean Metcalfe
Bob Bahr
Photos
Letha Marshall
LASC
Jean Metcalfe
Jean Metcalfe
Bookmark Louisville Music News.net with these handy
social bookmarking tools:
Available RSS Feeds
- Top Picks
- Today's Music
- Editor's Blog
- Articles
Add Louisville Music News' RSS Feed to Your Yahoo!


Newsical Notes
Prez Paul Moffett, new Board member Mike Swayze and former LASC member Marie Augustine will be taping a songwriter segment of Cherry River Grand New Opry in July for TKR Cable, to be aired on Channel 10 at a later date.
Had a nice chat with Joann Hatcher mid-month, but was sorry to learn that she had suffered a heart attack a couple of weeks earlier; a blockage was subsequently discovered, but Joann said that there was no evidence of heart disease. She is trying really hard to follow her doctor's instructions like a person's supposed to do after that kind of warning. Giving up smoking is the most difficult part, she said, but she does plan to take better care of herself. Her plans also include a trip to Nashville this month.
Can you stand another Charlie Walls success story? I can, and I hope you enjoy them as much as I do. The Music Man has received excellent press again in England from country music journalist Pete Smith, in his newsletter "Pete Smith's Rock Pile." Yes, right there just below a photo of Jerry Jeff Walker, Smith brags on Music Man Records' Coyote's Country. In the article he describes the artists as "first rate" and says all the songs on the CD are "top drawer material," adding that he will give all the artists a standing ovation.
Coyote's Country also was favorably reviewed in the June issue of Songwriter's Monthly. Describing all eighteen songs as "radio quality," the reviewer promises that "it doesn't matter which number you enter into your CD player because a strong song will come out of the speakers." He compliments Charlie's personal touch in the studio, saying "there's not one [song] that sounds like it was produced in somebody's basement."
Boy, Charlie sure is lucky. Isn't it amazing, though, that frequently the harder you work the luckier you get! Of course, Charlie's not the only lucky one in this project; the artists and the songwriters are also pretty fortunate.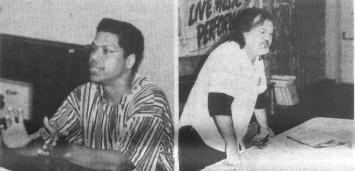 Will Key of Camael Recording, and Doc Dockery, right, were among the studio representatives invitied to the June 6 meeting to plug their demo services. Also attending were Don Watson of Adtrax and Tom Scoggins of Louisville Recording Projects. Photos by Jean Metcalfe
Hit songwriter Alan Rhody stopped by our June 20 membership meeting to say hello and tell us about the songwriting workshop he'll be conducting during Kentucky Music Week in Bardstown, August 1-5. Although he can't guarantee that those who attend will write hit songs like his "Trainwreck of Emotion," "Wild-Eyed Dream," et al., he will share his writing techniques in a small classroom setting, with one-on-one attention.
Also, Alan invites all songwriters to his one-hour workshop during Kentucky Music Weekend at Iroquois Park on Saturday afternoon, July 30. On Friday, the 29th, Alan will be performing in the evening concert, which starts at seven o'clock and showcases both regional and national performers. (Later that evening he'll be in concert at the Rudyard Kipling.)
For a brochure containing info about KMW events, write to Nancy Barker, KMW, Inc., P.O. Box 86, Bardstown, KY 40004, or call her at 502-348-5237.
Whilst listening to WFPL a couple of weekends ago, my husband heard "Trainwreck of Emotion" as sung by bluegrass artist Del MCoury at Telluride. Alan's name wasn't announced but Tom recognized that the song was one penned by Alan. Memorable. Isn't that one of the characteristics of a hit song? And, McCoury won himself a top bluegrass award with "Trainwreck."
We have enjoyed Jeff Walter's visits to our last several meetings and hope he will be able to continue the commute from Lexington to Louisville to be with us. His wife Roberta has kin in our area so she and their son Reece can come along for a visit while Jeff is at the meetings. Nice arrangement.
Jeff's writing is not limited to songs. A former sportswriter and copy editor for the Lexington Herald-Leader, he started his own business, Vital Communications, in '91. (His personalized license plate reads "VITAL.") Jeff's company provides advertising, marketing and public relations services for a variety of companies. Sounds vital to me.
At our June 20 meeting Jeff was a bit anxious about an hour-long radio interview he would be doing the following morning in support of his latest project, "The Insiders' Guide to Greater Lexington and the Kentucky Bluegrass." We're assuming it went well. After all, he was going into the interview buoyed by a friend's declaration that Jeff has a great face for radio.
Our sympathy is extended to Alan Morris, whose father passed away in June. We miss Alan at LASC meetings and wish for him and his wife Flavia happier days ahead.