July 1994 Articles
Cover Story
Allen Howie
Features
Wally Stewart
Paul Moffett
Columns
Berk Bryant
Jim Galipeau
Jan Winders
Paul Moffett
Henry C. Mayer
Keith Clements
Todd Hildreth
Darrell Elmore
Duncan Barlow
Alan Rhody
CD Reviews
Mark Clark
Kevin Gibson
Kory Wilcoxson
Kory Wilcoxson
Allen Howie
John Goodin
Kory Wilcoxson
Mark Clark
Allen Howie
Kory Wilcoxson
Mark Clark
Kevin Gibson
Allen Howie
Kevin Gibson
Bob Bahr
Performance Reviews
Paul Moffett
Michael Campbell
Todd Hildreth
Jean Metcalfe
Life Of The Party
Mike Swayze
John Goodin
Allen Howie
William Brents
Jean-Marie Ebel
Interviews
Bob Bahr
Paul Moffett
Paul Moffett
Preview
Jean Metcalfe
Bob Bahr
Photos
Letha Marshall
LASC
Jean Metcalfe
Jean Metcalfe
Bookmark Louisville Music News.net with these handy
social bookmarking tools:
Available RSS Feeds
- Top Picks
- Today's Music
- Editor's Blog
- Articles
Add Louisville Music News' RSS Feed to Your Yahoo!


Bluegrass Beat
Summertime is here, big time. Quite a few great things have happened already. When this hits the streets I will have been to the Charlotte, Mich., festival. I will have to tell about it next time as the festival is after the deadline for this edition.
One of the more exciting events since the last paper was the festival at Otter Creek Park, May 27-29.
The Pizza Hut Showdown was Friday. A word about the showdown: Although about the only manner to conduct it is very similar to a contest, it really isn't a contest. There were fve judges — fve judges who completely, independently scored each entrant in this talent search. That's what it is, a talent search. The judges do not confer during the program, they do not sit together and their scores are collected at the end of each band's set. The criteria for judging are unusually well thought out and presented. The talent is not judged against each other, but rather against their own performance within the guidelines established. Anyone who does an original number, if they announce it as such, gets an automatic three points. The judges meet immediately prior to the show, get their instructions and meet the bands. The judges again meet immediately following the show to give their individual comments, which are then passed on to the performers.
I am admittedly very pleased with this year's pick, who will go on to the fnals at Owensboro in September. This young lady is no stranger to many, many folks and fans in this area. Some of you have heard her on my Sunday Bluegrass show on WFPL, both live and taped. I take great pleasure in telling you that Cyndi Ruff is that young lady. Her group, The Cross River Band, included Michael Cleveland (fddle), Brian Alan (lead guitar) and John (Norton) Schroeder.
Mr. Milton Harkey, president of the Pizra Hut Showdown, would not tell even the judges who had won prior to announcing it. He did tease us by saying that there was only a three-point difference between first and second place. As the comments were coming in from the judges, one young lady from out of state remarked on how good she thought Cyndi was and said, "She could make me cry." At the end of the session, Milton told the judges that in the past three years of these showdowns all over the country and Canada, "Cyndi has the best female voice I have heard." He later told her, "Cyndi, your folks are proud of you, I am proud of you and you have the sincere best wishes and congratulations of us and all of your fans out there. We love you and go get 'em at Owensboro."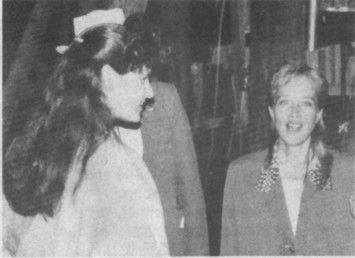 Pizza Hut Bluegrass Showdown Kentucky Regional winner Cyndi Ruff, at left, meets Laurie Lewis backstage at Otter Creek Park. Photo by Jean Metcalfe
The whole weekend at Otter Creek was great. There should have been many more fans there but, hey, this was only the second year and this festival is growing and will grow into one of the best of them. It certainly was not and will not be, lacking for talent. A lineup of some of the best. And just wait until you see who's coming next year.
This year, among many top acts, there was Dry Branch Fire Squad, Osborne Bros., Lewis Family (who gave an up-and-coming act a break), Randall Hylton and Laurie Lewis.
There was a Japanese TV crew doing quite a bit of flming there and several Japanese individuals who I assume were along with the crew. Two of these ladies were sitting off to the side, picking. At the time I saw them I didn't get to go over and hear them. Later, backstage, they went up to meet Bobby Osborne and have him autograph their mandolin.
Many smiles and bows and some conversation later, Bobby gave the lady the pick he had used in the show. From the excitement in her expression, I don't believe you could have bought it from her with a Gold Vault brick. Good move, Bobby.
Bill Monroe has had another fall since the last column. This word from Jim & Jesse at Lexington this last month. Word was then that he was having a difficult time. With the time frame in a column such as this, it is diffcult to comment about these things but we certainly hope things are going better for him.
Festivals in the next few weeks: Converse Fairgrounds, Converse, Ind., July 8-10. Traditional Grass and the Schmitt Family, among others, will be there.
Winterhawk with a tremendous lineup, July 14-17 in New York.
The Old Time Fiddlers Contest at Rough River Dam, July 15-16.
Vince Comb's Bluegrass Festival at Xenia, Ohio, July 15-16, with some top folks, including Ralph Stanley, Gary Brewer and Bill Grant & Delia Bell.
Get out and go.
This is it for this time. Get out and have a great July — and a safe one. I need somebody to listen to me on Sunday nights [Sunday Bluegrass, WFPL,89.3 FM,8:30-l l p.m.].
Sympathy is extended to the family and friends of Shcphcrdsville Country Music Place owner Kenny Taylor, who passed away on June 14 after a lengthy illness.
Goodbye, our friend, till we meet again.