April 2018 Articles
Cover Story
Paul Moffett
Columns
Eddy Metal
Eddy Metal
Blogs
Got Shows?
Send Them To Us
Bookmark Louisville Music News.net with these handy
social bookmarking tools:
Available RSS Feeds
- Top Picks
- Today's Music
- Editor's Blog
- Articles
Add Louisville Music News' RSS Feed to Your Yahoo!

Issue:
Jammin' Johns
Marvin Maxwell's Million-Dollar Idea By Paul Moffett
In a frenzied, three-day stretch twenty-five or so years ago, Marvin Maxwell built a guitar out of a white toilet seat. That guitar has traveled with him since and still hangs in his music store, Mom's Musician's General Store.
Sometime during those years, it occurred to Maxwell to turn that idea around – to make a toilet seat lid out of a guitar. Some months back, he began to take that idea more seriously and now he is on the verge of bringing Jammin' Johns to market.
"We all have ideas like this," he explained, "but most people don't act on them. I decided to act on this one. I think it'll make a million dollars."
"This could be the product that will pay for all the other things," Maxwell enthused, referring to his well-publicized desire to make the 500 block of Fourth Street into an entertainment Mecca. He just recently agreed to buy the building which housed the W. K. Stewart bookstore for many years and now plans to move Mom's into the structure. The headquarters of Jammin' Johns will also be located in the building.
Maxwell spent six months investigating suppliers worldwide before deciding to have the lids made locally.
The seat lids will be made from the bodies of various kinds of guitar, including solid body instruments like the Telecaster, as well as acoustic instruments. There will be three models in two bowl shapes, regular and elongated.
The blanks are "made from the finest Appalachian hardwoods in Charlestown, Indiana. A firm in Shively will cut and sand them, then they go to 30th and Magazine for spraying and assembly," he said. He's pleased that the products will be made entirely in the Kentuckiana area.
The selection of the name was an extended process that constantly veered off into assorted puns, japes and jibes of the kind not printable in a family publication.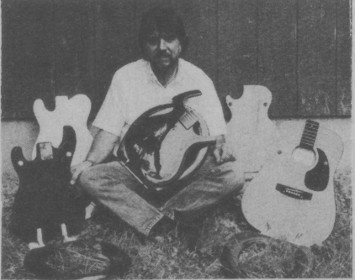 Marvin Maxwell and the prototypes of Jammin' Johns. Photo by Paul Moffett
"Jammin' Johns," suggested by Maxwell's wife Beverly, was picked over the other "finalist," "Guitoilet."
"That leaves room to use other instruments," Maxwell explained.
"We were worried about [the reaction] of women at first," he went on, "but whenever I showed a woman one, she would laugh and say, 'Can I buy this one?'"
Maxwell, who admits to being a salesman as well as a musician, is as excited as only a salesman with his own product can be. His mind, he says, works constantly on marketing possibilities.
"There're lots of ways to market this thing." Maxwell fairly bounced as he energetically detailed his plans. "The (newly renovated) Palace Theatre will get the first four, for their dressing rooms." He plans to get famous guitar players to sign copies built from the style of guitar they play, then hang them in his new downtown store.
"We're talking to the music catalogs like The Music Stand and Sharper Image. I've connected up with tour bus customizers. You know any star with a custom bus will want these in the bus."
He plans to have the lids painted in both standard guitar colors as well as contemporary fashion colors like teal and almond.
"Plus white, of course," he laughed.
There will be spin-offs, including a Whammy bar flush handle and a line of child-sized "Jammin' Johnnies."
Maxwell will have a booth at the NAMM (National Association of Music Manufacturers) show in Nashville at the end of July, where he hopes to market the toilet seat lids to music stores.
"I've gone to NAMM [as a buyer] for years," he explained. "This is the first time I've ever had a booth."
"I think they'll be packing the aisles to see these things.
"I really do."