April 2018 Articles
Cover Story
Paul Moffett
Columns
Eddy Metal
Eddy Metal
Blogs
Got Shows?
Send Them To Us
Bookmark Louisville Music News.net with these handy
social bookmarking tools:
Available RSS Feeds
- Top Picks
- Today's Music
- Editor's Blog
- Articles
Add Louisville Music News' RSS Feed to Your Yahoo!

Issue:
JamFest '94
By Mike Swayze
The tempting aroma of barbecue at the Kentucky Fair & Exposition Center on June 10 was nearly as thick as the humidity, but it would've taken a lot more than the closeness of the air to keep folks away from JamFest '94.
The three-day event brought together twelve world-class barbecue rib chefs to compete for points, prizes and trophies. And if that wasn't enough to tempt your taste buds, perhaps three of country music's top recording artists were.
When I caught up with Doug Stone, he was just putting his golf clubs away on his tour bus. I asked how his game had gone.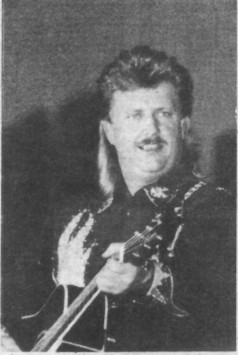 Joe Diffie at Jam Fest. Photo Bev Ingram
"Let's hope the show goes a little better," he laughed.
If the show was any indication of the success of his golf game, Doug Stone had one fantastic day.
Stone took the stage after a performance by Joe Diffe that had worked the crowd into an absolute frenzy. Dressed in a black sport coat, pants and T-shirt, he looked as if he had just shot an episode of "Miami Vice" instead of just rolling in from Nashville. Despite an acknowledged sore throat, Stone's voice certainly sounded up to par.
Sore throat, Don Johnson duds and all, he smoothly made his way through such great ballads as "In a Different Light" and "Too Busy Being in Love," then sped things up with his classic "Let's Turn This Thing Around," leaving his fans howling for more.
It was hard for me to imagine Joe Diffie not having top billing at this event but nonetheless he preceded Stone. Taking the stage after BlackHawk had brought the crowd to its feet, Diffe had the fans singing and dancing with such hits as "Prop Me Up Beside the Jukebox" and "John Deere Green." Also on tap was the George Jones classic "White Lightning," which Joe performs on "The Beverly Hillbillies" motion picture soundtrack.
Diffe's performance was nearly flawless except for a minor interruption: "I swallered a bug," he shouted mid-song, then picked up where he had left off. At song's end he chased the bug down with a tall glass of water.
BlackHawk was the newcomer of the three acts that played this evening, but they handled themselves like veterans. "Goodbye Says It All" and "Every Once In a While" were songs that most any country music fan would recognize. Especially impressive were their sweet-sounding harmonies and stage presence.
A backstage conversation with BlackHawk lead guitarist Dale Oliver revealed that he is from Paducah, Ky., and a songwriter. One of his tunes, "Kentucky Mine," is a cut on Diamond Rio's latest album.
Scheduled for the remaining two days of the event were REO Speedwagon, Cheap Trick and Survivor on the 11th, with ShaNaNa, the Crystals, LouChristie and Tommy Roe closing out the festival on Sunday, the 12th.
If this year's event is any indication, JamFest '95 should be on your "not to be missed" list.