July 1994 Articles
Cover Story
Allen Howie
Features
Wally Stewart
Paul Moffett
Columns
Berk Bryant
Jim Galipeau
Jan Winders
Paul Moffett
Henry C. Mayer
Keith Clements
Todd Hildreth
Darrell Elmore
Duncan Barlow
Alan Rhody
CD Reviews
Mark Clark
Kevin Gibson
Kory Wilcoxson
Kory Wilcoxson
Allen Howie
John Goodin
Kory Wilcoxson
Mark Clark
Allen Howie
Kory Wilcoxson
Mark Clark
Kevin Gibson
Allen Howie
Kevin Gibson
Bob Bahr
Performance Reviews
Paul Moffett
Michael Campbell
Todd Hildreth
Jean Metcalfe
Life Of The Party
Mike Swayze
John Goodin
Allen Howie
William Brents
Jean-Marie Ebel
Interviews
Bob Bahr
Paul Moffett
Paul Moffett
Preview
Jean Metcalfe
Bob Bahr
Photos
Letha Marshall
LASC
Jean Metcalfe
Jean Metcalfe
Blogs
Got Shows?
Send Them To Us
Bookmark Louisville Music News.net with these handy
social bookmarking tools:
Available RSS Feeds
- Top Picks
- Today's Music
- Editor's Blog
- Articles
Add Louisville Music News' RSS Feed to Your Yahoo!

Issue: July 1994

Second Thoughts
A Louisville and Lampton Special for a Generation
The year 1994 marks two memorable birthdays: Kentucky Opera's 20th anniversary of generous benefits from Hard Scuffle, the local steeplechase races; and the 80th birthday of Dinwiddie Lampton, Jr., who, with daughter Nana and son Mason, has made this gala event possible. The event is a most successful coming-together of a sporting activity and an artistic endeavor. In 20 years it has brought upwards of $1.5 million into our local opera company's coffers. The event takes place on Lampton's beautiful farm in Oldham County.
This year's exciting schedule of seven races had the added distinction of amateur jockey George Sloan breaking the record for the most wins in steeplechase racing. Sloan, now 55, has been racing since his 18th year.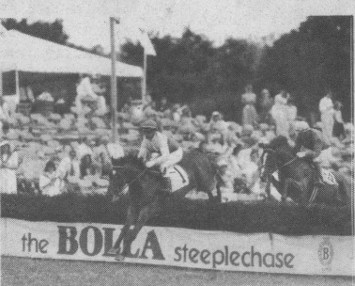 Various estimates were given for this year's attendance, from 12- or 14,000 up. This year Nana Lampton continued to spare no effort in making this event one of the most gala social weekends in our community. She expanded space for tailgating, introduced the opportunity to play croquet, provided a place for children and made possible the purchase of single tickets. She was assisted by some 800 volunteers who include Kentucky Opera employees and friends. Gerald Farrar, KO's Director of Public Relations and Special Events, tirelessly directed all the goings-on. Beth Keyes supervised the hundred and one activities of the volunteers.
The event included a raffle of a signal red Mercedes E 320 Cabriolet convertible and the black-tie dinner-dance on the Belvedere.
This year's races and socializing took place in near-perfect late-spring weather to the delight of persons of all ages. There was a kaleidoscope of feminine millinery one seldom sees at activities anymore. Many men wore coats and quite a few donned straw hats for the occasion. Though some wore colorful skirts and comfortable slacks, the ladies mostly appeared in a wide variety of spring dresses. All this makes the Hardscuffle a worthy rival for the Derby as a place to see and be seen. If there was any betting on the outcome of the races, it was done quietly.
Nana Lampton told Louisville Music News that the event draws people from far and wide, including a visitor from Kenya in central Africa. She frankly admits, "I love opera; my favorites are La Traviata, The Magic Flute, La Boheme and Don Giovanni."
All went well and if there was anyone who did not delight in the spring weather, I did not see him or her. No wonder Thomson Smillie wore a big smile.