July 1994 Articles
Cover Story
Allen Howie
Features
Wally Stewart
Paul Moffett
Columns
Berk Bryant
Jim Galipeau
Jan Winders
Paul Moffett
Henry C. Mayer
Keith Clements
Todd Hildreth
Darrell Elmore
Duncan Barlow
Alan Rhody
CD Reviews
Mark Clark
Kevin Gibson
Kory Wilcoxson
Kory Wilcoxson
Allen Howie
John Goodin
Kory Wilcoxson
Mark Clark
Allen Howie
Kory Wilcoxson
Mark Clark
Kevin Gibson
Allen Howie
Kevin Gibson
Bob Bahr
Performance Reviews
Paul Moffett
Michael Campbell
Todd Hildreth
Jean Metcalfe
Life Of The Party
Mike Swayze
John Goodin
Allen Howie
William Brents
Jean-Marie Ebel
Interviews
Bob Bahr
Paul Moffett
Paul Moffett
Preview
Jean Metcalfe
Bob Bahr
Photos
Letha Marshall
LASC
Jean Metcalfe
Jean Metcalfe
Bookmark Louisville Music News.net with these handy
social bookmarking tools:
Available RSS Feeds
- Top Picks
- Today's Music
- Editor's Blog
- Articles
Add Louisville Music News' RSS Feed to Your Yahoo!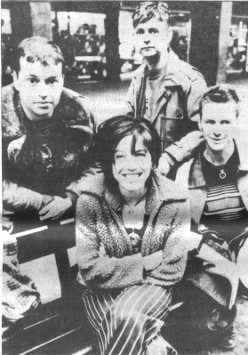 Frente!
bouncy pop with sterling vocals
Marvin The Album (Mammoth)
Frente! By Kory Wilcoxson
If there's something that will catch my attention faster than the cry of "Fore!" on a golf course it is an irresistible melody paired with a unique female voice. Hello, Frente!
When I first heard "Labour of Love" on the radio, I was intrigued. Who was that woman, and why could I not turn the station?
She was -- and is -- Angie Hart, and she and her bandmates from Down Under breathe refreshing life into bouncy pop music.
Hart's voice cannot be pinned down: she's like Edie Brickell, but not as innocent, like Bjork but not as quirky. She's found a very comfortable patch of grass in between there from which to let loose.
Marvin is a non-stop romp through hook-laden alternative, edging toward ear candy without getting to sweet. "Ordinary Angels" gets a kick from Tim O'Connor's bass and Mark Picton's drumming and "Accidentally Kelly Street" almost brims over with contagious enthusiasm.
I would not stoop so low as to call Frente! a feel-good band, but it's hard to listen to Marvin the Album without coming away humming.