July 1994 Articles
Cover Story
Allen Howie
Features
Wally Stewart
Paul Moffett
Columns
Berk Bryant
Jim Galipeau
Jan Winders
Paul Moffett
Henry C. Mayer
Keith Clements
Todd Hildreth
Darrell Elmore
Duncan Barlow
Alan Rhody
CD Reviews
Mark Clark
Kevin Gibson
Kory Wilcoxson
Kory Wilcoxson
Allen Howie
John Goodin
Kory Wilcoxson
Mark Clark
Allen Howie
Kory Wilcoxson
Mark Clark
Kevin Gibson
Allen Howie
Kevin Gibson
Bob Bahr
Performance Reviews
Paul Moffett
Michael Campbell
Todd Hildreth
Jean Metcalfe
Life Of The Party
Mike Swayze
John Goodin
Allen Howie
William Brents
Jean-Marie Ebel
Interviews
Bob Bahr
Paul Moffett
Paul Moffett
Preview
Jean Metcalfe
Bob Bahr
Photos
Letha Marshall
LASC
Jean Metcalfe
Jean Metcalfe
Bookmark Louisville Music News.net with these handy
social bookmarking tools:
Available RSS Feeds
- Top Picks
- Today's Music
- Editor's Blog
- Articles
Add Louisville Music News' RSS Feed to Your Yahoo!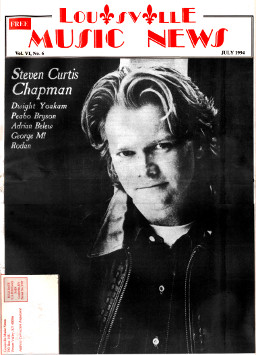 Steven Curtis Chapman
By Allen Howie
If all the industry predictions of an impending boom in contemporary Christian music to rival the recent surge in country music prove to be accurate, there's a pretty good chance that Paducah, Kentucky, native Steven Curtis Chapman will be the genre's Garth Brooks. With his engaging stage presence, solid songwriting skills and a keen sense of what good music is (and isn't), Chapman seems perfectly poised to be the spark plug for any large-scale crossover.
In an interview from his Cleveland, Ohio, hotel room this June, Chapman reflected on Christian music's rise in popularity.
"I think that, in general, Christian music has really come a long way, and I think one of the biggest things is just that we're learning a whole lot as a community of music makers about production. In some cases, we're just getting to the point where enough people are buying and supporting the music that we can make higher budget records that really sound great.
"But even at that, I've always challenged myself. I probably have to give most of the credit to my first publisher, Ron Griffin. He would sit in his office with me, and I'd leave in tears quite often, 'cause I'm real thin-skinned. I'd pour everything I had into a song and bring it in, and he'd say it was nice, but there was nothing new or fresh there that really knocked him out. He'd heard it before. But it was the best thing that could ever have happened to me. I'd go back and ask myself what I could do to make it different. I didn't want to do what had already been done before."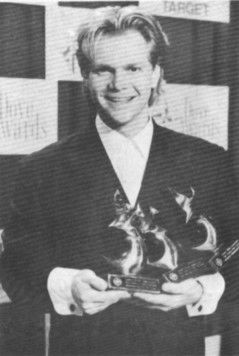 Steven Curtis Chapman holds the three Dove Awards he won at the Gopsel Music Association's 25th Annaul Dove Awards, bringing his total to 21 Dove Awards. Photo by John Lee Mongomery III
Part of Chapman's appeal lies in his broad range of musical styles, something that's been a mixed blessing for him. "I've been slammed a little by some critics. There was one guy who used the word 'chameleon' with regard to some of my music, 'cause there were so many different styles that went into influencing the music.
"But it's not like I set out to try and please everybody. I try to be as honest as I can with the music I write, which includes influences from James Taylor and Glen Campbell to the Doobie Brothers and Atlanta Rhythm Section to Andrae Crouch and Doc Watson. I just love a lot of different styles of music, just anything that feels good to listen to.
"So because of that, when I sit down to write something, rather than trying to be, say, a rock and roller, I think about communicating this message in a song, and ask myself what music is gonna help me do that, how can I make it fresh, how can I keep the listener interested. It's a conscious thing, but I try not to make it so conscious that I lose the listener somewhere along the way, wondering where I'm goin' with this."
And in a genre that has sometimes lapsed into a sort of musical malaise, Chapman feels pretty strongly about Christian artists holding their own musically. "I think in Christian music, we, of all people, ought to be setting a new standard -- and not just in the lyrics. And I don't think that means you have to spend millions of dollars making the record.
"A lot of it's how much thought you put in ahead of time. I used to play in high school for this kind of southern Gospel band from Paducah, and I'd hear so many times, 'We didn't really come prepared tonight, so y'all just pray for us as we sing.' It used to drive me nuts, 'cause I'd think, 'Don't stand up and say you didn't come prepared, then sing music you want to honor God with.'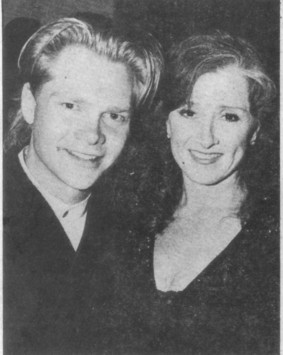 Chapman posed with Bonnie Raitt at the post-Grammy Awards celebration in New York
"I don't think God is very honored by lack of preparation. He expects excellence from us. So hopefully we're learning more and more about that in Christian music, and learning to make music of real excellence and skill."
But if Christian music repeats country's success, what will happen when the spiritual world collides with secular success? "There are obviously some dangers in it," Chapman admits, "but those dangers aren't anything new."
By way of explanation, he offers an example. "I was at the Hoosier Dome last weekend at a thing called Promise Keepers, a big conference for Christian men, and there were 62,000 men in the Hoosier Dome. Let me tell ya, that many guys packed into a room can make some serious racket out there screamin' and cheerin'. And anytime you're onstage playing music you want to glorify God -- 'cause He's the only one worthy of anybody applauding and really gettin' excited about -- and yet you're the instrument making the music that is drawing all this attention, there's a paradox there, and there's always gonna be.
"It's just something that we have to recognize and stay challenged by. If I ever quit struggling with it, then I'm in a real dangerous place."
A place, one imagines, far removed from Mayfield, Kentucky, where Herb Chapman, Steven's father, owned and operated a music store. "Dad played on weekends at Kentucky Lake and Barkley Lake area," recalls Steven, "and he played mainly guitar, played folk and bluegrass music there."
It's no great leap, then, to imagine a musical career in young Steven's future. "My earliest memories of music and concerts and all that were fallin' asleep in the back of the auditoriums my dad played. Me and my older brother, Herb, Jr., would lay on a little blanket my mom (Judy) would throw down on the floor, and we'd fall asleep listening to 'Foggy Mountain Breakdown' or somethin'."
The younger Chapman quickly began exploring his own talents. "I worked in the store and learned to play a lot of different instruments. My brother and I started to perform together when I was in first grade. The first talent show I can ever remember was every year in our little Concord Elementary School in Paducah. We sang (the Glen Campbell hit) 'Try a Little Kindness.' Our repertoire consisted of two songs: 'Try a Little Kindness' and 'I Believe in Music,' the old Mac Davis song. So that was it, man. We wore those two songs out, believe me!"
Local talent shows (the brothers made the state finals in Louisville), school programs and Christmas gigs for groups like the Women's Hospital Auxiliary and the Lions Club kept the boys busy. But what they didn't know was that their music would soon take a dramatic new direction.
"When I was about eight years old, there was this dentist named Finley Baird. I don't know where he is now, or what's happened with him. I'd sure love to find him -- maybe he's still there in Louisville and will actually read this article. He came to town as part of a team of men who were going around doing what at that time they called laymen's revivals.
"They would go into churches and basically tell their story -- here's my life, here's what happened to my life, here's where God came into the picture, and here's what's happened in my life since then.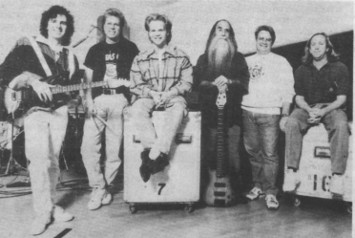 Steven Curtis Chapman's upcoming album, Heaven In the Real World, was recorded at Los Angeles' Schnee tudio. Participating in the sessions were, from left, Dan Huff, John Robinson, Chapman, Leland Sklar, producer Phil Naish and engineer Ed Cherney. Photo courtesy of Sparrow Records.
"They came to a little church we were attending. I was only seven years old at the time, so I didn't know a lot about what was goin' on at the time, but I noticed my family, some things really started to change in their lives. We started to pray together as a family, started readin' the Bible together. I didn't hear 'em talkin' about religion, but about the personal relationship they had with God. I saw the same kind of changes in my older brother's life.
"It was about a year later that I became a Christian and really began on what I consider to be the greatest journey anyone could ever take. That's when my faith in God and my relationship with Him began. I was fortunate enough to grow up in a home and family and environment and church and community that really nurtured that and encouraged me in it."
But Chapman's newfound faith didn't stop his interest in making music. Rather, it simply pointed it in a different direction.
"My dad became involved in music at our church, started to direct the choir, and we started to sing together in the family in our church and in some churches around the area. My dad was still involved in the music store, and still teaching guitar lessons, so he was still keeping a pulse on what was goin' on in contemporary music as well.
But I think that's really where I got interested in Christian music, and discovered some guys like Dallas Holm and Andrae Crouch and the Disciples. That was the first concert I ever attended -- I was about 13 or 14 years old. I attended a lot of Imperials concerts. These bands would come through Paducah and I'd go hear them in concert. I got real interested at that point in what, at that time, they were calling 'Jesus rock,' but what has basically become contemporary Christian music."
Still, Chapman's leap into Christian music was more like a series of small hops. After high school, he worked at Opryland in Nashville, singing country music. And even though he had performed all through high school, forming bands and writing songs, he still saw it as a hobby -- "a way to express my faith in the stuff that was most important in my life." Instead, he continued planning to be a pre-med major at Georgetown College in Lexington.
But in Nashville, he met Danny Daniels, who was working with Bill Gaither and had gone to school with rising star Sandi Patti. Daniels had heard that Chapman wrote as a hobby, and expressed an interest in hearing what he'd written. Chapman played a few songs, and Daniels was interested enough to invite the young singer to his Indiana studio to make a tape.
"My brother, Danny and myself went in the studio and recorded some of my music, and actually kind of formed a little trio. He began to pitch my songs around, and got me involved with a publisher in Nashville -- what was at that time the Paragon Benson Publishing Group. I was writing for them."
Meanwhile, his college career was off to a rather unspectacular start. "I spent one semester at Georgetown College as a pre-med major," Chapman remembers. "At that point in my life, I was struggling in every imaginable academic way! Here I was, thinking I was gonna be a pre-med major, and I could hardly add two and two.
"This music thing was beginning to swell; I had some opportunities; I was going to Indiana and trying to record some of my music. I had publishing companies interested. The last thing I wanted to do was sit down to try and figure out the chemical equation for something that I had no clue what it was anyway."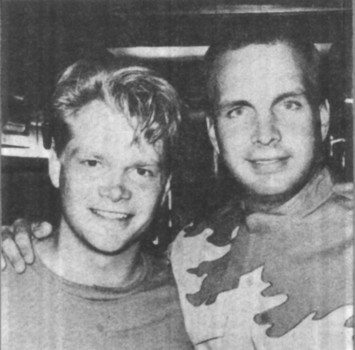 Chapman and Garth Brooks at Fan Fair '93 in Nashville. Photo by John Lee Montgomery III
Chapman finally did put two and two together, and forsaking a medical career, opted instead for a stint at Anderson College (now Anderson University) in Indiana, where Gaither and Patti had both attended. For an eager young songwriter anxious to prove himself, the move proved to be fortuitous.
"I started touring for the college -- kind of a little promotion / public relations group that my brother and Danny and I put together. As a result of my involvement there and getting to know Bill Gaither and some other people, Sandi Patti eventually recorded one of my songs."
Patti wasn't the first, however. "Actually, my first cut was 'Built to Last,' recorded by the Imperials. It was on Side by Side, one of their worst-selling albums ever. I take full responsibility for damaging their career. The second of my songs to be recorded was by White Heart, a song called 'Carried Away,' which I co-wrote with the guys in that band.
The third or fourth was the song that Sandi Patti recorded called 'Give Him the Glory,' and that was really my big break. All of a sudden, I had a Sandi Patti cut just as her career was really gaining momentum. So it gave me a lot of validity when I walked into a publisher."
Chapman's life was looking rosy in other ways, too. After a couple more years at Anderson, he transferred to Belmont College in Nashville and married his college sweetheart, Mary Beth -- whose maiden name was also Chapman. The two met at Anderson College, where, because they had the same last name, they shared a mailbox for a year.
Chapman jumped into writing, having pretty much resigned himself to being a songwriter for other people. "I never really considered myself a singer," he admits. "My brother was always the main singer in the groups we had formed together. I did backup vocals and occasionally sang a solo. But my real niche was songwriting."
Or so he thought. But the Lord apparently had other plans for Chapman. A number of people, listening to the demo tapes he had made to sell his songs, felt that the writer showed real promise as a performer.
In typical Chapman fashion, he downplays what happened next. "To make a real long story short, Greg Nelson, who produced Sandi Patti, Larnelle Harris, Steve Green and several other people, told me he thought he had some interest from Sparrow Records, which at that time was based in California.
"They took an interest, we recorded some songs and they signed me to a record deal. My first album (Firsthand) was released in 1987. To play on my last album title, it's been a pretty great adventure since then."
Listening to Chapman's records, including an advance copy of his July 12 release, Heaven in the Real World, I notice a decidedly soulful (no pun intended) influence in his singing.
"I think you're one of the first guys that has ever acknowledged that. BeBe Winans gave me probably one of the greatest compliments ever. He's a buddy of mine -- he sang a duet with me on my last album, which was one of the more humbling things I've ever done. We started making records about the same time for Sparrow, so we've been buddies for quite awhile. He's one of my all-time heroes as a singer.
He and CeCe and I were all at this music festival thing that happens in Colorado every year. They were doing a concert, and he asked me to sing with them. They had done a trio song on one of their albums with Whitney Houston, and he asked me to sing Whitney's part!
"I said, 'BeBe! Look at me. What do you think?' He said, 'Hey, man, you might be a white boy from Kentucky, but you got the soul. You can do it. There's a lot of black singers who don't have soul.' He was pickin' on me a little, but he's encouraged me a lot over the years
"It is pretty interesting to think that the first concert I can remember going to was Andrae Crouch. He had a live double album that I won on a radio program. It was the first Christian record I ever had, probably the first record I ever owned. Man, I wore that thing out! I just listened over and over. So that's some of the earliest influence -- and growing up in Paducah, Kentucky, you didn't get a lot of that!"
As it turns out, Chapman listened to a wide range of music growing up. "You had John Denver, Jim Croce, James Taylor -- these guitar singer / songwriter guys. I've always been into blues and stuff, too.
"I can remember my dad coming home from his music store and sitting down with his guitar, teaching me the old Dobie Gray song, 'Drift Away' (sings, "Give me the beat boys, and free my soul"). I was 10 or 11 years old. Something about that kind of music really speaks to the soul, you know? Just musically, I've always loved the guys that sing with that kind of passion. So it's a great compliment if you heard a little tinge of that.
"On this record (the upcoming album), I got to use Hezekiah Walker and the Love Fellowship Crusade Choir from Brooklyn. That was just cool! I love black choirs. I keep saying that when I get to heaven, I'm gonna sing like BeBe Winans!"
While Christian music is intended to encourage believers and inspire nonbelievers to consider a change, I wondered what effect it had, if any, on the studio musicians who played on Chapman's sessions. Were they influenced or affected by the message within the music?
"It was really cool this particular time. We did some things a little differently, and one of the things was to go out to L.A. and cut tracks using Ed Cherney at the console, the guy who works with Don Was and does all of Bonnie Raitt's records. Bill Schnee mixed the record. I'd not worked with either of those guys. We've used Dan Huff a lot on my last two or three records, so we used him again in L.A., with John Robinson on drums and Leland Sklar on bass -- two just legendary players.
"The second or third day we were there, we had just played 'Dancing with the Dinosaur,' and they had seen the title. They stick me in a little room, and I sing along and play along with what they're doing, to try to give 'em a feel for it. They were asking me, 'What's this about?'
"So I got a chance to start talking with 'em about how things are goin' so crazy in our world, and I feel like a lot of it's because there's no absolute truth, no right or wrong anymore. It's just everybody coming up with their own set of rules and their own way of doing things.
"We talked about how dangerous that is, nobody having any convictions about anything anymore. And they were like, 'Man, that's true! It's great to play on something that's talkin' about that, 'cause there's so much out there that talks about the other side.' So they really got excited about it.
"Then, about the second or third day, John Robinson came in. Of course, he did all that cool stuff for Steve Winwood, 'Higher Love' and all that -- he's just a phenomenal player. He said, 'You know what? I told my wife last night who I was workin' on, and she got all excited. She says she loves your music. Her mom is in town from New York, and they want to come and hang out in the studio, 'cause my mother-in-law's been to, like, five of your concerts. She's a big fan.' So they came in and were really into it -- takin' pictures and gettin' autographs and all this stuff.
"By the end of the week, all these guys said, 'We genuinely had a blast playing on this. It's great music.' They were very complimentary. So I asked my producer later if this was just the kind of thing they said to everybody. He said no, that they had meant it and were jazzed about the record. So I think they were really into it, and we had a good chance to talk about it and kind of feel like we left as friends."
Chapman sounds relieved as he recounts all this, having been a little hesitant about recording in L.A. as opposed to Nashville. "The first couple days I was out there, I was thinking that I was a long way from Paducah. I'd been out in L.A. several times before to do concerts, but this was the first time I'd really jumped into the real world of the music business and hanging out with those guys.
"My initial reaction was that I was a little too far out of my comfort zone. But by the end of the week, especially as I was praying about it, wondering if this was a mistake, I started to realize what the title of the album means. You talk about heaven in the real world and want to have an impact with these songs, but this is where the people you write those songs for live. They don't live in an insulated environment like you do, where most of the people around you believe the same way you do and speak the same language you speak. So this was a chance to get more in touch with the very people I was trying to communicate with."
Chapman's new album, brimming with memorable melodies, great hooks and strong images, could easily be the catalyst that pushes contemporary Christian music out of the back-of-the-record-store ghetto and onto the pop charts -- in the process, pulling his fellow Christian artists along on his coattails. It's a prospect that the artist greets with a mixture of caution and enthusiasm.
"This is not to take away anything from Amy Grant or Michael W. Smith or anybody who has done more of what people call crossover, for lack of a better word, and had some pop success, yet remain very much people of integrity. I go to church with both of those people, so I see 'em Sunday after Sunday in church, see their kids gettin' baptized, so I know personally where they're at.
"But what's exciting to me is that we seem to be on the verge of a new thing where people are gonna begin to discover contemporary Christian music that sounds great, that makes great music, that has a lot of different styles from DC Talk to what I'm doin' or Bruce Carroll's country thing -- but is great music with a real positive message of hope and a life of purpose and meaning and faith in God.
"Again, borrowing from my new album title, takin' heaven into the real world and giving people music they can live with in that real world, that's gonna bring that light and hope from the kingdom of heaven into their lives. There could be nothing more exciting to me than to see it get the chance to be discovered by a lot of people who still think that Christian music means hymns and things that you sing at a pretty slow tempo on Sunday morning in church. They just don't even know it really exists."
Chapman warms to his subject. "I just spent three weeks on a promotional tour goin' into Camelot Music headquarters and Sound Warehouse headquarters and all these places where these people are still kinda scratching their heads, goin', 'We didn't even know this exists. What is this Christian music?'
"I play a couple things on my guitar or a couple cuts from the new record, and their heads are bobbin' and their toes are tappin' -- they think it's great, and they didn't even know it existed. (Laughs) 'And you're like a normal guy! You didn't thump us in the head with a Bible or anything!' "
Perhaps most rewarding to Chapman is that his success, even in this new and unexplored secular market, has not meant sacrificing his integrity. "There hasn't been any sense of compromising the lyrics or trying to cover anything over or be any more subtle than I was on my first album," he notes, allowing just a little pride to show through. "I'm still making music that I want to encourage or challenge other Christians, but still present the message in a way that's real understandable and real accessible to somebody who's hearing it for the first time."
For its part, his record label, Sparrow, is ready to unleash Chapman on the unsuspecting world of pop radio. "Right now," says Chapman, "the record company is talking about a three-single plan -- releasing three singles to pop radio to at least get some exposure there."
Chapman tempers his excitement with a healthy dose of realism. "I don't think there's any visions of grandeur there, like we're gonna get a Number One single out of it or anything, but just to expose more people to the music. But all the ones they're picking are probably the ones I'd never pick -- I can never figure out what's gonna hit. They're kinda leaning toward 'Live and Learn' -- just because the pop radio guys see that it has the least amount of references to God in it, so they can probably play it on their stations."
Does the singer think this approach will pay off in greater secular airplay? "It's interesting, because a lot of these guys (radio programmers) are saying, 'Look, man, it's not about the message. If it sounds great, and fits our format, we'll play it and let the listeners decide.' If they'll do that, I think they're gonna be amazed.
"On my last record," he points out, "they played 'Go There With You,' which they had released to pop radio, and I read one review in one of the radio magazines where this guy wrote in and said, 'Never in my life have I had such overwhelming phone response from playing a new song by a new artist.' "
Finally, though, it may come down to the language of commerce -- numbers. It's a language which, at the moment, weighs heavily in Chapman's favor. "What these guys don't realize is that there are a half-million people out there who bought the last record.
"They're out there somewhere, a lot of 'em in places where they don't have any Christian radio or don't listen to it, and they're listening to pop radio. If they hear one of my songs, they're gonna get real excited and call in and request it or say somethin' about it. I think if they do that, there's the potential to open up whole new doors, and programmers will realize that there's a whole lot of people out there who want to hear this stuff."