August 1994 Articles
Cover Story
Darrell Elmore
Features
Paul Turner
Darrell Elmore
Columns
Berk Bryant
Jim Galipeau
Jan Winders
Paul Moffett
Earl Meyers
Keith Clements
Todd Hildreth
Duncan Barlow
Bob Bahr
CD Reviews
Allen Howie
Mark Clark
Allen Howie
Paul Moffett
Kevin Gibson
Bob Bahr
Kevin Gibson
Kevin Gibson
Todd Hildreth
Todd Hildreth
Cary Stemle
John Goodin
Kevin Gibson
Performance Reviews
Jean-Marie Ebel
Beverly Howell
William Brents
Allen Howie
Jean Metcalfe
Allen Howie
Pete Strojny
Allen Howie
Kevin Gibson
Jean-Marie Ebel
Bryan E. Hurst
Jean Metcalfe
Mark Clark
Wally Stewart
Interviews
Bob Bahr
Calendar
Staff
Staff
Staff
News Item
Errata
Photos
Eddie Davis
Jean Metcalfe
LASC
Paul Moffett
Jean Metcalfe
Michael Boehnlein
Blogs
Got Shows?
Send Them To Us
Bookmark Louisville Music News.net with these handy
social bookmarking tools:
Available RSS Feeds
- Top Picks
- Today's Music
- Editor's Blog
- Articles
Add Louisville Music News' RSS Feed to Your Yahoo!

Issue: August 1994
Frankie Valli By Jean Metcalfe
Frankie Valli didn't get thrown to the lions at the Louisville Zoo on July 9. He had been warned that's what would happen if he failed to deliver a good show. At least that's what he told the audience. He didn't sound scared. No reason to.
The concert was the third in a series of four ROARchestra performances presented by The Louisville Orchestra, except the Orchestra was on the road for this one. Not to worry, the Orchestra left Valli and the Four Seasons in the capable hands of "Sam Harris' Louisville Horn Section," and together they filled up the jumbo outdoor stage on a beautiful Saturday evening.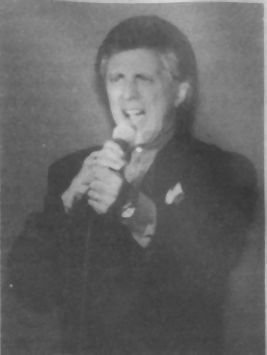 Frankie Valli
The seeds of the phenomenal success of Frankie Valli and the Four Seasons were sown much earlier when Francis Castelluccio's mother took her 7- or 8-year-old son to New York to a Frank Sinatra concert. In so doing, she had set him to pondering his life's goal. He remembers thinking then how he'd love to have a hit record.
Although the lad went on to enjoy considerable success singing with groups, it wasn't until 1967 that Frankie Valli's childhood dream came true when he had a solo hit with "Can't Take My Eyes Off You." His emotional performance of it this evening reflected how sweet it must have been -- and apparently still is, even with a career that can boast more than 80 million records sold.
Despite an enthusiastically received 70-minute parade of the best of Frankie Valli and the Four Seasons, including "Big Girls Don't Cry," "My Eyes Adored You" and "Grease," several hits were missing. And this writer would have happily traded the encore "The Way We Were" for a reprise of "Blue Moon."
Dip, dip, dip . . . .
Rhythms in Blue, an a cappella quintet of police officers, kicked off the ROARchestra event with an enjoyable songlist of oldies. Under the direction of Robin Sutherland, the men in blue closed their set with a nice rendition of the gospel favorite, "Daddy Sang Bass."