This page was generated in 0.05 seconds.
August 1994 Articles
Cover Story
Darrell Elmore
Features
Paul Turner
Darrell Elmore
Columns
Berk Bryant
Jim Galipeau
Jan Winders
Paul Moffett
Earl Meyers
Keith Clements
Todd Hildreth
Duncan Barlow
Bob Bahr
CD Reviews
Allen Howie
Mark Clark
Allen Howie
Paul Moffett
Kevin Gibson
Bob Bahr
Kevin Gibson
Kevin Gibson
Todd Hildreth
Todd Hildreth
Cary Stemle
John Goodin
Kevin Gibson
Performance Reviews
Jean-Marie Ebel
Beverly Howell
William Brents
Allen Howie
Jean Metcalfe
Allen Howie
Pete Strojny
Allen Howie
Kevin Gibson
Jean-Marie Ebel
Bryan E. Hurst
Jean Metcalfe
Mark Clark
Wally Stewart
Interviews
Bob Bahr
Calendar
Staff
Staff
Staff
News Item
Errata
Photos
Eddie Davis
Jean Metcalfe
LASC
Paul Moffett
Jean Metcalfe
Michael Boehnlein
Bookmark Louisville Music News.net with these handy
social bookmarking tools:
Available RSS Feeds
- Top Picks
- Today's Music
- Editor's Blog
- Articles
Add Louisville Music News' RSS Feed to Your Yahoo!

Don't come to August without lots of money. There are plenty hots shows vying for your dollar in the next month. Here's a rundown of a few.
As the house band for Antone's in Austin, the Fabulous Thunderbirds backed up Muddy Waters, Jimmy Rogers, Jimmy Reed, Buddy Guy and Albert Collins. Back then, Jimmy Vaughan was the guitarist in the tight, acclaimed four-piece blues band.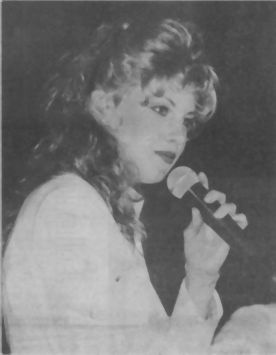 Faith Hlll will be at the Kentucky State Fair with Brooks & Dunn in Cardinal Stadium on August 26. Photo by Letha Marshall
That was 1974. By 1986, the Fab T-birds had gotten a pop sheen to them, as evidenced by their smash hit, "Tuff Enuff." Vaughan left in 1990, Louisville's own Duke Robillard and guitarist Kid Bangham joined up, and the Fabulous Thunderbirds went a bit on the soul tip. Robillard has left, the band is back to its stripped-down, quartet roots, and their current tour is in support of a greatest hits collection.
You've read the history lesson, now listen to the band, appearing at Coyote's on Aug. 1.
It's not getting a lot of publicity, but the Jazz Explosion concert at the Palace Theatre is a certified winner. Stanley Clarke leads the way on bass through a fusion, jazz and pop jaunt hitting on classics, signature pieces and new material from the talented quintet. In addition to Clarke, the group includes saxophonist Najee, drummer Billy Cobham, keyboardist Deron Johnson and guitarist Larry Carlton. The new live recording from this group is hot and flashy, so this is as close to a sure thing as you can get. The show is Aug. 2.
Don't laugh. The newest configuration of Motley Crue isn't all that bad. They still make big, goofy, guitar fun under the disguise of hard rock posturing. See them wreck the Palace on Aug. 3.
Then save your pennies for Loverboy, who'll be "Workin' for the Weekend" at Coyote's, Aug. 7. See interview above.
The Counting Crows concert at the Palace Theatre on Aug. 9 is sold out.
They remain more influential than popular, but the Neville Brothers nevertheless have the drawing power to sell out their Aug. 11 show at the Kentucky Center for the Arts. If you don't already have your tickets to see this New Orleans soul outfit, you better get to steppin'. Starchild Aaron Neville will be there with his brothers for this Lonesome Pine Special show.
Curiosity killed the cat? Maybe. And I'm sure it'll kill my five-spot on Aug. 13 when Purple Haze, a tribute to Jimi Hendrix, comes to Phoenix Hill Tavern. I have questions. What guitar player would have the testes to assume the role of Hendrix? Does the tribute's "Experience" dress up in those trippy clothes? And finally, does a Fender Stratocaster guitar get lit on fire at any point in the evening? Damn the fire marshall and come out on the 13th for the answers to these questions and more.
Another greying act touring on past accomplishments -- Steppenwolf -- is coming to Coyote's on Aug. 15. The silver lining: Original vocalist John Kay is still on board. Born to be wild about 25 years ago, this seminal rock group is the latest to offer Coyote's patrons a chance to hear their favorite oldies live and by the original artist.
What gold and platinum country recording artist quit music to work for a company that designed cattle pens, then came back and hit it big shortly thereafter? George Strait, the Texan singer with 21 #1 singles . . . the one whose album "Ocean Front Property" debuted at #1 on the charts. Strait leads a Kentucky State Fair roster that is mighty kind to country fans and a bit indifferent to everyone else. Strait plays Freedom Hall (Clay Walker opens) on Aug. 20.
Also at the Fair, Reba McEntire and her clothes on Aug. 18, Kenny G and his four note solos on Aug. 19, and Alan Jackson (with opener Aaron Tippin) on Aug. 28. The above shows are at Freedom Hall.
Over in Cardinal Stadium, the Fair brings us the Temptations (Aug. 18), Xscape (Aug. 19), .38 Special and Bad Company (Aug. 20), the Oak Ridge Boys (Aug. 21), Bobby Vee and the entertaining Peter Noone (Aug. 23), Lorrie Morgan (with opener Boy Howdy, Aug. 24), Everly Brothers and Kris Kristofferson (Aug. 25), Brooks & Dunn and Faith Hill (Aug. 26), and the current chart-toppers All-4-One (Aug. 27). A spiritual show featuring Twila Paris, 4-Him and The Happy Goodmans play gospel music in Cardinal Stadium on Aug. 22.
Fresh from a mountain in South America (or was it a holding cell in Greenwich Village?), it's David Lee Roth. The butt of Beavis jokes, the untethered frontman of days gone by, and the reason old Van Halen is three times better than the packaged Van Hagar served up now, Diamond Dave steps into Coyote's on Aug. 23 to prove he's more than just a gigolo. An inveterate ham and a slave to fun, Roth will probably deliver something between a spectacle and a performance art piece. Might be worth the Alexander Hamilton.
The last Bob Dylan show was a bust, so the fortune wheel has probably swung around, and we're due a good one.
That's my hope for the Aug. 23 concert featuring Minnesota's best Appalachian-blues folk-rocker poet-balladeer. The quality of Dylan's tours seem to reflect the quality of his latest album, and last year's World Gone Wrong was a good 'un. See Bobby D. in the lavish confines of the Palace Theatre, and promise not to laugh if he's on one of his losing streaks.
A recent Internat chat centered on Traffic's appearance on David Letterman before their national tour.
It was not pretty. By all accounts, Steve Winwood, Chris Wood and Jim Capaldi didn't do justice to the reputation of the group. Traffic recorded great albums such as John Barleycorn Must Die, The Low Spark of High-Heeled Boys and Mr. Fantasy -- the music a sophisticated blend of rock, R&B and jazz (and even a bit of English folk).
On the other hand, folks who have since seen them live on the tour that brings them to the Palace Theatre on Aug. 24 had glowing things to say. Frankly, I'd pay the money just to see keyboardist/vocalist Winwood stretch out in the context of "Freedom Rider" and "Glad."
The Mighty Mighty Bosstones became nationally known through a clothing ad (I believe it was Nike) that appeared in several magazines including Rolling Stone. The Boston band came off as being more schtick than substance. But advance word about their show is that the Bosstones expend more energy than a space shuttle rocket booster. Non-stop ska madness, they say, and performed completely IN PLAID, at that. See them at the Brewery on Aug. 26.
The don't-miss performance at the Kenlake Hot August Blues & Bar-BQ festival seems to be Koko Taylor & Her Blues Machine, but there are a host of other blues bands involved, including Big Al & the Heavyweights, the Unknown Blues Band, the Knightfish, 61 South, the Chicago Rhythm & Blues Kings, Blue Lou & the Accusations, Dean Hall & the Loose Eels, the Funky Jazz Beavers, Bobby Johnson, Trippin' Lizards, Wolfman & the Pack, the Rusty Spoons and the Excell Legends. The festival runs Aug. 27 & 28. Tickets are $10 advance and $12 at the gate. The Kenlake State Resort Park Ampitheater is located at Hwy. 68 & 94 in Aurora, Ky. For more information and tickets, call 1-800-325-0143 or 502-474-2211. In case your wondering, it looks as though most of Louisville's premier blues acts are tied up doing gigs at the Kentucky State Fair during the Kenlake festival.