This page was generated in 0.08 seconds.
August 1994 Articles
Cover Story
Darrell Elmore
Features
Paul Turner
Darrell Elmore
Columns
Berk Bryant
Jim Galipeau
Jan Winders
Paul Moffett
Earl Meyers
Keith Clements
Todd Hildreth
Duncan Barlow
Bob Bahr
CD Reviews
Allen Howie
Mark Clark
Allen Howie
Paul Moffett
Kevin Gibson
Bob Bahr
Kevin Gibson
Kevin Gibson
Todd Hildreth
Todd Hildreth
Cary Stemle
John Goodin
Kevin Gibson
Performance Reviews
Jean-Marie Ebel
Beverly Howell
William Brents
Allen Howie
Jean Metcalfe
Allen Howie
Pete Strojny
Allen Howie
Kevin Gibson
Jean-Marie Ebel
Bryan E. Hurst
Jean Metcalfe
Mark Clark
Wally Stewart
Interviews
Bob Bahr
Calendar
Staff
Staff
Staff
News Item
Errata
Photos
Eddie Davis
Jean Metcalfe
LASC
Paul Moffett
Jean Metcalfe
Michael Boehnlein
Bookmark Louisville Music News.net with these handy
social bookmarking tools:
Available RSS Feeds
- Top Picks
- Today's Music
- Editor's Blog
- Articles
Add Louisville Music News' RSS Feed to Your Yahoo!

Country Style By Jan Winders
Poolside, a great place for thought. I have been on vacation for the past two weeks and I feel so out of touch with all the happenings around town. But August has great things in store for us country music fans.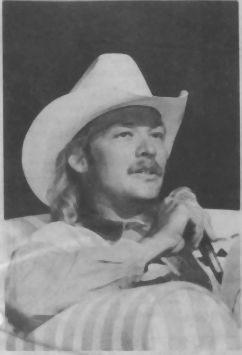 Alan Jackson, shown here at Nashville's Fan Fair in June, will be at the Ky. State Fair on Augu. 28. Photo by Letha Marshall
This has a lot to say for the Kentucky State Fair: A lot of the concerts are SOLD OUT! They will all be sold out when you read this column.
I need some tickets for the Alan Jackson and Aaron Tippin show. I know a few teen-aged girls who are dying to go. Would someone with a big heart and a few extra tickets call me at 502-241-2699.
Fair Concert Menu
FREEDOM HALL, 8 p.m. p.m.
Aug. 18: Reba McEntire
Aug. 19: Kenny G
Aug. 20: George Strait, Clay Walker
Aug. 28: Alan Jackson, Aaron Tippin
CARDINAL STADIUM 8 p.m.
(F) indicates free show)
(F)Aug. 18: Temptations
(F)Aug. 19: Xscape
(F)Aug. 20: .38 Special, Bad Company
(F)Aug. 21: Oak Ridge Boys
(F)Aug. 22: Twila Paris, 4-Him, The Happy Goodmans
(F)Aug. 23: Bobby Vee, Peter Noone
(F)Aug. 24: Lorrie Morgan, Boy Howdy
(F)Aug. 25: Everly Brothers
Kris Kristofferson
Aug. 26: Brooks & Dunn, Faith Hill
Aug. 27: All-4-One
(F)Aug. 28: Circus Continental
An all-star lineup for the greatest show on earth, your very own Kentucky State Fair.
In the Marlboro tent, with Chuck Wagon food, we have some of our super local groups performing daily: Karen Kraft & Kiks, Black Hawke Xpress, Amy Cooke and Wild Horses.
For the bluegrass music lovers there is Cookin\' Corner featuring porkchops and live bluegrass music daily from New Horizon and Pickin Time.
The main event at the Fair is, as always, the FOOD! It is a must to come to the Fair with an empty tummy.
One big reminder this year: All traffic is one-way. This should be an experience. I can't wait.
I want to congratulate The Bobby Roberts Company of Henderson, Tenn. They have been named "Talent Director of the Year." This talent agency is one of the best to work with. They want the fans to know what's going on in the country music business. They send me all their press releases so I can pass the news on to you about the artists. Bobby Roberts, the Chief Executive Officer, is also John Anderson's personal manager. Keep up the great work.
Everyone by now has heard of the Mavericks. Critics are calling What a Crying Shame the best country album of the year. The Mavericks formed out of Miami five years ago. A Roy Orbison sound. Close your eyes and see who you think it looks like. A well-groomed honky-tonk sound of the '50s and '60s. Great stuff!
The Mavericks have a cut, "Match Box," with Carl Perkins and Duane Eddy for the upcoming Red Hot Country AIDS Benefit album on Mercury Records. They\'ve also recorded their own version of the shuffle, "Call Me the Breeze," for the Lynyrd Skynyrd tribute album, Skynyrd Friends. I wonder when Skynyrd will come on over to the country?
Charlie Walls of Music Man Records is on the loose again. He will be releasing a new CD in August that he has produced. Could it be more local talent? As soon as he sends me the copy he promised, I will let you guys know what's up with these tunes.
Charlie and Wes Hutchcraft have initiated a new booking agency. I would advise anyone wanting to get recognized to contact these gentlemen. Charlie Walls has been around the business long enough to know what it takes to be noticed. I would grade him a plus in a new career. For more information: 606-336-9839.
On Aug. 5 Billy Joe Royal will perform at the National Street Rod Festival at the Fairgrounds.
The hot new act Rick Trevino will be at Coyote's on Aug. 9.
The CMT crunch is about to take effect. This will all take place in January 1995. Canada is replacing Country Music Television with its own home-grown channel known as The Country Network.
Until next time, there's enough country for all of us!