August 1994 Articles
Cover Story
Darrell Elmore
Features
Paul Turner
Darrell Elmore
Columns
Berk Bryant
Jim Galipeau
Jan Winders
Paul Moffett
Earl Meyers
Keith Clements
Todd Hildreth
Duncan Barlow
Bob Bahr
CD Reviews
Allen Howie
Mark Clark
Allen Howie
Paul Moffett
Kevin Gibson
Bob Bahr
Kevin Gibson
Kevin Gibson
Todd Hildreth
Todd Hildreth
Cary Stemle
John Goodin
Kevin Gibson
Performance Reviews
Jean-Marie Ebel
Beverly Howell
William Brents
Allen Howie
Jean Metcalfe
Allen Howie
Pete Strojny
Allen Howie
Kevin Gibson
Jean-Marie Ebel
Bryan E. Hurst
Jean Metcalfe
Mark Clark
Wally Stewart
Interviews
Bob Bahr
Calendar
Staff
Staff
Staff
News Item
Errata
Photos
Eddie Davis
Jean Metcalfe
LASC
Paul Moffett
Jean Metcalfe
Michael Boehnlein
Blogs
Got Shows?
Send Them To Us
Bookmark Louisville Music News.net with these handy
social bookmarking tools:
Available RSS Feeds
- Top Picks
- Today's Music
- Editor's Blog
- Articles
Add Louisville Music News' RSS Feed to Your Yahoo!

Issue: August 1994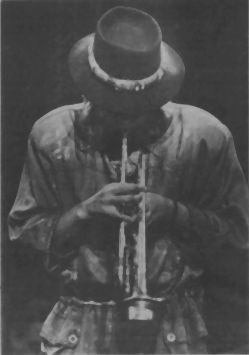 Chuck Mangione. Photo by Eddie Davis
Chuck Mangione
By Allen Howie
There was one image from Chuck Mangione's show at The Palace Theatre that lingered long after the performance. Ironically, it happened when the artist wasn't even playing. Instead, he was standing out of the spotlight to let a band member take a solo. There he stood, lost in the music, cradling his horn against his chest in what has become a now-familiar pose.
Mangione's status as an accomplished jazz player is anything but a pose, as his two-hour show proved. Starting his first set with a number from Black Orpheus, Mangione and his four-piece ensemble (bass, guitar, drums, flute/sax/percussion) began the tune as a gentle Latin breeze, then kicked up their heels.
Whether he's playing trumpet or his famous flugelhorn, Mangione's tone is warm and fluid, his style deceptively relaxed, appearing to be effortless when the exact opposite is true. A generous bandleader, he frequently stepped out of the spotlight to allow one of his sidemen to solo. But it was when they played together that the band caught fire, each part dancing around the others, every note and every beat accenting those above and below it.
Whether slinking through an old Dizzy Gillespie tune or dedicating a new number to his wife Rose, Mangione slipped into musical styles as if each was a suit tailor-made for him. A former sideman for Art Blakey and Maynard Ferguson, Mangione can cut an inventive solo with the best of them, but he's equally at home performing a straightforward ensemble version of "Chase the Clouds Away," his playing (and the band's) a model of elegant economy.
New compositions like the ballad "Once Upon a Love Time" alternated with older numbers like the playfully adventurous "Land of Make Believe," making way for several selections from the Children of Sanchez album, clearly a favorite of the artist.
Finally, at around 10:30, Mangione offered an encore featuring "a song that put my two daughters through college," the effervescent "Feels So Good." The Top Ten hit from 1978 showcased Mangione's gift for wedding jazz and pop structures without compromising the essence of either form, offering a sweet conclusion to a warm and satisfying performance.