August 1994 Articles
Cover Story
Darrell Elmore
Features
Paul Turner
Darrell Elmore
Columns
Berk Bryant
Jim Galipeau
Jan Winders
Paul Moffett
Earl Meyers
Keith Clements
Todd Hildreth
Duncan Barlow
Bob Bahr
CD Reviews
Allen Howie
Mark Clark
Allen Howie
Paul Moffett
Kevin Gibson
Bob Bahr
Kevin Gibson
Kevin Gibson
Todd Hildreth
Todd Hildreth
Cary Stemle
John Goodin
Kevin Gibson
Performance Reviews
Jean-Marie Ebel
Beverly Howell
William Brents
Allen Howie
Jean Metcalfe
Allen Howie
Pete Strojny
Allen Howie
Kevin Gibson
Jean-Marie Ebel
Bryan E. Hurst
Jean Metcalfe
Mark Clark
Wally Stewart
Interviews
Bob Bahr
Calendar
Staff
Staff
Staff
News Item
Errata
Photos
Eddie Davis
Jean Metcalfe
LASC
Paul Moffett
Jean Metcalfe
Michael Boehnlein
Blogs
Got Shows?
Send Them To Us
Bookmark Louisville Music News.net with these handy
social bookmarking tools:
Available RSS Feeds
- Top Picks
- Today's Music
- Editor's Blog
- Articles
Add Louisville Music News' RSS Feed to Your Yahoo!

Austin Comes to Louisville:Jimmie Vaughan, Doyle Bramhall & Storyville
By Beverly Howell
Photos By Kopana Terry
There were no armadillos dodging traffic on Bardstown Road, but an occasional gust of wind tossed -- could it be? -- a tumbleweed past the saloon doors of Phoenix Hill Tavern. Down the street, a sun-bleached cow skull hung over the door of the Cherokee Blues Club. It was suitably evocative of West Texas, but it drew none of the dry-land scorpions normally found there.
If guitars can be seen as complacent scorpions with straight tails, then their controlled sting was represented by Austin legends Jimmie Vaughan, Doyle Bramhall, and Storyville, who transported Louisvillians (and a certain expatriate Texan) to Austin via three separate concerts in one hot July week.
Jimmie Vaughan at the Thunderdome
In the years following the death of blues guitar wizard/god Stevie Ray Vaughan in a helicopter crash in 1990, many fans of his brother Jimmie thought that Jimmie had unplugged his guitar and just disappeared, grieving over the loss of his brother. However, rumors started to circulate late last year that Vaughan was in the studio working on his first solo CD, and those rumor became reality when Strange Pleasure hit the racks in April.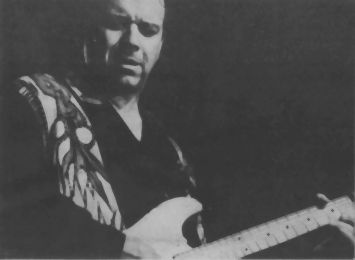 Jimmie Waughan
Vaughan's tour in support of the new CD brought him to the Thunderdome on July 12, marking the end of a 3-year absence from the spotlight.
The release of Strange Pleasure and his Louisville performance showcased his heretofore-unknown vocal strength. When asked why he hadn't sung more in the past, he flashed that signature Vaughan grin, and stated, "I never really had to . . . it's funny the things you can do when you're backed in a corner."
Accompanying Vaughan at the Brewery were recording artists Denny Freeman on piano; Antone's house drummer George Raines; Bill Willis, who handled bass duties on a Hammond B-3 organ; and backing vocalists Reginald Brisbon, Dennis King, and Calvin Burns. Throughout the show, they demonstrated a surprisingly wide array of styles, from honky-tonk and blues, to gospel and rock. Vaughan's Production Manager, Rene Martinez, provided a flawless flamenco acoustic lead-in to "Flamenco Dancer."
There were very few dry eyes in the house as Vaughan, on acoustic guitar and flanked by his three-man choir, performed "Six Strings Down," a loving tribute to his little brother.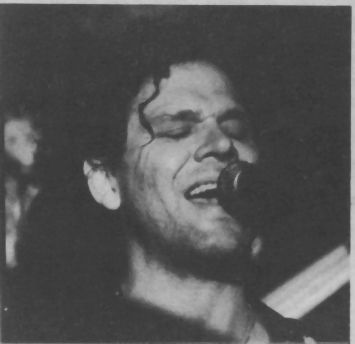 Doyle Bramhall
Vaugan's performance at the Brewery stands as proof that he is back in full force. He played with authoritative grace and powerful precision, making every note count. Stevie Ray described Jimmie's style best several years ago, when he stated, "I play probably eighty percent of what I can play. Jimmie plays one percent of what he knows."
Sometimes less is more.
Opening for Jimmie Vaughan was PolyGram's C. C. Adcock.
Doyle Bramhall at the Cherokee Blues Club
Doyle Bramhall made his Louisville debut on July 13 at the Cherokee Blues Club. If Bramhall's name sounds familiar, but you just can't place it, ask any Stevie Ray fan. Aside from playing drums on two cuts of Jimmie and Stevie's "Family Style," his songwriting credits are exceptionally extensive. He wrote or co-wrote songs on five of Stevie Ray Vaughan's six album releases. Classics include, "Tightrope," "Hard to Be," and "Change It," not to mention the award winning, "Life By The Drop," which he co-wrote with Barbara Logan.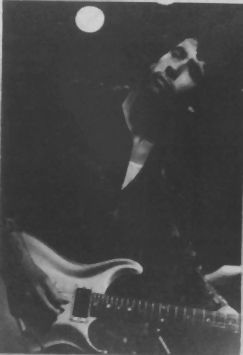 David Grissom
Talent runs in the family as well; Bramhall's son, Doyle II, performed with the Arc Angels, and Bramhall's stepson, Chris Hunter, is the drummer for PolyGram recording artist CC Adcock.
Performing cuts from his new Antone's release, Bird Nest on the Ground, Bramhall's performance was proof positive that this multi-talented vocalist/drummer/songwriter is no backup musician and should have been headlining many years ago. Several comments from audience members made reference to how much Bramhall's singing sounded like Stevie Ray. In fact, Bramhall has been a friend and fellow performer for both Vaughan boys since their early teen years, and he was Stevie's major vocal influence.
Bramhall's show at the Cherokee will go down as one of those classic performances, one that attendees will rave about for years to come.
I certainly will.
Malaco recording artists The Beat Daddys opened for Bramhall.
Storyville at the Phoenix Hill Tavern
It's rare to see a standing-room-only crowd in the Phoenix Hill Tavern on a Tuesday night, but those with day jobs would agree that Storyville was well worth losing sleep over.
Building on the rhythm section from Double Trouble, Stevie Ray Vaughan's band, Storyville's Texas sound was as solid as a rock -- a mix of the highest-caliber musicians. Take the strong Motown flavor of award-winning vocalist Malford Milligan, and mix well with the rhythm section of Tommy Shannon and Chris Layton. Add guitarists David Holt, who has performed with Carlene Carter and the Mavericks, and Louisville's very own David Grissom, previously was with John Mellencamp. The result? A Texas blues/rock/Motown groove that is as energetic as it is addictive. The band's enthusiasm and mutual respect for each other's talent was both contagious and impressive.
Performing cuts from their November Records release, Bluest Eyes, they sounded as if they had jammed together for years, but Milligan confessed in a pre-show interview that this was approximately their tenth time actually playing together. Layton informed me that the CD actually came together before the band did.
If Storyville is this tight in its infancy, I can't imagine where they'll be a year from now, and fI can't wait to find out.
Epic recording artists Soulhat opened for Storyville.
The last of the tumbleweeds disappeared into the Bourbon Stockyards as the boys in the band packed up and hit the road.
The sounds of Austin faded at last. A small scorpion skittered under the deck, tail bouncing.
Copyright 1994 By Louisville Music News.
This story may not be be preprinted with the expression written permission of Louisville Music News. Portions may be reprinted for review or publicity provided explicit citation of the source is made.
Louisville Music News may be contacted at LMN, 7505 Cambridge Dr. Crestwood, KY 40014 or 502-241-2699.