August 1994 Articles
Cover Story
Darrell Elmore
Features
Paul Turner
Darrell Elmore
Columns
Berk Bryant
Jim Galipeau
Jan Winders
Paul Moffett
Earl Meyers
Keith Clements
Todd Hildreth
Duncan Barlow
Bob Bahr
CD Reviews
Allen Howie
Mark Clark
Allen Howie
Paul Moffett
Kevin Gibson
Bob Bahr
Kevin Gibson
Kevin Gibson
Todd Hildreth
Todd Hildreth
Cary Stemle
John Goodin
Kevin Gibson
Performance Reviews
Jean-Marie Ebel
Beverly Howell
William Brents
Allen Howie
Jean Metcalfe
Allen Howie
Pete Strojny
Allen Howie
Kevin Gibson
Jean-Marie Ebel
Bryan E. Hurst
Jean Metcalfe
Mark Clark
Wally Stewart
Interviews
Bob Bahr
Calendar
Staff
Staff
Staff
News Item
Errata
Photos
Eddie Davis
Jean Metcalfe
LASC
Paul Moffett
Jean Metcalfe
Michael Boehnlein
Blogs
Got Shows?
Send Them To Us
Bookmark Louisville Music News.net with these handy
social bookmarking tools:
Available RSS Feeds
- Top Picks
- Today's Music
- Editor's Blog
- Articles
Add Louisville Music News' RSS Feed to Your Yahoo!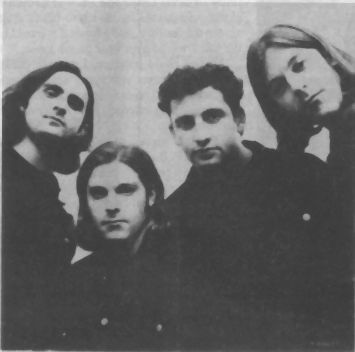 The Greenberry Woods
after the Beatles, part two
Rapple Dapple (Sire)
The Greenberry Woods
By Paul Moffett
It could be a songwriting and arranging exercise gone crazy: "Hey, guys, let's write songs like Lennon/McCartney and arrange them like George Martin did in the early years!"
It could be a clever bit of packaging by older management.
At their recent Louisville show, drummer Miles Rosen claimed that the sound "just happened."
Perhaps. The "packaging" of the band says otherwise. The group wore identical black, collarless T-shirts on stage, for instance. The sequential photos in the CD are of the boys leaping about on a grassy hillside. The CD title is Rapple Dapple, for goodness' sakes. Paul is dead and I am the Walrus.
Whatever the source of the "similarities," Baltimore band The Greenberry Woods (Abbey Road, Strawberry Fields Forever, Penny Lane), have produced a splendid CD full of sing-along three-minute pop gems, rather like the early Beatles discs. Working from within the basic guitar-based quartet form, the band has crafted tunes that are both singable and playable, an important consideration to songwriters who would no doubt like to hear their tunes covered in bars across the nation.
The songs are mostly about love and losing it, looking for it and, occasionally, finding it again. The lyrics are Ô90ish introspective and pop psychologically attuned, as illustrated by the opening verse from "I'll Send a Message": "I used to play love tongue-in-cheek/Now I wish I'd kept my tongue in check/What can I do to reclaim my self-respect?"
They reclaim their self-respect with a perfect radio chorus.
"Ill send a message/And I know just where I'll start/I'll send a message/I'll send a message to your heart."
Scattered throughout the album are some nifty guitar riffs that don't really, quite . . . almost edge into something familiar, then scurry off in a different and interesting direction. In particular, listen to the opening to "That's What She Said." It's real George. "The Sympathy Song" likewise has a crunchy guitar progression introducing what might be the most singable of the choruses on this disc.
GBW seems to have learned some of the lessons of rock 'n' roll well. Witness the opening lines to "Trampoline," the first tune on the CD: "Here's a place/Here's a time/Here we are/A shooting star/Here's a word/Make that two/Now we're through/La de da/Come and see/Trampoline."
If they can continue on the long and winding road they've chosen, they could bounce pretty high. The CDs are available at local record stores and QMF Too is playing some cuts.
Now, if I can just get this CD to play backwards. . .