August 1994 Articles
Cover Story
Darrell Elmore
Features
Paul Turner
Darrell Elmore
Columns
Berk Bryant
Jim Galipeau
Jan Winders
Paul Moffett
Earl Meyers
Keith Clements
Todd Hildreth
Duncan Barlow
Bob Bahr
CD Reviews
Allen Howie
Mark Clark
Allen Howie
Paul Moffett
Kevin Gibson
Bob Bahr
Kevin Gibson
Kevin Gibson
Todd Hildreth
Todd Hildreth
Cary Stemle
John Goodin
Kevin Gibson
Performance Reviews
Jean-Marie Ebel
Beverly Howell
William Brents
Allen Howie
Jean Metcalfe
Allen Howie
Pete Strojny
Allen Howie
Kevin Gibson
Jean-Marie Ebel
Bryan E. Hurst
Jean Metcalfe
Mark Clark
Wally Stewart
Interviews
Bob Bahr
Calendar
Staff
Staff
Staff
News Item
Errata
Photos
Eddie Davis
Jean Metcalfe
LASC
Paul Moffett
Jean Metcalfe
Michael Boehnlein
Blogs
Got Shows?
Send Them To Us
Bookmark Louisville Music News.net with these handy
social bookmarking tools:
Available RSS Feeds
- Top Picks
- Today's Music
- Editor's Blog
- Articles
Add Louisville Music News' RSS Feed to Your Yahoo!

Issue: August 1994
Proclaimers, Greenberry Woods
By Bryan E. Hurst
The Proclaimers, two unlikely pop heroes, made a stop at the Brewery's Thunderdome July 11.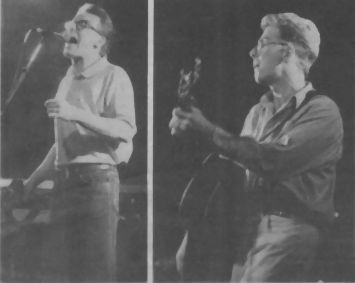 The Proclaimers, Craig and Charlie Reid. Photo by Paul Moffett
Craig and Charlie Reid, twins with bad eyesight, soaring harmonies and burrs (the accent, not the hairstyle), thicker than Mackeson Triple Stout, hail from Inverness, Scotland, about as far north as you can go before you fall into the ice. They sound a bit like the Everly Brothers would if Phil and Don swallowed a hillside of frozen thistles.
I'd first encountered their heady blend of Celtic pub music, country rock and Motown soul when an old girlfriend turned me on to their brilliant 1988 release Sunshine On Leith, after which they seemed to disappear faster than you can say "no label support" (hey, I got the word out). After a while, I just figured the brothers Reid married a pair of local lassies and went back to throwing darts at the corner pub.
Who would have guessed that one of their catchiest tunes, "I'm Gonna Be (500 Miles)," would have ended up on a movie soundtrack and become a smash hit single? Four years after it was released? Are these boys living right, or what?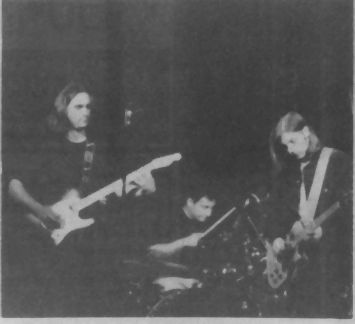 The Greeenberry Woods, left to right, Ira Katz, Miles Rosen (on drums) and Matt Huseman. Photo by Paul Moffett
So now they're hitting the road in support of Hit the Highway, the new Proclaimers release. As delightful as "I'm Gonna Be" is, this is not a one-hit-wonder outfit; all three of their releases are chock full of catchy, driving tunes that somehow survived the Quonset-hut Thunderdome acoustics (forget understanding the between-song patter, though).
The evening opened with the very Everly-ish "I'm On My Way," and ranged from the driving "Then I Met You" to the haunting, plaintive cry of Scottish nationalism, "What Do You Do." In a nod to their pub-crawling past, Craig and Charlie gave the band a break and did acoustic versions of "Throw the 'R' Away" and "Misty Blue" from their first album, This Is the Story. The unavoidable "I'm Gonna Be" was given a performance fresh as '89; either these boys are still not sick of the song, or they know where their bread is buttered (or both).
Evening's high point: Charlie's beyond-human-ability lead vocal on "Sean."
Encores included a wonderfully goofy cover of "King of the Road" and the uproarious "Oh Jean."
The evening was opened by Baltimore's The Greenberry Woods. They're a fine band in that jangly-pop Beatlesque vein (I'm sure they get sick of hearing that) and are also fronted by twin brothers. Call Ripley; I'm sure that makes the evening some kind of first for the Louisville area.