This page was generated in 0.05 seconds.
August 1994 Articles
Cover Story
Darrell Elmore
Features
Paul Turner
Darrell Elmore
Columns
Berk Bryant
Jim Galipeau
Jan Winders
Paul Moffett
Earl Meyers
Keith Clements
Todd Hildreth
Duncan Barlow
Bob Bahr
CD Reviews
Allen Howie
Mark Clark
Allen Howie
Paul Moffett
Kevin Gibson
Bob Bahr
Kevin Gibson
Kevin Gibson
Todd Hildreth
Todd Hildreth
Cary Stemle
John Goodin
Kevin Gibson
Performance Reviews
Jean-Marie Ebel
Beverly Howell
William Brents
Allen Howie
Jean Metcalfe
Allen Howie
Pete Strojny
Allen Howie
Kevin Gibson
Jean-Marie Ebel
Bryan E. Hurst
Jean Metcalfe
Mark Clark
Wally Stewart
Interviews
Bob Bahr
Calendar
Staff
Staff
Staff
News Item
Errata
Photos
Eddie Davis
Jean Metcalfe
LASC
Paul Moffett
Jean Metcalfe
Michael Boehnlein
Bookmark Louisville Music News.net with these handy
social bookmarking tools:
Available RSS Feeds
- Top Picks
- Today's Music
- Editor's Blog
- Articles
Add Louisville Music News' RSS Feed to Your Yahoo!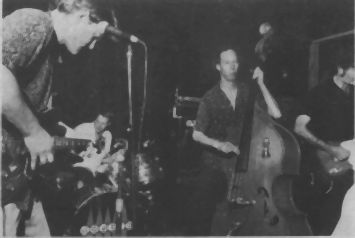 Bodeco at Uncle P's. Left to right, Ricky Feather, Brain Burkett (on drums), Jimmy Brown and Wink O'Bannon.
Southern Culture On the Skids Meets Bodeco at Uncle P's By William Brents
Originally I was going to pass on this show, but a phone call from LMN changed my mind.
How fortunate. My trip on July 15 to Uncle Pleasant's turned out to be a joyous blast, thanks to two highly entertaining party bands.
Returning from a lengthy layoff, hometown heroes Bodeco warmed up the already hot and sticky crowd with their seething hillbilly, bluesy, rock sound.
Bodeco's music is big, bold and downright dirty. The music doesn't care if you have rhythm or not because the music knows it will get you moving sooner or later. The rhythm simply bullies and overwhelms one's body into performing numerous physical acts, and, believe me, the acts were being performed by most of the packed house.
In fact, loony but loveable frontman Ricky Feather implored the women to "show some cleavage and do a little crack dancing for the boys." No one obliged but you can't blame an excited boozy musician for trying.
Bodeco's irresistible rave-ups flowed one after the other. "Tremblin," "Hard to Tell," "Guitar Boogie" and one of my personal favorites, "Fat Fanny," elevated the already hell-like temperature. Feather's raucous vocal had raged, except for one song where his voice, due to a technical snag, was silenced.
The band, guitarist Wink O'Bannon, bassist Jimmy Brown, drummer Brian Burkett, and percussionist Gary Stilwell, was undaunted. They finished the song (which, by the way, sounded a lot like the Rolling Stones' "Honky Tonk Women") to a mixed response, so to make everyone happy they double-timed it with vocals included.
By the time their set ended Bodeco had once again kicked up enough fuss to arguably be recognized as Louisville's best live band.
The hillbilly hedonism was just beginning, folks. A three-piece band from North Carolina known as Southern Culture on the Skids was up next. S.C.O.T.S. singer, guitarist Rick Miller, who by the way looked like a cross between Cajun cook Justin Wilson and Ernest T. Bass, was hilarious. Decked out in overalls and straw hat, Miller chattered about where his inspiration for songwriting comes from. Things like pigs, cows, chicken farmers, grease, biscuits -- you get the idea.
Bodeco percussionist Gary Stilwell sat in with S.C.O.T.S., which also includes crazed drummer David Hartman and bassist Mary Huff. Huff belted out "The Real Nitty Gritty," just one of the tasty morsels that highlighted the colorful evening. Also included was "Too Much Pork for Just One Fork," and "Daddy Was a Preacher and Mama Was a Go-Go Girl."
The music was of party tempo. Loose, lean and full of swagger.
Usually I'm restrained, but like most, I got completely carried away into boogie-woogie land. And that, my friends, says a lot for the two bands.