August 1994 Articles
Cover Story
Darrell Elmore
Features
Paul Turner
Darrell Elmore
Columns
Berk Bryant
Jim Galipeau
Jan Winders
Paul Moffett
Earl Meyers
Keith Clements
Todd Hildreth
Duncan Barlow
Bob Bahr
CD Reviews
Allen Howie
Mark Clark
Allen Howie
Paul Moffett
Kevin Gibson
Bob Bahr
Kevin Gibson
Kevin Gibson
Todd Hildreth
Todd Hildreth
Cary Stemle
John Goodin
Kevin Gibson
Performance Reviews
Jean-Marie Ebel
Beverly Howell
William Brents
Allen Howie
Jean Metcalfe
Allen Howie
Pete Strojny
Allen Howie
Kevin Gibson
Jean-Marie Ebel
Bryan E. Hurst
Jean Metcalfe
Mark Clark
Wally Stewart
Interviews
Bob Bahr
Calendar
Staff
Staff
Staff
News Item
Errata
Photos
Eddie Davis
Jean Metcalfe
LASC
Paul Moffett
Jean Metcalfe
Michael Boehnlein
Blogs
Got Shows?
Send Them To Us
Bookmark Louisville Music News.net with these handy
social bookmarking tools:
Available RSS Feeds
- Top Picks
- Today's Music
- Editor's Blog
- Articles
Add Louisville Music News' RSS Feed to Your Yahoo!

Issue: August 1994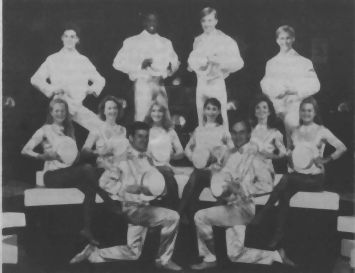 'A Chorus Line' at Derby Dinner
By Jean-Marie Ebel
Derby Dinner Playhouse in Clarksville has delighted audiences once again with its stunning production of Michael Bennett's "A Chorus Line." Since opening on Broadway in 1975, "A Chorus Line" has offered a look at the real-life stories and challenges faced by performers in the topsy-turvy entertainment world.
Reprising his role as Zach, Jon Huffman delivered one of the evening's most commanding performances on July 21, while Barbara F. Cullen, as Cassie, the talented dancer who has been out of work for far too long, thrilled the crowd with her rendition of "The Music and the Mirror."
As the cute couple Al and Christine, Bill Hanna and Jeannie Rogers charmed everyone with a feisty performance of "Sing!" Jim Hesselman's believable and poignant Paul, whose injury inspires the "What If You Could No Longer Dance?" scene, explored the emotions and vulnerabilities behind every dancer's life.
Under the fine direction of Bekki Jo Schneider and choreography of Cullen, "A Chorus Line" delivered a high-impact, emotionally charged performance that forced the audience to experience the daily challenges faced by performers as they put themselves on the line day after day. In the production's finale, the dancers, now decked in gold spangled costumes, brought the show to its explosive conclusion with a sizzling reprise of the well-known tune "One."
The packed crowd at the playhouse obviously enjoyed every minute of "A Chorus Line," and, in the intimate setting of the theater, actually had the chance to see the seamy underside of Broadway's glamorous shows. All in all, the fine cast at Derby Dinner Playhouse turned in an outstanding performance that is unlikely to be forgotten.
Performances will continue through Aug. 28. Reservations can be made by calling 812-288-8281.