June 2018 Articles
Cover Story
Paul Moffett
Columns
Eddy Metal
Eddy Metal
Blogs
Got Shows?
Send Them To Us
Bookmark Louisville Music News.net with these handy
social bookmarking tools:
Available RSS Feeds
- Top Picks
- Today's Music
- Editor's Blog
- Articles
Add Louisville Music News' RSS Feed to Your Yahoo!



I've Got A Mind To Ramble
There is a new band in town. They had a chance to show their stuff for the first time at the MERF Blues Fest and Barbecue Benefit at Phoenix Hill Tavern Sunday afternoon, June 26. Dennis Ervin, the lead guitarist and driving force, has been living in Louisville for nearly four years but has just recently started jamming around town this past year and playing occasionally with Sam "Shake" Anderson. Dennis grew up in Syracuse N.Y., and headed out to California in 1974 after graduating from high school. There he played with various show groups. His big break came when he opened for Curtis Mayfield. This opportunity led to touring with the Coasters, Shirelles and Drifters from 1976 to 1985. He returned to Syracuse in 1985 to form his own group, the Sunrise Band, which played R&B and variety. Dennis came to Louisville, his wife's hometown, in 1990 but did not play music professionally for three years.
It was just two weeks before the benefit that the Dennis Ervin Band took shape. Dennis met his drummer, Bobby McMillian, at a jam session at Air Devils Inn. David Zia, the bass player formerly with Time Machine, answered Dennis' ad in the paper. A veteran of the Louisville music scene, Butch Watson, rounds out the band on keyboards. They play to please, mixing blues, R&B, and Motown. This talented band really hit a nice blues groove with "Cisco Kid" and "Red House" that afternoon. They were scheduled to play again at Jim Porter's on July 22 and 23 and have been asked to perform at the Rudyard Kipling during this year's Garvin Gate Blues Festival.
Remember Dennis Ervin, for he is a new musical force on the Louisville scene who deserves some attention.
l
Tinsley Ellis said the turning point in his career came when he did the concert with Lonnie Mack for the Lonesome Pine Series in 1992. Because that show was shown on public television across the country, he became known nationally. Tinsley was anxious to return to Louisville for his July 2 performance at the Waterside Festival to thank those responsible for making that happen. That had been the first time he performed with Lonnie and subsequently they did several concerts and tours together with Tinsley opening and then jamming together after Lonnie's set.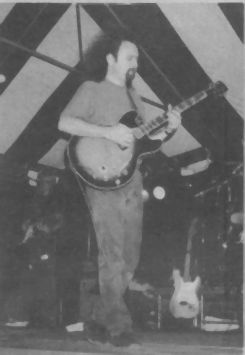 Tinsley Ellis at the 1994 Waterside Festival. Photo by Keith Clements
The band drove up from Atlanta, playing the night before Waterside in Lexington and then performing in Memphis on July 4. They were scheduled to be at the Summerfest in Milwaukee in mid-July.
Tinsley usually plays his Fender Stratocaster and recently he has been using a 345 Gibson to capture that full-body sound. He brought both axes to Louisville, along with James Ferguson on bass, Stuart Grimes on drums and a young, hot guitarist, Oliver Wood. Since Oliver was beginning to get some recognition in Georgia, they decided to join forces rather than compete.
Tinsley said he has just finished recording at the Kingsnake Studios in Florida with the singer and harpist Chicago Bob. They had originally played in a band together called the Heartfixers in Atlanta during the early '80s. Bob is from Bogaloosa, Ala., but his sound is the Excello swamp style of blues. To get the more traditional Louisiana blues sound, Tinsley used a small amp on his guitar that was heavy on the tremolo. He is hoping this music will be released on Alligator.
Speaking of Alligator, Tinsley's next release is due out Aug. 15 and it is called Storm Warning. This will be in his familiar blues/rock genre which will include some acoustic cuts. Besides the band that came to Louisville, Chuck Leavell was added to the recording session. He is the keyboardist who has been recently playing with the Rolling Stones.
Tinsley commented that the Atlanta blues scene is holding its own. Blue Harbour in the Underground has closed but Blind Willie's is still going strong with the Shadows as the house band. Luther "House Rockin'" Johnson, Sandra Hall and Chicago Bob perform regularly around the city. Tinsley sees the blues on a national rise, with many of the older musicians like John Lee Hooker and Gatemouth Brown getting their due recognition, but there are not enough young blues musicians coming up playing the true blues.
Closing out our interview I asked Tinsley what were his influences:
He got his first exposure to the blues attending a B.B. King concert in Florida when he was 14 years old. B.B. returned with another concert that included Howlin' Wolf, and Tinsley was hooked. Later Freddy King became his mentor and now his style is somewhere between the Allman Brothers and Muddy Waters brand of Chicago blues.