August 1994 Articles
Cover Story
Darrell Elmore
Features
Paul Turner
Darrell Elmore
Columns
Berk Bryant
Jim Galipeau
Jan Winders
Paul Moffett
Earl Meyers
Keith Clements
Todd Hildreth
Duncan Barlow
Bob Bahr
CD Reviews
Allen Howie
Mark Clark
Allen Howie
Paul Moffett
Kevin Gibson
Bob Bahr
Kevin Gibson
Kevin Gibson
Todd Hildreth
Todd Hildreth
Cary Stemle
John Goodin
Kevin Gibson
Performance Reviews
Jean-Marie Ebel
Beverly Howell
William Brents
Allen Howie
Jean Metcalfe
Allen Howie
Pete Strojny
Allen Howie
Kevin Gibson
Jean-Marie Ebel
Bryan E. Hurst
Jean Metcalfe
Mark Clark
Wally Stewart
Interviews
Bob Bahr
Calendar
Staff
Staff
Staff
News Item
Errata
Photos
Eddie Davis
Jean Metcalfe
LASC
Paul Moffett
Jean Metcalfe
Michael Boehnlein
Blogs
Got Shows?
Send Them To Us
Bookmark Louisville Music News.net with these handy
social bookmarking tools:
Available RSS Feeds
- Top Picks
- Today's Music
- Editor's Blog
- Articles
Add Louisville Music News' RSS Feed to Your Yahoo!

Issue: August 1994


Bluegrass Beat
A lot happened in June to pass along. One of the things not yet covered here: the Charlotte Michigan Festival. A great week up there.
I got to the festival on Thursday and it was raining. Moved the show into the Red Barn. Not the greatest facility, but dry. Friday, more rain; Saturday, rain until supper break. Then, with hope, optimism and, er, intestinal fortitude, we moved outside. Saturday night and Sunday, and the rain stayed away.
Ralph Stanley and Bill Monroe were both scheduled for Friday. Unfortunately, Ralph fell and broke his hip about ten days earlier and could not make it. As most of you know, Bill had broken his hip in a fall a couple or so months earlier. What to do, what to do? John Morris, the festival promoter, got Jimmy Martin to fill in Ralph's spot. The big bus pulled in and here was Mr. Monroe, sitting right up front, big smile, and his favorite handshake that he can nearly jerk you down with. They had driven in from Georgia where Bill had done one heck of a show the day/night before. Dana Cupp said Bill did his little dance down there.
Well sir, I am here to tell you Bill put on two outstanding shows in Michigan also. He cut a few dance steps down front before he went on stage, much to the delight of the audience. Always the congenial one, he moved about in the crowd, shaking hands, greeting folks and signing autographs. During his show -- and I am so glad I have this on video -- he did something I knew about, as most of us do, but I had never seen him do: Bill played two numbers on guitar. First he did "Mule Skinner Blues," the first number he ever performed on the Opry; and second, "Ozark Rag," a guitar number he wrote. Dana said some folks had asked about the guitar and Bill decided to do it. For me at least, this was one of those very special festival moments.
Also, as previously mentioned, Jimmy Martin gave a peak performance. When John had called him about coming he promised John he would do him a good show. He fulfilled his promise big-time. Jimmy Martin and Bill Monroe on the same show made for an interesting lineup.
Bill Grant & Delia Bell from Hugh, Okla., were there. I really enjoyed them. Had a chance to sit and chat with them, do a little close-up magic and get much better acquainted. I don't know that this will work out, but there was a suggestion that in a year or two Bill might have me come out for his festival in Hugo. I think that would be great.
Some other good acts that I am always glad to see were the Warrior River Boys, Emma Smith and the Marksmen. Any of these folks are worth your time at any festival and this also goes double for two of my very favorite groups, the Lewis Family and the Dry Branch Fire Squad.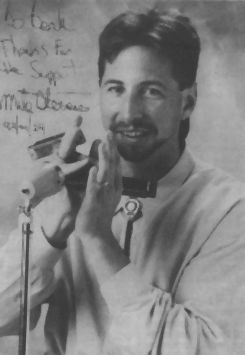 Mike Stevens
In spite of the rain, some difficult conditions, the barn, etc., it was a great weekend. It just seemed that more people were talking about what a great show it was. The sound man, George, did a tremendous job on the sound all weekend, especially in that tin barn. I am ready for next June; how about you?
I must have worn the Dry Branch "Thought Repellant" cap too long. There are definitely more things to pass along but it seems that right now my slate has been wiped clean. Do be looking forward to September and the FREE Strictly Bluegrass Festival in Iroquois Park the 9th and 10th. More details next time and on my Sunday Bluegrass show (WFPL 89.3 FM, 8:30-11 p.m.) when I have them. After September comes October and the BIIGGG Tennessee Fall Homecoming at the Museum of Appalachia, Norris, Tenn.
Late item -- good-news type -- that I just learned about. You have heard or read about this from me before:
Don Reno's grave marker, the original, is back in place to stay. Differences were recently settled and the stone is back. I for one was very glad to hear that.
Recording Review
Life's Railway to Heaven
Mike Stevens
By Berk Bryant
Mike Stevens, the Canadian, harmonica-blowing, I-never-heard-anything-like-him Mike Stevens, has a fantastic new CD. All gospel with all of that great harmonica workings that Mike does so well.
This CD is enhanced by some other extra-fine folks in their own right. Such folks as Jesse McReynolds, Bobby Hicks, Raymond McLain, Michael McLain and Roy Huskey Jr. CD title is Life's Railway to Heaven.
Some numbers are spirited, some are moderate and all are moving. It makes great listening and you will hear it on Sunday Bluegrass on WFPL.
Included are "Down By the Riverside," "This Train," "Sweet Hour of Prayer," "Swing Low, Sweet Chariot," "When They Ring Those Golden Bells," "I Saw the Light," "When the Saints Go Marching In," "How Great Thou Art," "Life's Railway to Heaven," "He's Got the Whole World In His Hands," "Why Me Lord," and "I'll Fly Away."
If you like harmonica, if you like gospel, here is one of the best combinations of those you will find today. Mike Stevens is a fine young performer, a good friend and featured with Jim & Jesse. Good enough to be featured with them; there is nothing else to say.
Order from: Mike Stevens Music, c/o 1595 Blackwell Rd., Sarnia, Ontario, Canada, N7X 1A4.A