April 1994 Articles
Cover Story
Rick Mattingly
Features
Staff
Mark Clark
Mark Clark
Paul Moffett
Columns
Berk Bryant
Jim Galipeau
Jan Winders
Paul Moffett
Keith Clements
Todd Hildreth
Darrell Elmore
Duncan Barlow
Elaine Ford
Alan Rhody
CD Reviews
Kory Wilcoxson
Bob Bahr
Kory Wilcoxson
Kevin Gibson
Kevin Gibson
John Goodin
Allen Howie
Allen Howie
Bob Bahr
Allen Howie
Kory Wilcoxson
Kevin Gibson
Kevin Gibson
Kevin Gibson
Performance Reviews
Bill Ede
Jean-Marie Ebel
Berkley Harrington, Jr.
Mark Clark
Jean Metcalfe
William Brents
Interviews
Allen Howie
Mark Clark
Jan Winders
Calendar
Staff
News Item
Staff
Preview
Staff
Bob Bahr
Opinion
Staff
Errata
Staff
Photos
Letha Marshall
LASC
Staff
Madison Steele
Staff
Jean Metcalfe
Bookmark Louisville Music News.net with these handy
social bookmarking tools:
Available RSS Feeds
- Top Picks
- Today's Music
- Editor's Blog
- Articles
Add Louisville Music News' RSS Feed to Your Yahoo!

A fine selection of musical artists drop in town this month. Check out the listings on the following pages — there's plenty of acts to choose from. Three of the more notable groups playing Louisville in April are profiled below: Gary Primich Band, Pure Jesus and Bodeco.
Gary Primich Band
Gary Primich's reputation precedes him. Originally from Hobart, Ind., currently based in Austin, Texas, and calling Louisville Music News from Lincoln, Neb., Primich is known throughout the region for his blues harp playing. He and his band are coming to the Backstage Cafe at O'Malley's Corner on April 27.
What kind of blues does the Gary Primich band play?
Without putting too much of an academic tag on it, I would call it neo-classical blues. It's traditional, but we don't try to out Muddy Muddy or out Wolf Wolf or out Walter Walter. It's danceable stuff, and half the stuff is original material. And when we do a cover song, nine times out of ten it will be something obscure that no one's ever heard of. The standards are played to death. They have become the Top 40 of blues.
Primich draws from Chicago blues and Louisiana blues, the current Austin scene, and what's in his heart.
I do my own thing. I've got a sound inside my head that I try to reproduce. That sound has always been there. But really, I don't think about my music too much. I just do it.
At 35, Primich is a youthful newcomer.
The blues is a slow climb industry. As a 35-year-old, I'm considered just starting out. Who has the credibility? It's the guys who have a foot in the grave. It's the oldest guys who have the credibility because they've been around the longest. Muddy Waters didn't make his first record until he was 38 years old. So it's always been that way.
Pure Jesus
For only playing one gig so far, Pure Jesus certainly has a buzz in this town. The group boasts an all-star lineup consisting of Tari O'Bannon (vocals), Michael O'Bannon (guitar), Wink O'Bannon (guitar), Peter Searcy (cello) and Butch Ceillani (congas). LMN recently talked to Tari about Pure Jesus' upcoming show at Butchertown Pub on April 27 (the Acousticats open), and about the band's peculiar, mesmerizing blend of rock, Middle Eastern music, and Appalachian sounds.
Could this project turn into a mainstream music success story?
Oh heck, I don't know what mainstream is anymore. I think it can appeal to a lot of people's emotions, so it's pretty mainstream in that way. It's very emotional. The music itself has a pretty spare, haunting quality to it. I can't really say it's like anything. Not really.
Pure Jesus has no problem finding material.
A lot of the songs that we do are songs that have been written through the years, mostly songs that Michael has written. Wink has written some too. They have billions of songs that they've written over the years. None of them have been appropriate for the bands that they were in. They're too pretty.
Most of Pure Jesus is also in Grayson Hall. Is there a conflict?
No. They're really different. Maybe we'll do both projects, because they serve different needs. This is almost not like work at all. It's really pleasurable to do Pure Jesus.
Do you spend a lot of time rehearsing?
We only rehearsed for a week before the first show. Everybody's a quick study and we work really well together. It seems to fit.
Bodeco
Bad news for folks who are on the wagon: Bodeco is back together.
The '50s-style rock 'n' roll-based band — Ricky Feathers on vocals and guitar, Wink O'Bannon on guitar, Jimmy Brown on bass and Brian Burkett on drums — has reformed after nearly a year on the outs. Bodeco's April 13 show at the Butchertown Pub is their first high-profile gig since the layoff, and it promising to be a boozey boogiefest of the highest order. We talked to Wink O'Bannon recently about the band's reunion and his many musical projects.
Why did you get back with Bodeco?
I'm not doing much of anything right now, so I really have no excuse not to work with Bodeco. I can't use sanity as an excuse.
I know you probably hate describing the band's music. So tell me what Bodeco isn't.
It's not really about 1994. It's not about pop music. It's not about alternative nation, MTV post-grunge. It's not about aging, bland, white R&B pap for people who like to drink a little too much. It is for people who like to drink too much, but not [those who like] pap.
Is there anything that is absolutely essential for Bodeco to exist?
Yeah, guitars and amps. But no particular person. Marshall amps. If there's another band that we can be compared to, I don't know about them. Flat Duo Jets, Reverend Horton Heat: same genre, different approach.
What's it like sharing the stage with frontman Ricky Feathers?
There's a difficult tension between paying close attention so you can adapt to whatever he decides to do and maintaining your equilibrium after drinking an enormous amount of alcohol. So you got a 50-50 chance there. I'm referring to my stupor, not his.
Wink currently plays in five bands: Eleventh Dream Day, Bodeco, Pure Jesus, Grayson Hall and a new project called Chickenhawk. How long can he keep that up?
It's almost impossible; I rehearse seven days a week. I don't think I'll be able to keep that up indefinitely.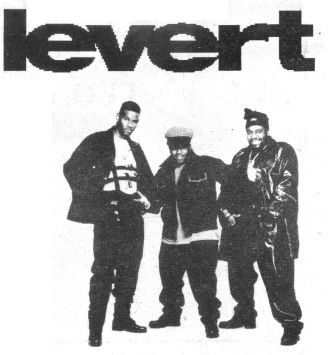 Levert is playing at Louisville Gardens April 10 with the O'Jays and the Whispers.
Pick of the Pickin's
Alternative
Melissa Etheridge/Matthew Sweet, April 3
Country
Billy Joe Royal, April 21
Hardcore
Rodan/Endpoint/more,
April 1 & 2
R&B
O'Jays/Levert, April 10
World
Salif Keita and Band, April 15
Overall
Hula Hoop/The Blueberries,
April 6