April 1994 Articles
Cover Story
Rick Mattingly
Features
Staff
Mark Clark
Mark Clark
Paul Moffett
Columns
Berk Bryant
Jim Galipeau
Jan Winders
Paul Moffett
Keith Clements
Todd Hildreth
Darrell Elmore
Duncan Barlow
Elaine Ford
Alan Rhody
CD Reviews
Kory Wilcoxson
Bob Bahr
Kory Wilcoxson
Kevin Gibson
Kevin Gibson
John Goodin
Allen Howie
Allen Howie
Bob Bahr
Allen Howie
Kory Wilcoxson
Kevin Gibson
Kevin Gibson
Kevin Gibson
Performance Reviews
Bill Ede
Jean-Marie Ebel
Berkley Harrington, Jr.
Mark Clark
Jean Metcalfe
William Brents
Interviews
Allen Howie
Mark Clark
Jan Winders
Calendar
Staff
News Item
Staff
Preview
Staff
Bob Bahr
Opinion
Staff
Errata
Staff
Photos
Letha Marshall
LASC
Staff
Madison Steele
Staff
Jean Metcalfe
Blogs
Got Shows?
Send Them To Us
Bookmark Louisville Music News.net with these handy
social bookmarking tools:
Available RSS Feeds
- Top Picks
- Today's Music
- Editor's Blog
- Articles
Add Louisville Music News' RSS Feed to Your Yahoo!

Issue: April 1994
Interview: Matthew Sweet
By Mark Clark
A sticker affixed to Son of Altered Beast, the new mostly live EP from singer/songwriter Matthew Sweet, hawks the disc like a B horror movie: "HEAR the mistakes! TASTE the beer! SMELL the deadly remix of 'Devil with the Green Eyes'!"
"I was into movie monsters when I was in second grade — Frankenstein, the Wolf Man," Sweet explained in a recent telephone interview. "I had a Super-8 copy of 'I Was a Teenage Werewolf,' with Michael Landon."
Whatever its inspiration, the motif is especially appropriate for the EP, since Sweet may be only one monster radio single away from pop stardom.
"I haven't had any big radio hits," he said. "I don't know what to make of that. I've done better on the radio than I thought I would do. But I guess that (big hit) is what it would take for me to move up in stature — more radio, more MTV, all that stuff."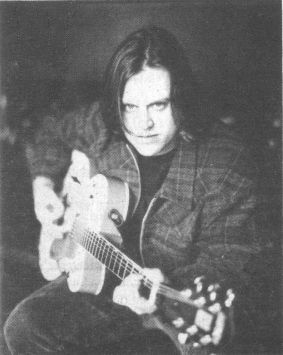 Matthew Sweet
Don't be surprised if the remix of "Devil with the Green Eyes" is the single that pushes Sweet over the top. Hit-making producer Brendan O'Brien (Pearl Jam, Stone Temple Pilots, Red Hot Chili Peppers) muscled up the "Altered Beast" track, bringing out ex-Television guitarist Richard Lloyd's inventive licks. What's surprising is that Sweet isn't already a mega-star.
In a just world, Sweet would be headlining Freedom Hall April 3 instead of opening up for Melissa Etheridge at Louisville Gardens. Tickets for the show are still available, priced at $22.50 and $35.
While he hasn't won the hearts of radio programmers, Sweet has earned a faithful following with his last two albums, Girlfriend (1991) and Altered Beast (1993). Girlfriend was a veritable cornucopia of ear-catching melodies and smart lyrics. Altered Beast combined those two elements with a harder, distortion-laced sound. Both albums betray Sweet's eccentric musical education.
"I don't have a story like 'my mother listened to the great blues musicians' or anything like that," Sweet said. Instead, the 29-year-old grew up in Lincoln, Neb., listening to Top 40 pop tunes — when he bothered to listen to music at all.
"I didn't get into records until junior high," he said. "The first records I bought were progressive rock records — Yes, stuff like that."
By the eighth grade, Sweet had discovered British New Wave artists like the Buzzcocks, the Clash, XTC, Nick Lowe and Elvis Costello. In high school, he got into American underground bands such as the dBs, Big Star and — perhaps most importantly — R.E.M. After hearing "Radio Free Europe," Sweet established a pen-pal relationship with Michael Stipe. He wound up enrolling at the University of Georgia, hanging out with Stipe, playing in a band with Stipe's sister and discovering Jimi Hendrix, the Beatles and Neil Young — "more the people who are my heroes now."
In 1986, when Sweet was 19 years old, Columbia Records offered him a contract. So he quit school and recorded his first album, Inside, which flopped immediately. Columbia dropped him soon after. A & M picked up his contract and let him record a second LP, Earth, in 1989. It also flopped. Sweet was halfway through recording Girlfriend when A & M called to tell him he had been dropped again. So Sweet shopped the album around with over a dozen labels, none of which were interested.
Eventually, Zoo Entertainment — which had already passed on the record once — picked up Girlfriend. The album went on to sell nearly half a million units, becoming one of the biggest sellers in the young label's short history. In retrospect, Sweet readily admits his first two albums were weak.
"If you were a huge fan, you would find things on the first two records that would interest you," Sweet said. "But I was searching around stylistically, doing things that kind of stunted my music from coming across. (With Girlfriend) I finally found the right way to do it."
The breakthrough came after Sweet purchased a drum kit. Previously, he had worked with lots of drum machines, programming and keyboards.
"I played drums on the demos for Girlfriend and even though I was a terrible drummer it was obvious it (the live drum sound) was good for my music," he said. So he recorded Girlfriend entirely "organically" — "just human beings playing instruments." Then, for Altered Beast, Sweet decided to open his new sound up a little more.
"I wanted to expand things," he said. "Girlfriend was super dry — no reverb, everything was isolated. On Altered Beast, I used more roomy sounds. It's trashier, not so clinical."
The new EP is even rougher-edged, allowing Sweet and his band — Lloyd, former Cruzados bassist Tony Marsico and dBs drummer Will Rigby — to really loosen up. "It tends to be pretty raw live, but we like it that way," Sweet said.
Sweet is about midway through a grueling two-month, 32-date tour which includes some headlining club dates and some arena dates opening for Etheridge, like the one here. At shows like the one in the Gardens, Sweet and company only get about 45 minutes of stage time. "I feel bad for the people who are coming just to see us," Sweet said.
But the big shows give Sweet the opportunity to reach new audiences.
"A large percentage of the crowd doesn't know who I am and don't know if they like it," he said. "But it's a chance to be in front of a lot more people. . . . If we have any goal for this tour it's to turn some people on to our stuff who don't know about it. We're playing a lot of cities we haven't played in before. Maybe it paves the way for me to come back on my own."
And, just maybe, Sweet will make his return as a certified pop star.