April 2018 Articles
Cover Story
Paul Moffett
Columns
Eddy Metal
Eddy Metal
Blogs
Got Shows?
Send Them To Us
Bookmark Louisville Music News.net with these handy
social bookmarking tools:
Available RSS Feeds
- Top Picks
- Today's Music
- Editor's Blog
- Articles
Add Louisville Music News' RSS Feed to Your Yahoo!

Issue:
Here's (NRBQ's) Terry
By Allen Howie
"You gotta be good!"
That's how NRBQ founder Terry Adams, in a recent phone interview, laughingly explains the band's status as one of the first to appear on Forward Records (the new music subsidiary of reissue giant Rhino, which also recently assembled a compilation of the group's best work). On a more serious note, Adams elaborates. "They've been aware of us for a long while, and we've been aware of them. They just had to wait until they got this new label going."
In addition to good timing, the partnership was the result of similar philosophies. "There's a unity at that label," offers Adams, "that we haven't always seen at the others. They seem to think as one, and they really like the band."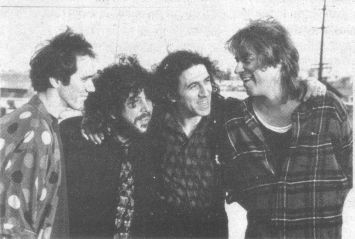 Left to right, Johnny Spampinato, Tom Ardolino, Joey Spampinato and Terry Adams
It's hard not to like NRBQ (the letters stand for New Rhythm and Blues Quartet), especially with albums like Message for the Mess Age, their newest. The group makes sublime pop music with a little of everything thrown in: blues, jazz, R&B, rockabilly ... and anything else you can think of. This time out, most of the material was co-written by Adams and bassist Joey Spampinato. "In the past," recalls Adams, "we'd maybe write one or two songs together. This time we wrote a bunch. Then we recorded it in a studio set up in a friend's living room, so there's a little more of that 'live' sound. The sound of the band is intact; the sound of the recording is better."
Adams' reason for mentioning the band's sound is that longtime NRBQ veteran (guitar, vocals) Al Anderson won't be with the band on this tour. His replacement is Johnny Spampinato. "Johnny's been sort of an honorary member all along," Adams observes. "When Al left, Johnny just stepped in."
The current tour will find NRBQ "in places we haven't played in a long time ... all over Texas, Oregon, Idaho ... you name it. Then Europe. I can't think of a place we're not going!"
Fortunately, Louisville appears on NRBQ's itinerary, as they hit Jim Porter's on April 14. According to Adams, the band is looking forward to the show. "Louisville's one of our favorite places to play — we get a real good feeling there. My best friends and family are there. My greatest teacher was there — Don Murray — he taught me when I was a kid. I probably enjoy playing in Louisville more than anywhere else."
Asked about his relationship with Louisville native and NRBQ co-founder Steve Ferguson, Adams recalls, "The last time we played with Steve was on the (Chuck Berry piano man) Johnny Johnson recording session (Johnny Be Bad on Elektra). Steve brought a lot to that session — the best guitar playing, the best material. In a lot of ways, it's his album." Any future projects in the works? "I've recorded two songs with him there in Louisville for his next album."
The show here should be an interesting one, as always. Along with Adams, the Spampinato boys and veteran drummer Tom Ardolino, "we're bringing a couple of members of (the late) Sun Ra's Arkestra, horn players Tyrone Hill and Dave Gordon, for the first time in Louisville."
But as eclectic as an NRBQ set can be, don't expect much structure to the evening. "There's never a set list — I call 'em as we go," notes Adams, who sings and plays keyboards and harmonica. "There's not a plan for even what the first song will be. If we play two nights in a row, we may not play more than two or three of the same things. I'm usually the one who calls the songs. But if someone gets inspired" — you can hear him grinning even over the phone — "we go with it."