April 1994 Articles
Cover Story
Rick Mattingly
Features
Staff
Mark Clark
Mark Clark
Paul Moffett
Columns
Berk Bryant
Jim Galipeau
Jan Winders
Paul Moffett
Keith Clements
Todd Hildreth
Darrell Elmore
Duncan Barlow
Elaine Ford
Alan Rhody
CD Reviews
Kory Wilcoxson
Bob Bahr
Kory Wilcoxson
Kevin Gibson
Kevin Gibson
John Goodin
Allen Howie
Allen Howie
Bob Bahr
Allen Howie
Kory Wilcoxson
Kevin Gibson
Kevin Gibson
Kevin Gibson
Performance Reviews
Bill Ede
Jean-Marie Ebel
Berkley Harrington, Jr.
Mark Clark
Jean Metcalfe
William Brents
Interviews
Allen Howie
Mark Clark
Jan Winders
Calendar
Staff
News Item
Staff
Preview
Staff
Bob Bahr
Opinion
Staff
Errata
Staff
Photos
Letha Marshall
LASC
Staff
Madison Steele
Staff
Jean Metcalfe
Blogs
Got Shows?
Send Them To Us
Bookmark Louisville Music News.net with these handy
social bookmarking tools:
Available RSS Feeds
- Top Picks
- Today's Music
- Editor's Blog
- Articles
Add Louisville Music News' RSS Feed to Your Yahoo!

Onstage: Robbie Bartlett & Company
By Darrell Ray Elmore
What do you get when you mix jazz, R&B and southern rock? Well, with most bands you'd probably get a mess, but not so with Robbie Bartlett and her crew. I caught their act several days ago at the Butchertown Pub, and I must say, I was more than a little impressed.
Ms. Bartlett, an admitted Billie Holiday junkie, really gets the air rushing through her pipes, the result being a voice that is mellow, smoky, coy, yet sexy enough to make men drive up over curbs. I think perhaps control is a big watchword for Ms. Bartlett. I noticed her holding back a bit during several songs, waiting for the proper moment to let her heart and soul creep into her voice. And when that moment came, well, it was something that can only be heard, not described.
You know how when you listen to Billie Holiday, or Sarah Vaughan, and you can almost see the voice, almost feel it flowing up your body, caressing your face with a teasing, playful little pinch on the cheek before it ruffles up your hair and slips deliciously into your ear? Well, Robbie Bartlett's voice does that.
You know how certain female blues vocalists conjure up that "from the gut" kind of intensity, the one that makes you sweat . . . the one that makes your stomach kinda tight, the one that makes you want to take them away from all the troubles of the world and comfort them, make them not hurt anymore?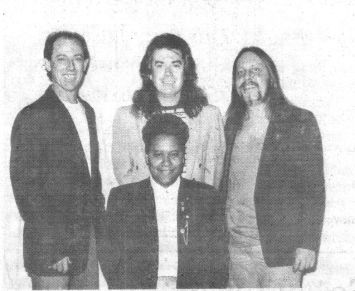 Back row: Left to right, Sam Hold, Larry Hold, Frank McCubbins. Front row: Robbie Bartlett
Yup, that's Robbie Bartlett. She can do that stuff.
And what's even more amazing is that she does all this with three guys who look kind of like the warm-up band for Charlie Daniels.
Seriously, I'm not a big fan of white-guy blues. In fact, I'm the kinda goofhead that goes around making stupid statements like "you gotta be black to play the blues."
Well, based on the music performed by these three white guys, I'll have to admit that, once again, I am wrong, wrong, wrong.
Sam Holt is, hands down, one of the best guitarists I have seen in the last year. He makes the switch from R&B to blues to jazz to country-rock so smoothly that you would think he was four different guitarists. He makes the instrument talk . . . he gives it a voice all it's own . . . he is a certified master of dynamics as well as the kinda infectious rhythm that makes you move involuntarily . . . you know, makes you wanna dance. Good, clean, powerful guitar work, without the loud volume that most guitar gods rely upon.
Sam has excellent timing as far as his solos are concerned . . . just the right length every time, extended solos without the pain, without the sometimes overdone "show off" technique that can wear a listener out.
He also makes excellent use of harmonics — a light touch on the strings — with the banging, driving rhythm coming in at just the right time to carry the listener along and into the meat and bones of the music. And on the night I saw him, he was doing all this and, at the same time, watching the U of L basketball game on the TV above the bar. A flat-out professional. So good that he doesn't have to worry about it, ya know?
Sam's background is primarily country — he played in the house band at Doc Holiday's for several years, three sets a night, six nights a week — and evidently the constant performing had a positive effect on him.
Sam's older brother, Larry Holt, plays bass for this band. He has played bass in a lot of bands: da Mudcats, Buster Brown, Mike Lunsford, Leslie's Motel and the Oxfords, just to name a few. He and Sam also played together in Kessler's Friends, along with their now-drummer, Frank McCubbans.
Larry is the kind of bassist that plays in a mellow, unhurried, laid-back fashion that is perfect for the type of music this band performs. Another total professional, I noticed he was smoking a cigarette onstage, the butt hanging nonchalantly from the fingers of his picking hand. All of these guys are so good, you get the feeling that they could be balancing their checkbooks in their heads, without sacrificing one iota of quality in their music. Larry, who has an easy-loving/Charley Pride look about him, is more or less the founder of this band; he met Robbie through Sue O'Neil, during his days in da Mudcats. Sam and Larry's father, Nat Holt, played music during the '40s and '50s, and gained some prominence in the region, so maybe that explains why these guys are so good. It's in their damned genes.
Frank McCubbans was the original drummer for the heavy-metal/cover band/Toy Tiger institution Fire Dept., but he hasn't let that stop him from growing a bit.
Everyone in this band (with the exception of Ms. Bartlett) has a rather odd background . . . considering the direction they have taken. Mr. McCubbans is a great werewolf/John Bonham/brute of a man, but his manner off stage is quiet and soft spoken. Still, I wouldn't want to rile him. Anybody who can beat drums in a singular rhythm, and make the quick jump from R&B across the gulf to jazz in such a lickety-split manner is bound to have some muscle . . . and I'm sure there is plenty of muscle lurking under all that soft-looking hair.
All in all, I would say that Robbie Bartlett & Company is going places . . . and quite frankly, I'd be more than willing to follow. They are good, and getting better. Excellent value for your money . . . if you dig R&B and jazz to any extent at all.
They are playing in Lexington at the Cheap Side Bar & Grill on April 8 and 9, and will be at Maier's Tavern on the 15th and 16th, and Jim Porter's on April 22 and 23. Well, what are you waiting for? Go see 'em.