April 1994 Articles
Cover Story
Rick Mattingly
Features
Staff
Mark Clark
Mark Clark
Paul Moffett
Columns
Berk Bryant
Jim Galipeau
Jan Winders
Paul Moffett
Keith Clements
Todd Hildreth
Darrell Elmore
Duncan Barlow
Elaine Ford
Alan Rhody
CD Reviews
Kory Wilcoxson
Bob Bahr
Kory Wilcoxson
Kevin Gibson
Kevin Gibson
John Goodin
Allen Howie
Allen Howie
Bob Bahr
Allen Howie
Kory Wilcoxson
Kevin Gibson
Kevin Gibson
Kevin Gibson
Performance Reviews
Bill Ede
Jean-Marie Ebel
Berkley Harrington, Jr.
Mark Clark
Jean Metcalfe
William Brents
Interviews
Allen Howie
Mark Clark
Jan Winders
Calendar
Staff
News Item
Staff
Preview
Staff
Bob Bahr
Opinion
Staff
Errata
Staff
Photos
Letha Marshall
LASC
Staff
Madison Steele
Staff
Jean Metcalfe
Bookmark Louisville Music News.net with these handy
social bookmarking tools:
Available RSS Feeds
- Top Picks
- Today's Music
- Editor's Blog
- Articles
Add Louisville Music News' RSS Feed to Your Yahoo!

By Madison Steele. Photos by Jean Metcalfe
The LASC returned to its home club for the first Showcase of the year, held March 5 at the Rudyard Kipling. As usual, the Showcase had some familiar faces and some new ones.
D. V. Gilbert was one of the latter. Performing in support of his latest cassette release, I'm On Fire, he charmed the audience with such songs as the album's title cut, "Last Call for Alcohol," "Holding You," "Holiday Romance," and the Rueben-esque preferences detailed in "Like 'Um Fat." His "Tribute to Conway," an ode to the late King of Twitty City, was both touching and inspirational.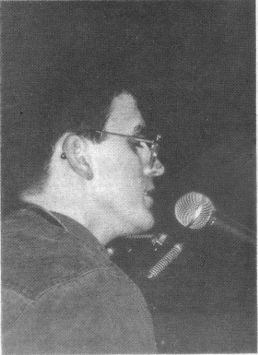 Joe Forgacs
D.V. also performed his cover of "Blue Lonely World," originally written and sung by his recording artist mother Harriett Bailey.
D.V. will be performing at the Sweet Water Lounge-Holiday Inn in Nashville on April 3.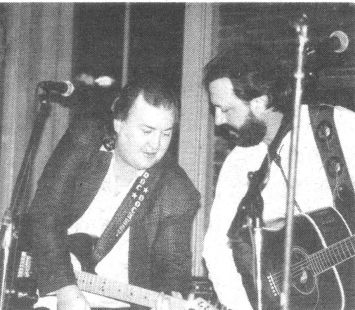 Doc & Smitty
Joe Forgacs returned to the Showcase stage for only the second time since September 1992. Joe spent the period between working on his musical and songwriting chops. A resident of Frankfort, Ky., he has been writing for three years, with over fifty songs to his credit during that time.
Joe's wonderful imagery was exemplified by "Mister Crime and Mistress Poverty," where he depicts the hardships and adversities of a runaway living on the streets, unsure of which direction to turn. Others include "Waltz," "Bouquet of Roses," "Radio" and "Mississippi Sea of '93," a song inspired by the flooding in the West and Midwestern states. It speaks of favorite things lost and spirits broken by the rampaging floodwaters. Joe sent cassette copies of this song to radio stations throughout the flood-stricken area but could not say whether any aired the tune.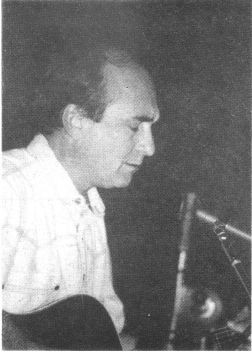 Eddie Burch
Next up onstage was an old friend, Eddie Burch, who claimed that he had not been very active in songwriting lately. Nevertheless, he peeled off one tune right after another, as though he had been playing for years without the slightest pause.
Most of the audience was either humming or singing along with Eddie as he played such familiar tunes as "You're the Lonesomest Thing In Sight," "Heart and Souls Delight," the Olney-ish "Cortez," "Georgia Girl," "Cat Tail Blues," and the great shuffle tune, "It Ain't Love, Mama." Hopefully, he got bitten by the music bug again and will continue to write and perform on upcoming showcases.
The last scheduled act of the night was Doc Dockery and Friends, in what turned out to be an overdue reunion with longtime friend and high school pal Steve "Smitty" Smith. Smitty chuckled that he was the only friend Doc had left and that's why he showed up.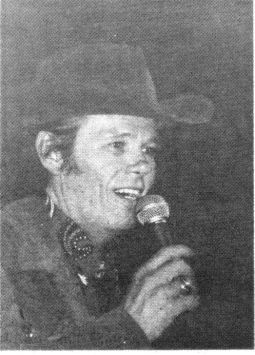 D. V. Gilbert
The duo have been back together for about one month, working on some new material. Things have been going a little slowly, however, because Doc has been spending so much time playing and recording a CD in England. The tentative release date for the project is May.
Once his CD is finished, Doc will be home for some time and the crazy antics of Doc & Smitty will return as they start appearing as a duo once again.
They performed a mixture of songs from the new project, with a hint of their old material such as "Beacon Street," "Please Don't Bury Me," the Gene Adams/Dockery collaboration "Smoke and Drink," "Jimmy Rodgers Blues" (a tribute to Doc's Dad), "It's You Who's Lookin' Strange" and Jimmy Buffett's "Peanut Butter Conspiracy," a whimsical tune about the days when they crammed as much food as they could fit into their coat pockets, from the nearest convenient store — and don't forget the peanut butter!
Doc and Smitty ended the show with a medley of toe-tappin', hand-clappin' gospel songs that had the audience singing along.