April 2018 Articles
Cover Story
Paul Moffett
Columns
Eddy Metal
Eddy Metal
Blogs
Got Shows?
Send Them To Us
Bookmark Louisville Music News.net with these handy
social bookmarking tools:
Available RSS Feeds
- Top Picks
- Today's Music
- Editor's Blog
- Articles
Add Louisville Music News' RSS Feed to Your Yahoo!

Issue:


I've Got A Mind To Ramble
"Who says the blues has to be hard, loud and fast," said Curtis Marlatt as he finished up an emotional extended version of "Somebody Loan Me a Dime." The song was first written by Fenton Robinson, but it was Boz Skaggs' version accompanied by a young Duane Allman that first touched Curtis' soul.
This is one of the many influences that you will hear in his blues. Curtis will suddenly change tempo in the middle of a song to tap a jazzy riff or a reggae beat, weaving an ethereal, dreamy sound through all his music.
This special event at the Backstage Cafe on March 16 was a combination jam, reunion and celebration of the 10 (more or less) years since the formation of Curtis and the Kicks. The November 1993 issue of Louisville Music News, which featured Curtis, recounts the chance circumstance when Curtis was passing a building being remodeled into a neighborhood blues bar. Curtis did not have a band at the time but offered to perform and was hired. Hence Curtis and the Kicks was formed to play a gig at Fat Cats. The founding members included Butch Ellis on bass, Keith Hubbard on keyboards and vocals and Garry Grizzle playing drums. Today the Kicks consist of Darnell Douglas drumming and Mark Richardson on bass. There have been many musicians in between and many of them were in the audience that night.
John McClure opened with Curtis on keyboards. They first started playing together at the Rudyard Kipling blues jams in the late '80s when John moved here from Birmingham to be a professor of homiletics (preaching) at the Louisville Presbyterian Seminary.
Mark Hoekstra joined the band to blow some harp and sang "Smoke Stack Lightnin'." Mark started out with West Side Heat in Chicago and recently traveled briefly with the Legendary Blues Band.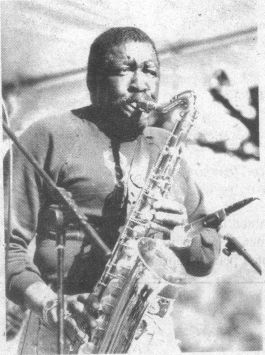 Eddie Shaw at the 1993 Chicago Blues Festival. Photo By Keith Clements
Gary Grissom then took over on the drums for the remainder of the set. "Easy Chair Blues" is a nice original slow-tempo blues song by Curtis that will be on his next release. A rousing version of "Caledonia" closed out the set with John doing the vocals.
The personnel for the second set included Jerry Harshaw on drums and Bill Dean, who plays with the Saints, on keyboards. Curtis unselfishly turned his Fender over to Foree Wells to do a couple of songs which included "I Ain't Had No Good Lovin'" and "Three O'Clock In the Morning." The evening was settling into a nice mellow groove when midnight rolled around.
My only complaint of the Backstage Cafe is that the mixing board is located on the stage and the sound technician has to keep running back and forth onto the stage with his little green flashlight making adjustments to the sound, which is a distraction to the performers.
Looking to the future, Curtis and the Kicks will be on tour again, playing in Fort Myers, Florida, with Winston Walls, a veteran musician who plays the B-3 organ and sings. If the gig works out, Curtis would like to feature Winston with his band like the relationship between Sam Myers and Anson Funderburgh.
l
By the time you read this the Chicago Blues Festival will be about two months away, on June 3, 4 and 5. So I called the Mayor's Office of Special Events in Chicago to get an early scoop on the talent lined up for the 11th edition of the Festival.
Friday night will recognize Eddie Shaw with the Howling Wolf Award. Eddie played sax in Wolf's band for many years. Jimmy Rogers, the great guitarist who played in Muddy Waters' band, will be honored on his 70th birthday with special guests that include Bob Margolin, Jerry Portnoy and childhood buddies Snooky Pryor and Pinetop Perkins.
Saturday will celebrate the centennial of Bessie Smith, with Linda Hopkins and the "Bayou Swamp Queen" Katie Webster performing. Other musicians on the Petrillo Stage that night will be Floyd Dixon, the West Coast pianist and singer who recorded for Specialty Records during the '50s, and Billy Boy Arnold, the harpman who was on some of Bo Diddley's early songs. Billy Boy is enjoying a well-deserved resurgence with a recent release on Alligator.
Sunday night will feature one of my favorite Chicago bluesman, Byther Smith and the Nightriders, plus blues soul singer from Jackson, Miss., Willie Clayton, and to top it off, Chicago's "Queen of the Blues," KoKo Taylor.
During that weekend the Front Porch Stage will have Chicago Beau, John Primer, Mad Dog Lester and the homecoming of Louisiana Red and Carey Bell, plus the Memphis pianist Booker T. Laury. The Crossroads Stage will present some veteran Chicago musicians like John Brim, Little Smokey Smothers and Lee Shot Williams with the Holmes Brothers performing on Sunday.
It looks like another good festival with an emphasis on Chicago blues. If you are planning to stay at the Palmer House, you'd better make your reservations soon for the hotel is filling up fast.