April 1994 Articles
Cover Story
Rick Mattingly
Features
Staff
Mark Clark
Mark Clark
Paul Moffett
Columns
Berk Bryant
Jim Galipeau
Jan Winders
Paul Moffett
Keith Clements
Todd Hildreth
Darrell Elmore
Duncan Barlow
Elaine Ford
Alan Rhody
CD Reviews
Kory Wilcoxson
Bob Bahr
Kory Wilcoxson
Kevin Gibson
Kevin Gibson
John Goodin
Allen Howie
Allen Howie
Bob Bahr
Allen Howie
Kory Wilcoxson
Kevin Gibson
Kevin Gibson
Kevin Gibson
Performance Reviews
Bill Ede
Jean-Marie Ebel
Berkley Harrington, Jr.
Mark Clark
Jean Metcalfe
William Brents
Interviews
Allen Howie
Mark Clark
Jan Winders
Calendar
Staff
News Item
Staff
Preview
Staff
Bob Bahr
Opinion
Staff
Errata
Staff
Photos
Letha Marshall
LASC
Staff
Madison Steele
Staff
Jean Metcalfe
Blogs
Got Shows?
Send Them To Us
Bookmark Louisville Music News.net with these handy
social bookmarking tools:
Available RSS Feeds
- Top Picks
- Today's Music
- Editor's Blog
- Articles
Add Louisville Music News' RSS Feed to Your Yahoo!

Issue: April 1994


Bluegrass Beat
Tapes — cassette tapes — have become very convenient. They are small, do not take up much space and perhaps one of the most appealing aspects is that most cars nowadays have a tape player built right in. This does include mine. They are great to use on long drives, or short ones, and can be a tape of your own making or a prerecorded one from your favorite artist. All good reasons for availing yourself of tapes and recorders/players.
There is, however, another side of these tapes that are now so popular. Longevity. Unfortunately, LPs were forced aside by the recording companies to favor cassette tapes. Are the tapes much cheaper to produce? Well, I have no figures, but I would just bet they are. If that's the case, wonder why they seem to cost just as much as LPs did?
While we have been sold on the plusses of tapes and practically forced into the acceptance of these little things partially due to the fading, uh, phasing out of the "old-fashioned" LPs and 45s, what about the negatives that haven't been brought up in polite company? I have LPs/45s that are 40 or so years old that still play, and play very well. Some of which I have programmed [Sunday Bluegrass, Sunday evenings at 8:30 on WFPL 89.3 FM] a few times. Playing condition of these (records) is in direct proportion, of course, to care given said disc over the years. I DO NOT have any tapes of that time frame that are usable. Tapes have a tendency to stretch over time. Okay, records will warp. Some warping can be corrected to some degree and some warping in a disc can be and is tolerated by many turntables. You just can't "unstretch" a tape by any means I have ever heard of. Tapes also, over time, tend to deteriorate, become brittle and break when playing. This includes reel-to-reel types also.
Maybe you have had this happen, but I have never had a turntable or pickup arm "eat" a record. Not even chew one up or wrinkle one up. I have had some world-class crimping, wadding, binding and general mayhem committed on perfectly innocent tapes, rendering them totally useless in the flash of a note. Never has one record warped, stretched, broken or otherwise been attacked by a turntable or tone arm. I have had a few scratched as a result of dropping, ricocheting or otherwise plowing across the record with the tone arm by an unintended wave of the hand, or doing the pogo hop step, akin only to the bunny hop or kangaroo bounce.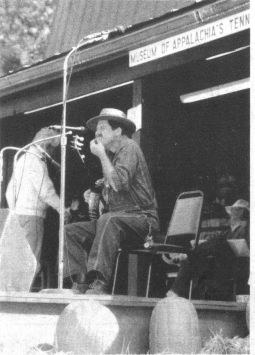 Leroy Troy. Photo by Jack Huffman
I guess I told you all of that to say that, as of now, it seems the "done-away-with LPs or records" have a longevity that cassette tapes will never know.
If the tapes are not going to last, are CDs the answer? Well I guess the verdict is still out on that one. Contrary to the initial big sell on CDs, they will pop, skip, and are not always perfect, but then what is? Early on I had to wonder, if you can handle them and not hurt them, and the general precautions needed with records are not a factor, then why does anyone need to purchase a CD cleaning kit?
I don't know this but I have been told that CDs may eventually corrode or perhaps otherwise someday take on the appearance of a bathroom fixture in hard water. The CD does sound good, is really good at the radio station if you get caught not ready and have to cue something while you talk or if you just want to pre-program selections or skip about quickly at home. Proper equipment is available to play them in your car. It is fair to say they seem to have a lot going for them. What they don't have going for them is the price. UGH! It seems there is a big fuss over the price of CDs in England which, by the way, is considerably higher than ours, the basis of which is the low cost of making the things as opposed to the retail price.
Only time will tell about the life span of these little electronic wonders and without a doubt "improved and superior" versions will hit the market before you know it. Let's hope we haven't sacrificed LPs all too soon. Does improving require replacing the original, or is "improved" another term for planned obsolescence in the recording business?
•
Update! Update on the traditional country show, the show in Florida that featured 34 of the traditional artists. I had a visit with Oscar (Lonzo & Oscar) again, after their trip to Tampa for the second real country showdown there early last month. As I said before, I was sure it would be a winner. Four more of the traditional guys showed, including Ray Price. Oscar said the folks really loved Ray. How many folks? Two shows played to 21,000 fans of real honest-to-goodness country music. The music that, according to commercial radio and other music business dictators, has no audience.
Kenny Taylor, Shepherdsville Country Music Place, who this season has brought in the bluegrass acts on Friday nights and continues the country shows every Saturday night, needs our support. Support in cards and prayers. Kenny has had a very serious time in the hospital for the past few weeks and, as of this writing, is still in intensive care and roughing it with a capital R. A card would be nice and a morale booster when it is needed most. Send to: Kenny Taylor, Jewish Hospital, Louisville, KY 40203. He is going to be there for some weeks to come. On Kenny and Dollie's behalf and also on yours truly's, THANKS.
Also in the hospital and forced to cancel dates through April for a broken hip, Mr. Bill Monroe. Cards can be sent to Bill at the Opry. This should work: Bill Monroe, Grand Ole Opry, Opryland Drive, Nashville, TN 37214.
Bill was supposed to be at Shepherdsville on April 1; the show is to be filled by Gary Brewer, still shaking jet lag from his European tour, and the Sullivan Family. Don't miss Randall Hylton and Josh Williams on April 8. And finally for this season, Lost & Found on April 22.
Recording Reviews
Leroy Troy
Leroy Troy, The Tennessee Slicker
Banjo Salute
Three Fingers and a Clawhammer
I recently received three tapes from an unusual young performer. Unusual in the sense that a very talented person chose to keep alive the music, style and entertainment of one of the great old-timers. Leroy Troy has patterned his show and performing after the first featured performer on the Grand Ole Opry. Not a small feat but one this young man has done admirably. If you have seen him on Hee Haw you can appreciate his Uncle Dave Macon act — all the way down to the mannerisms and banjo tricks of the old man. Unfortunately you can't see all of this on the cassette, but all the rest is there. The Macon-style pickin', the songs and the humor that comes through.
Leroy Troy, The Tennessee Slicker contains "Hand Me Down My Walking Cane," "Sally Goodin," "The Ballad of Cordell Kemp," "The Gal I Left Behind Me," "Watermelon on the Vine," "Going Back to Dixie," "The Death of John Henry," "Going Across the Sea," "The Rose of Alabamy," "Bonnie Blue Flag," "Keep My Skillet Good 'n Greasy," and "Jesse James."
The Banjo Salute tape: more of the Uncle Dave songs.
The third tape is instrumental and also features Larry Perkins and a good friend, Terry Eldridge. I am not usually caught that much by tape/CD titles but I really like the title of this one: Three Fingers and a Clawhammer. I like that. I believe those of you who like clawhammer and the great old-time songs and style should have these tapes.
I am fortunate enough to see Leroy each year at the Museum of Appalachia Tennessee Fall Homecoming and I have video tape of him performing. (You do a great job, Leroy Troy. Keep it up.)
Leroy Troy, P.O. Box 216, Goodlettsville, TN 37070-0216.