April 1994 Articles
Cover Story
Rick Mattingly
Features
Staff
Mark Clark
Mark Clark
Paul Moffett
Columns
Berk Bryant
Jim Galipeau
Jan Winders
Paul Moffett
Keith Clements
Todd Hildreth
Darrell Elmore
Duncan Barlow
Elaine Ford
Alan Rhody
CD Reviews
Kory Wilcoxson
Bob Bahr
Kory Wilcoxson
Kevin Gibson
Kevin Gibson
John Goodin
Allen Howie
Allen Howie
Bob Bahr
Allen Howie
Kory Wilcoxson
Kevin Gibson
Kevin Gibson
Kevin Gibson
Performance Reviews
Bill Ede
Jean-Marie Ebel
Berkley Harrington, Jr.
Mark Clark
Jean Metcalfe
William Brents
Interviews
Allen Howie
Mark Clark
Jan Winders
Calendar
Staff
News Item
Staff
Preview
Staff
Bob Bahr
Opinion
Staff
Errata
Staff
Photos
Letha Marshall
LASC
Staff
Madison Steele
Staff
Jean Metcalfe
Blogs
Got Shows?
Send Them To Us
Bookmark Louisville Music News.net with these handy
social bookmarking tools:
Available RSS Feeds
- Top Picks
- Today's Music
- Editor's Blog
- Articles
Add Louisville Music News' RSS Feed to Your Yahoo!

Issue: April 1994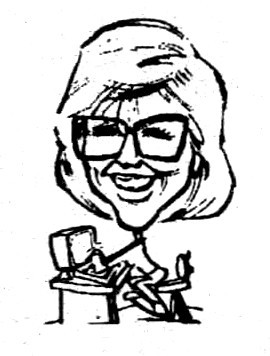 Newsical Notes
Our sympathy is extended to Ray Yates, whose father passed away on March 7. Ray became a very active member of LASC immediately upon joining up a couple of years ago, and he currently serves as a member of the Board of Trustees and as the Co-op Secretary.
From the Southwest Virginia Songwriters Association's newsletter comes news that a song written by SVSA members Greg Trafidlo and Neal Phillips was selected to be a cut on Mississippi Summer Project 30th Anniversary. The 2-CD set, to be released this month, will also include works by Bob Dylan, Tom Paxton, Si Kahn, Richie Havens and 15 others.
While none of these illustrious artists is a member of the LASC, we wanted to give Greg and Neal a pat on the back from our Co-op since Greg took away the grand prize in our Songwriting Competition '93. And was in the audience to pick up the check. Anyone who can walk away with a thousand LASC dollars deserves a pat on the back.
Congratulations (again) Greg!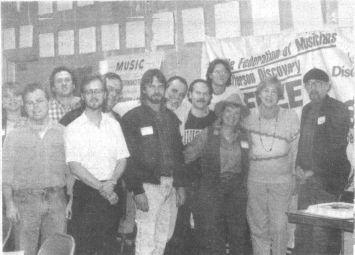 LASC members posed for an 8th birthday picture on March 21. Photo by David Wood
Trafidlo and Laura Pole have recently released an 11-song cassette album entitled To Those Who Feel. If you'd like a copy, send $9 for cassettes, $8 for LPs, and $13 for CDs to Laura Pole and Greg Trafidlo, Kira Records, Route 2, Box 159, Bedford VA 24523. Make check payable to Kira Records. (Other albums by Pole/Trafidlo are also available.)
Just a little note ... from former member Marian Maxwell in Shelbyville. Marian, who has a handbell choir at Simpsonville Methodist Church, just recently had two of her compositions picked up by a publisher in California. Some of you may recall that Marian and a member of her handbell choir performed on an LASC showcase a couple of years ago and that former member Bill Matz played guitar on one number. And that number was one of the two that the California publisher selected.
Marian will be going to California for a month to do the piano track on her daughter's new album. When she returns she wants to check out the new gospel/inspiration group that is being formed within the LASC. "I'm still 'inspired' to write every now and then," Marian said.
Marvelous, Marian!
By the way, Bill Matz and his wife moved to Shelbyville some time ago and opened up a spice store which they named Spices & More. Stop by and tell 'em Jean sent you (and buy some of those spices ... and more.)
Our old/new president, Paul Moffett, will be showcased at the East End Coffeehouse on Saturday, April 9, at 7:00 p.m. (a departure, because of Easter, from the usual first-Saturday schedule). Although he's not one to ask people to come on down, I'm sure the prez would appreciate a good turnout. Most of our members haven't heard much of Prez Paul's considerable repertoire of original songs.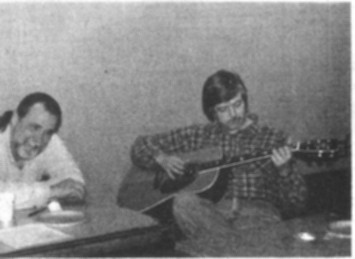 Nashville producer Donnie Sanders enjoyed a Bill Ede original during the Songwriter's Circle. Photo by Jean Metcalfe
And speaking of the East End Coffeehouse, last month in this column I said that unless I was mistaken, Jonathan Miller was the talent coordinator for the Coffeehouse's first birthday celebration on Feb. 5. I was mistaken. My apologies to Dave Lundahl who is the talent coordinator. I knew that, I just momentarily forgot. And ... Jonathan has actively participated in and plugged the monthly Coffeehouse events.
Speaking of Jonathan, we'd like to wish him perfect health, starting immediately and lasting until at least the end of the year. He has been ailing since the latter part of February and, shortly before our March 5 Songwriter Showcase, was discovered to have pneumonia. A member of the Board and Showcase Committee Chair, Jonathan had to yield his emcee and other duties to Prez Paul for the evening. Jonathan subsequently entered the hospital for treatment and remained there for a full week. He hates having to stay away from our meetings for the time being but promised his doctor he'd behave himself. After a month off the job, Jonathan wants to get totally well and hurry back to the overflowing "IN" basket of work that surely awaits him. Although he did do some thinking about a song or two, his wife Maureen kept forgetting(?) to bring his trusty guitar to the hospital. Get well and stay well, Jonathan.
Congratulations to Doc Dockery on his new London Project. Although it hasn't been released yet, I have heard a rough mix of the album and I like what I heard. Doc shows off his yodeling skills on a Jimmie Rodgers number and pays tribute to his own father with the original "Daddy Played Those Jimmie Rodgers Blues." Former Co-oper "Papa" Gene Adams shares co-writing credit on the "Diamonds and Gold" cut.
Sounds like a winner.
Nashville resident Karen LeVan, a ground-floor member of the Co-op, was in town for a long weekend and stopped by to help us celebrate the LASC's 8th birthday at the meeting on the 21st. She brought along a new friend from Nashville, session sax player, recording artist and producer Donnie Sanders, who has been in "the biz" for more than 20 years. Donnie shared some of his experiences and participated in the Songwriters' Circle (guitar pull). Besides performing a very nice original tune, he played a couple of cuts from a project he has produced on his son. Karen predicts that the young Sanders is headed for the top. And since she did predict stardom for the then-up-and-coming Garth Brooks, who am I to argue. Besides, I thought he sounded great.
It was also good to see old songwriter friends Bill Ede, Marc Hardin and David Woods; both Bill and Marc participated in the Songwriters' Circle. Most enjoyable.
Barbara Ellen Allender dropped a line and enclosed a check to re-up her supporter membership in the LASC. She paid several nice compliments to our organization, saying "I value the role that LASC has had on my continued growth in songwriting. Your support and friendship is appreciated so much!"
We appreciate your kind words, Barbara.
If you happen to find yourself near the Texas Roadhouse at Green Tree Mall in Clarksville, stop in, drop a coin in the jukebox and punch up "Upright Lady" by John Allen. Local music writer Bob Bahr and his lovely bride Susan did just that recently and reported back to the publishers of LMN. They made two songwriters' day. Haven't told third writer Charlie Walls yet; he probably already knows. (I'll be waiting for my royalty check, Charlie, I've already spent the last one.) Wonder how much my quarter of the quarters will net me. And the prez's half of the quarters will net him and ... .