April 1994 Articles
Cover Story
Rick Mattingly
Features
Staff
Mark Clark
Mark Clark
Paul Moffett
Columns
Berk Bryant
Jim Galipeau
Jan Winders
Paul Moffett
Keith Clements
Todd Hildreth
Darrell Elmore
Duncan Barlow
Elaine Ford
Alan Rhody
CD Reviews
Kory Wilcoxson
Bob Bahr
Kory Wilcoxson
Kevin Gibson
Kevin Gibson
John Goodin
Allen Howie
Allen Howie
Bob Bahr
Allen Howie
Kory Wilcoxson
Kevin Gibson
Kevin Gibson
Kevin Gibson
Performance Reviews
Bill Ede
Jean-Marie Ebel
Berkley Harrington, Jr.
Mark Clark
Jean Metcalfe
William Brents
Interviews
Allen Howie
Mark Clark
Jan Winders
Calendar
Staff
News Item
Staff
Preview
Staff
Bob Bahr
Opinion
Staff
Errata
Staff
Photos
Letha Marshall
LASC
Staff
Madison Steele
Staff
Jean Metcalfe
Blogs
Got Shows?
Send Them To Us
Bookmark Louisville Music News.net with these handy
social bookmarking tools:
Available RSS Feeds
- Top Picks
- Today's Music
- Editor's Blog
- Articles
Add Louisville Music News' RSS Feed to Your Yahoo!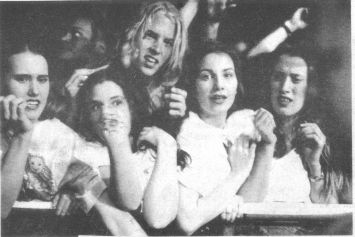 Ed-die, Ed-die.
Pearl Jammed
By Mark Clark. Photo by Pete Strojny
There's no doubt what the hottest ticket in town was Thursday, March 24.
Tickets for Pearl Jam's sold-out concert in Louisville Gardens were selling for upwards of $100 each. A woman from Cincinnati gleefully admitted paying $84 through a ticket service for her seat. Another fan said she paid a scalper $92 for her ticket (which had a face value of $18).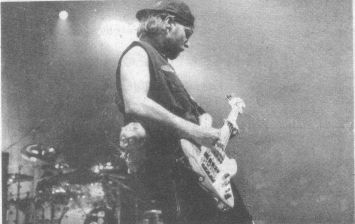 Jeff Ament
Dozens of people were wandering around in front of the arena, hoping to buy a ticket at almost any price. Meanwhile, those with seats were lined up out the door and all the way around the building to get into the general admission show.
Restless hours later, when opening act King's X took the stage, the impatient throng erupted. Fans pogoed madly and "crowd surfed" across the undulating sea of flannel that once was the Gardens' floor.
It was a rough scene. A friend of mine, who had been near the stage when King's X began playing, approached me in the stands just three songs later. "I thought I was going to die down there," he said. The first-aid room was busy all night long. Paramedics said they were seeing many cases of heat exhaustion.
As soon as King's X finished its set, the crowd began chanting "Ed-die, Ed-die," waiting for vocalist Eddie Vedder and company to take the stage. When Pearl Jam finally appeared, thousands of young women squealed in Beatlemania fashion. A teen-aged boy seated in front of me howled at Vedder: "You're the best m— f— alive! I love you! You're so f— awesome!"
All this and — as a bonus, it seemed sometimes — music, too.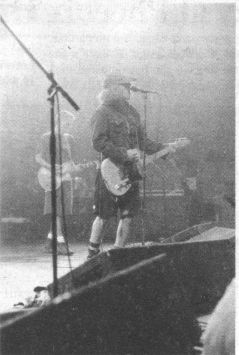 Eddie Vetter
Pearl Jam served up 2-1/2 hours of rough-hewn, post-punk power pop. The band's entire repertoire, especially cuts from its polished debut album Ten, came across with considerably more punch live.
It took the group in general (and Vedder in particular) a few songs to get cranked up. The group's opening numbers — "Rearviewmirror" and "Whippin'" — fell flat. The pace quickened with a version of "Go," which flowed directly into "Animal." But it wasn't until the next song, "Dissident," that fans got a glimpse of the emotional, gesticulating Vedder it knew from MTV.
The show only improved from there. Pearl Jam soared with fiery renditions of "State of Love and Trust" and "Evenflow." Guitarist Stone Gossard leaned into the whammy bar for a wonderful, distortion-rich solo on "Garden." Vedder offered a surprisingly tender reading of "Black."
Then, with "Jeremy," the band kicked its performance into overdrive. Throughout the show, in fact, Vedder and company never seemed to run out of higher gears to move into. The anthemic "Alive" whipped the audience to feverish intensity. Then the band topped even that with a blistering cover of Neil Young's "Rockin' in the Free World." Gossard punctuated the song's finale by diving into the crowd.
After a short break, Pearl Jam returned for a second set that contained a handful of new songs, including "Spin the Black Circle," which Vedder described as "a love song about vinyl." Pearl Jam also offered an interesting version of "Daughter," interplotting Tom Petty's "I Won't Back Down."
King's X fans — yes, there were some in attendance — deserved better than the over-amplified, 45-minute set the band provided. Riff rockers like "Black Flag" and "Dogman" came across well, but the band's more subtle numbers suffered.
For the record, I'm not convinced ANY concert is worth $100 per seat. But I'm sure most of those in attendance March 24 will tell you they got their money's worth — no matter what they paid.