March 2018 Articles
Columns
Paul Moffett
Eddy Metal
Eddy Metal
Blogs
Got Shows?
Send Them To Us
Bookmark Louisville Music News.net with these handy
social bookmarking tools:
Available RSS Feeds
- Top Picks
- Today's Music
- Editor's Blog
- Articles
Add Louisville Music News' RSS Feed to Your Yahoo!

Issue:
SWSW '94 MUSIC FESTIVAL
By Mark Clark. Photos by Bob Bahr
Trade show, talent showcase, monster-sized party — the South By Southwest Music and Media Conference, held March 17-20 in Austin, Texas, was all those things.
For lovesauce & soulbones, one of two bands currently working in Louisville to perform at the event this year [Steve Ferguson also performed, but the schedule didn't allow coverage of both groups], South By Southwest was something else, too.
"It was an education," said Sam Anderson, the band's lead vocalist and primary songwriter.
The band's goal heading into the festival was simple: to kick some tail in front of a crowd that would include lots of record label A&R representatives, big-time producers and heavily connected musicians such as guitarist Adrian Belew. Over 40 insiders showed up to check out the 'sauce, including Belew.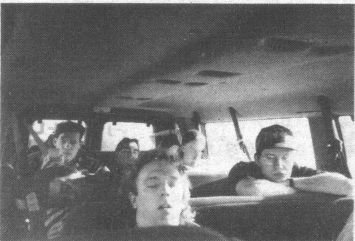 ARE WE THERE YET? After seenteen hours on the road, the members of lovesauce and soulbones, plus writer Mark Clark, right, showed signs of road fatigue
What the band got out of the trip wasn't so cut-and-dried.
For one thing, the 18-hour trip from Louisville to Austin — which crammed the six-member band, its two managers, two technicians and a certain Louisville Music News correspondent (ahem!) into a single, smelly rental van — served as something of a crucible. It was the group's first extended trip together.
"It brought out the best and the worst in all of us and we triumphed over it all," said keyboardist David Barrickman.
Barrickman had more to learn about his bandmates than anyone else. He joined lovesauce just three months ago, replacing Scott Thomas, who left the band due to creative differences.
"There's something uniquely bonding about traveling together," Anderson said.
"We can't go home and fume about a problem," said Garry Cronin, the band's co-manager. "You have to work it out. ... We got in some tiffs, but I don't think anybody holds anything against anybody."
The group's first 24 hours in Austin were pure heaven: a day spent lounging at the hotel and sightseeing in beautiful, 80-degree weather; an evening spent checking out other bands, downing cold beer and gaping, slack-jawed, at the assortment of beautiful women on hand for the event.
Its second day in Austin was more tense, as the band and crew geared up for the most pressure-packed performance in lovesauce's one-year history.
Misfortune struck, straining nerves even more. Two of the six bands slated to perform at Catfish Station, one of nearly 30 clubs hosting the festival, failed to show up. To compensate, lovesauce & soulbones' performance was pushed back nearly an hour.
That was bad news, since the aforementioned 40 industry types were on hand for an 8:45 p.m. start — not the band's new 9:30 p.m. start. About half the big guns left before the 'sauce ever took the stage. And, perhaps because of the extended wait, the band's first two numbers sounded a bit creaky. But the show picked up steam after that, closing strong with powerful versions of "Lovesauce and Soulbones" and "Love and Peace."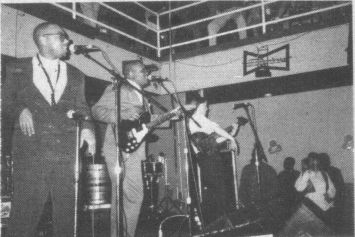 lovesauce and soulbones at Catfish Station. Left to right, Mauriece Hamiton, Sam ANderson adn Danny Kiely
Nobody in the band was entirely happy with the performance, but lovesauce was impressive enough to garner kind words from several industry types. The band met with Kenny MacPherson, Vice President of creative services for Warner Chappell Music Publishing, on its way out of town.
MacPherson, who has a publishing contract with Anderson but not with the band, offered some suggestions on how to tighten up arrangements and asked the band to cut a second demo. (The group recorded a three-song demo about six months ago.) Lovesauce will go into a local studio this month and cut another three to five songs.
All in all, it was a positive experience, everyone agreed.
"We learned things we need to nail the next time through," said Cronin. He, co-manager Bob Bahr and technicians Brian Cronin and Greg Lee "need to work out some technical stuff, figure out our roles."
As for the band?
"We figured out a lot of things we need to work on," Anderson said.
Nevertheless, everyone felt good about the way lovesauce stacked up with the 400+ other bands, all of them considered to be among the finest unsigned talent in the U.S.
"I felt strongly we had something to contribute that no one else does," said percussionist Ray Rizzo. "As far as who we are and what we're out to do, I didn't see a single band that matched up. I saw some bands I expect to see more of in the future, but I'm still very proud of what we're doing."
The band will continue its education when it plays the Crossroad Music Festival in Memphis, Tenn., April 15.