April 1994 Articles
Cover Story
Rick Mattingly
Features
Staff
Mark Clark
Mark Clark
Paul Moffett
Columns
Berk Bryant
Jim Galipeau
Jan Winders
Paul Moffett
Keith Clements
Todd Hildreth
Darrell Elmore
Duncan Barlow
Elaine Ford
Alan Rhody
CD Reviews
Kory Wilcoxson
Bob Bahr
Kory Wilcoxson
Kevin Gibson
Kevin Gibson
John Goodin
Allen Howie
Allen Howie
Bob Bahr
Allen Howie
Kory Wilcoxson
Kevin Gibson
Kevin Gibson
Kevin Gibson
Performance Reviews
Bill Ede
Jean-Marie Ebel
Berkley Harrington, Jr.
Mark Clark
Jean Metcalfe
William Brents
Interviews
Allen Howie
Mark Clark
Jan Winders
Calendar
Staff
News Item
Staff
Preview
Staff
Bob Bahr
Opinion
Staff
Errata
Staff
Photos
Letha Marshall
LASC
Staff
Madison Steele
Staff
Jean Metcalfe
Blogs
Got Shows?
Send Them To Us
Bookmark Louisville Music News.net with these handy
social bookmarking tools:
Available RSS Feeds
- Top Picks
- Today's Music
- Editor's Blog
- Articles
Add Louisville Music News' RSS Feed to Your Yahoo!

Issue: April 1994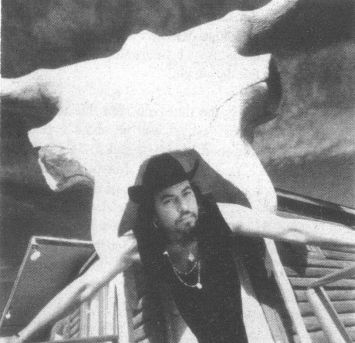 Robert Vaughn
among the best
Robert Vaughn and the Dead River Angels (Miramar)
Robert Vaughn and the Dead River Angels
By Allen Howie
Robert Vaughn sings with Robbie Robertson's urgent rasp and Dylan's stubborn phrasing. He writes the way Springsteen used to, calling up memories so vivid you'll think they're your own. And his band, the Dead River Angels, are the loosest, tightest, leanest bunch you've heard in a long, long while.
The eleven songs here alternate between bracing rock and haunting ballads. But it's the smallest touches that give these songs their wings: the banjo that races through the crunch of "River Queen" and "River of Love," the vibro guitar that shivers against the warm wash of the accordion in "4th of July," the rippling piano that glides like a ghost through "Heartbreak & Ecstasy" and the lead guitar that propels "Blue Country."
But mostly, it's Vaughn's haggard, world-weary marvel of a voice, like a bale of barbed wire skidding across a frozen lake, that tricks these songs to life: the overwhelming ache that shoots through tracks like "Upon This Lonesome Sea" and the volcanic passion that boils over in numbers like the bristling "Ride Angel Ride."
Vaughn caps ten stunning originals with a deadly version of John Fogerty's "Have You Ever Seen the Rain" that crawls out of the speakers like a spider closing in on its prey. The bottom line is this: if Blood on the Tracks grabbed you by the throat, if Darkness on the Edge of Town left you slack-jawed and shaken, you should own this record.