September 1995 Articles
Cover Story
Bob Bahr
Features
Darrell Elmore
Bob Bahr
Columns
Berk Bryant
Robert Gruber
Decimus Rock
Mike Stout
Paul Moffett
Keith Clements
Todd Hildreth
Duncan Barlow
CD Reviews
Mike Stout
Darrell Elmore
Robert Gruber
Mike Stout
Kory Wilcoxson
Kory Wilcoxson
Robert Gruber
Bob Bahr
Bob Bahr
Michael Campbell
Allen Howie
Mark Clark
Bob Mitchell
William Brents
Robert Gruber
Allen Howie
Performance Reviews
Mike Stout
Mike Stout
Allen Howie
Ninette Shorter
Wally Stewart
Kevin Gibson
Calendar
Bob Bahr
News Item
Opinion
Photos
LASC
Earl Meyers
Jean Metcalfe
Paul Moffett
Blogs
Got Shows?
Send Them To Us
Bookmark Louisville Music News.net with these handy
social bookmarking tools:
Available RSS Feeds
- Top Picks
- Today's Music
- Editor's Blog
- Articles
Add Louisville Music News' RSS Feed to Your Yahoo!

Issue: September 1995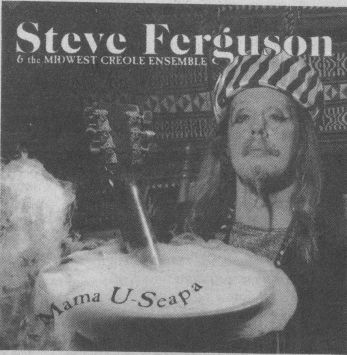 Mama U -Seapa (Schoolkids' Records)
Steve Ferguson & the Midwest Creole Ensemble
By William Brents
Hometown musical savant Steve Ferguson & the Midwest Creole Ensemble had an album release party several weeks ago. If you missed it, no biggie. Just pick up a copy of Mama. U-Seapa, stick it in the CD player and presto, your own personal Mardi Gras.
Mama U-Seapa is probably the closest thing to bar hopping on Bourbon Street without actually visiting bayou country.
Ferguson and the Ensemble eagerly explore the sumptuous sounds of New Orleans via jazzy blues, spicy soul and a dash of voodoo.
"Time to put my foot down and stake my claim," snaps Ferguson on "Fight Like You Talk," a sassy horn-drenched tune that aptly marks the beginning of the record.
It doesn't take one long to hear the unique qualities that Ferguson possesses as an artist. First and foremost is his arousing guitar playing. His sharp and stinging signature sound can be best appreciated on "Lyin' Cheatin' Blues," a definite highlight.
Vocally and lyrically Ferguson grinds and snarls throughout. Scornfully preaching from a cosmic pulpit on "Hoo Doo Lovin' "to a playful plea on "Right String Baby, Wrong Yo Yo."
The most intriguing song here could be a cover of the Times' "Jungle Love." It gets my vote for the year's most creative cover. Sounding like a deranged caveman, Ferguson growls lines like: I'm gonna tie ya up
Put you in my cage
Then I'm gonna lock the door, eat the key
And then I'm gonna make you salivate
'Til you get real hungry and take a bite of me.
The boys from NRBQ (Ferguson's former band) inject their contagious bounciness and crazy backbeat on several tunes. The foursome sounds so good that I for one am hoping for future collaborations.
Also sounding great are the Midwest Creole Ensemble; from the saucy M.W.C. Singers to the soaring horn section, they deliver.
Mama U-Seapa is clearly a celebration. It celebrates the love that Ferguson has for this charming and enduring music.
If you're wise, you'll jump headfirst into the festivities.