September 1995 Articles
Cover Story
Bob Bahr
Features
Darrell Elmore
Bob Bahr
Columns
Berk Bryant
Robert Gruber
Decimus Rock
Mike Stout
Paul Moffett
Keith Clements
Todd Hildreth
Duncan Barlow
CD Reviews
Mike Stout
Darrell Elmore
Robert Gruber
Mike Stout
Kory Wilcoxson
Kory Wilcoxson
Robert Gruber
Bob Bahr
Bob Bahr
Michael Campbell
Allen Howie
Mark Clark
Bob Mitchell
William Brents
Robert Gruber
Allen Howie
Performance Reviews
Mike Stout
Mike Stout
Allen Howie
Ninette Shorter
Wally Stewart
Kevin Gibson
Calendar
Bob Bahr
News Item
Opinion
Photos
LASC
Earl Meyers
Jean Metcalfe
Paul Moffett
Blogs
Got Shows?
Send Them To Us
Bookmark Louisville Music News.net with these handy
social bookmarking tools:
Available RSS Feeds
- Top Picks
- Today's Music
- Editor's Blog
- Articles
Add Louisville Music News' RSS Feed to Your Yahoo!

Soul Asylum, Matthew Sweet, Victoria Williams, The Jayhawks
Soul Asyum finds more elbow room in the Gardens than in Tewligans
By Kevin Gibson
The stage sprawled out 30 feet deep and 50 feet wide at Louisville Gardens August 21 and Soul Asylum took a deep breath and used every inch of it.
The foursome — which not so long ago was playing the dimly lit hall and crackerbox stage of Tewligans — found a receptive if smallish group of about 3,000 waiting just a few feet away and seemed to rise to the enthusiasm. For a while, at least.
Following a too-short set by Matthew Sweet and a mellow performance by the Jayhawks and Victoria Williams, the headliners launched into an energized procession, only to watch it melt into a screeching, arena rock mess of chords late in the act.
After pounding out "Somebody to Shove" from the 1992. album, Grave Dancer's Union, and cruising through the alluring hook of "Bittersweetheart," from the band's latest release, "Let Your Dim Light Shine," Soul Asylum settled into a wonderfully smooth array of numbers from the aforementioned two albums. i The main attraction was the new album's first single, "Misery," and of course the mega-hit from two years ago, "Runaway Train." Following the latter, many of the less game concertgoers began to file out. The truth is, they had already seen the best parts of the show.
While the first hour of the set was delicately administered beneath street lights and a haunting alley scene, Soul Asylum kicked in the after-bumers as they lit into "99%," "Crawl," "Caged Rat," and a lineup of other hard rockers.
Perhaps it was meant to be a retum to their roots; in their days of roaming alternative bars like Tewligans, Soul Asylum was considered a punk rock band. Naturally, all that changed when "Runaway Train" hit the tracks and apparently the group felt it needed to let its former light shine. A dim light, indeed.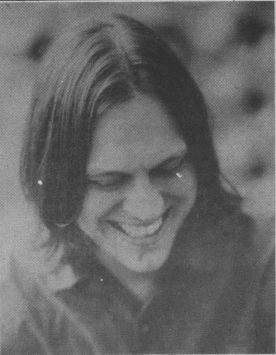 Matthew Sweet. Photo by Jeff Bender
The ensuing numbers came across as an uninspired if energetic wash of arena rock borrowed loosely from Bon Jovi; or maybe Journey, what with the laser show and keyboard strains.
What it accomplished was that many left the Gardens thinking, "These guys really like to hear themselves screech."
The Asylum finally ended the onslaught with the band's newest single, "Just Like Anyone," and the encore return, including Williams and a couple of Jayhawks, settled back into the original groove set early in the show.
Most interesting of the five-song encore was an impromptu rendition of "You Are My Sunshine" and an emphatic rekindling of an old country favorite. For those of you who weren't there, suffice it to say you haven't lived until you've seen kids mosh to "Rhinestone Cowboy."
The Jayhawks and Victoria Williams shared the stage during the second leg of the evening and the 'Hawks easily lived up to the standards set on their hit album Hollywood Town Hall, as well as their new release, Tomorrow the Green Grass.
Except for one feedback problem which had Williams momentarily perplexed, the middle set was smooth as silk, never wavering and never disappointing. Louisville Gardens was acoustically kind to the Jayhawks.
While Williams' shrill vocals are difficult to get used to at first, her heartfelt performance won over the throng. Certainly, the music was intended more for swaying than moshing, but the youngsters at the Gardens didn't seem to mind. They moshed anyway.
She got no argument from the crowd when she sang "Pass It Around," a song recently covered by Pearl Jam as part of a benefit for Williams (who suffers from multiple sclerosis) and often heard on local radio.
Matthew Sweet got things started with a steaming set of his noisy melodies. While Sweet was rushed off the stage inside 45 minutes, he made the most of his time there.
He crooned favorites such as album-rock favorites "I've Been Waiting" and "Someone to Pull the Trigger" and midway through the lineup tossed out a raucous rendition of the title cut from his 1991 album, Girlfriend.
It was about this time the first crowd- surfers were spotted.
At any rate, Sweet bolted into his current single, "We're the Same," from 100 Fun and closed with "Divine Intervention" and "Sick of Myself."
If he was sick ofhimself, he was probably alone. I know of at least one person in the audience who could've stood another 45 minutes.At least.