This page was generated in 0.05 seconds.
September 1995 Articles
Cover Story
Bob Bahr
Features
Darrell Elmore
Bob Bahr
Columns
Berk Bryant
Robert Gruber
Decimus Rock
Mike Stout
Paul Moffett
Keith Clements
Todd Hildreth
Duncan Barlow
CD Reviews
Mike Stout
Darrell Elmore
Robert Gruber
Mike Stout
Kory Wilcoxson
Kory Wilcoxson
Robert Gruber
Bob Bahr
Bob Bahr
Michael Campbell
Allen Howie
Mark Clark
Bob Mitchell
William Brents
Robert Gruber
Allen Howie
Performance Reviews
Mike Stout
Mike Stout
Allen Howie
Ninette Shorter
Wally Stewart
Kevin Gibson
Calendar
Bob Bahr
News Item
Opinion
Photos
LASC
Earl Meyers
Jean Metcalfe
Paul Moffett
Bookmark Louisville Music News.net with these handy
social bookmarking tools:
Available RSS Feeds
- Top Picks
- Today's Music
- Editor's Blog
- Articles
Add Louisville Music News' RSS Feed to Your Yahoo!

George Strait and Lari White at the Fair
By Michael W. Stout
There may never have been such a consistently well-performed concert as that of longtime country favorite George Strait and the talented Lari White on August 19 at the Kentucky State Fair This pair filled Freedom Hall to the brim, including the seats behind the stage.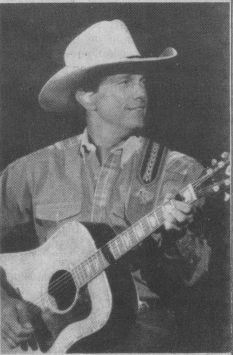 George Strait. Photo by Letha Marshall
Lari White hit the stage to a very responsive crowd, stating that "It's good to be in Kentucky, y'all!" and looking as beautiful and vibrant as an angel, dressed all in white: vest, slacks, and heels. As soon as she sang the first note of her recent smash hit, "That's My Baby," it was evident that she also has the voice of an angel, hitting notes as high and pristine as Mt. Everest.
White performed an astronomical nine-song, 40-minute set which included hits such as "Now I Know," with some dirty bass and "That's How You Know (When You re In Love)." And she introduced new songs from her upcoming third album (scheduled to be released in January) such as the title track, "Don't Fence Me In," which White calls "my motto for life." White's energy was incredible but didn't hold a candle to her hair-raising, spine-chilling rendition of Dolly Parton's "Jolene." It was compliment enough to Parton for White to include this tune in her set, but her performance, accompanied by some haunting steel guitar, was even more of a compliment.
White was backed by her tightly rehearsed band, The Wild Bunch, and she featured each member nicely within her set. Keep your ears open for Lari White because this gal's gonna be Female Vocalist of the Year.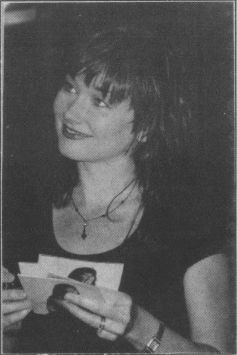 Lari White signed autographs at the WAMZ booth. Photo by Letha Marshall
The sellout crowd anticipated George Strait's arrival by screaming at the top of their lungs and performing "the wave" all the way around the arena until the lights dimmed and Strait's western swing band, the Ace In The Hole Band, hit the stage and began to perform the first of two songs on their own, "Driving Nails In My Coffin."
As soon as George Strait was announced, the ten people in Freedom Hall that weren't already standing and screaming at the top of their lungs made it unanimous. Strait immediately tore into "Lovebug," the first of 24 songs he would perform this evening over the course of 85 minutes. Strait's performance was absolutely consistent: consistent chart-topping material sung in a consistently true-to-the-record manner creating a consistently balanced set highlighting all stages of Strait's career.
The audience was very loud, yet well-behaved, never getting upset that Strait, a perfect gentleman, didn't talk or move much. If he wasn't crooning a song such as "The Chair," "Easy Come, Easy Go," "Adalida," "The Cowboy Rides Away," or the title track from his latest album, Lead On (his current single) he was more than likely flashing his pearly whites Oh yeah , and the ladies didn't his his Wrangler jeans too much either.
Every song was heartily welcomed, but four favorites — "Heartland," "The Fireman," "I Cross My Heart," and "Amarillo By Morning — outshined the others. Strait also treated the crowd to a fun new song titled "Check Yes Or No," included in his soon-to-be-released box set. He told the fans he didn't know what a box set was until his record company said he was doing a box set and he asked what it was. He continued by asking, "And do you know what it's called? Strait Out Of The Box!" This entire stage setting took me back to the days when I was knee-high to a jack rabbit and the family would load up and head to the rodeo.
Sure the barrel racing and bronc riding was great, but my favorite part was when a haywagon was pulled into the center of the arena to serve as the stage for an old-fashioned country concert. On this evening George Strait very well could have been performing on a mere hay wagon with a few lasers thrown in here and there and a mirrored disco ball a time or two.
This two thumbs up concert was gimmick-free "Pure Country."