September 1995 Articles
Cover Story
Bob Bahr
Features
Darrell Elmore
Bob Bahr
Columns
Berk Bryant
Robert Gruber
Decimus Rock
Mike Stout
Paul Moffett
Keith Clements
Todd Hildreth
Duncan Barlow
CD Reviews
Mike Stout
Darrell Elmore
Robert Gruber
Mike Stout
Kory Wilcoxson
Kory Wilcoxson
Robert Gruber
Bob Bahr
Bob Bahr
Michael Campbell
Allen Howie
Mark Clark
Bob Mitchell
William Brents
Robert Gruber
Allen Howie
Performance Reviews
Mike Stout
Mike Stout
Allen Howie
Ninette Shorter
Wally Stewart
Kevin Gibson
Calendar
Bob Bahr
News Item
Opinion
Photos
LASC
Earl Meyers
Jean Metcalfe
Paul Moffett
Bookmark Louisville Music News.net with these handy
social bookmarking tools:
Available RSS Feeds
- Top Picks
- Today's Music
- Editor's Blog
- Articles
Add Louisville Music News' RSS Feed to Your Yahoo!

Jerry Garcia's Irish Connection
Louisville is now home to Armagh-born Rodney Hope, who had been the roadman for Dublin-based "Thin Lizzy." Rodney went right to the epicenter of the rock'n'roll world when he left Los Angeles for San Francisco, where he met Garcia. According to Rodney, Jerry loved Ireland and as recently as 18 months ago spent two weeks in Dublin and Donegal where he proclaimed his love of the locally poured Guiness.
Jerry was to have been on The Chieftains' "Long Black Veil" which didn't happen for a variety of reasons. His interest in Irish music actually stems from his love of bluegrass and Bill Monroe, which accounts for his guitar playing style mimicking his principal instrument, the pedal steel guitar. Both Phil Linnott (of Thin Lizzy) and Jerry Garcia were swallowed by the "tigers" they rode and left millions of fans and many good friends like Rodney Hope behind to preserve their memory.
Travellers' Advisory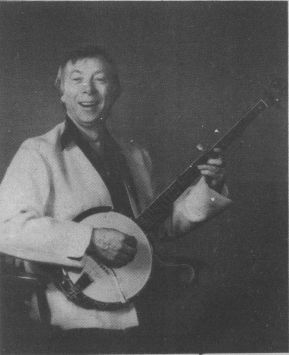 Tommy Makem
If you're goin' to Saaaaan Fraaaancisco be sure to ... visit The Plough and Stars, SF's mecca for Celtic musicians. Last week Rock happened upon a jam among San Fran natives John Renfort and Athena Tergis and John Hicks of Harleypool, England.
Hicks and Tergis were especially strong. A 20-year-old student of Alsdair Fraser, Athena has recorded one CD already and John Hicks was in town to record his first album with Athena on Celtobeat, an independent San Francisco label. He is a masterful guitarist with a soulful voice that belies his mere 23 years. I also enjoyed meeting and listening to County Tyrone singer Pat Hamilton at Ireland's 32 and to Claire and Jerry from Galway at the Unlted Irish Cultural Center. Of course there are a zillion reasons to visit San Francisco, but hearing good Celtic music is one of them.
LPB Strikes a Blow
Congratulations to the Louisville Pipe Band for its good showing at the Virginia Highland Games in Alexandria last month. LPB placed fifth out of nine Grade IV bands, or dead center. Considering that LPB was one of the smallest bands, that was a pretty good showing among some tough competition. Congratulations for an infinitely more challenging feat to Pat Benningfield, Pipe Major of the Louisville Pipe Band, upon his recent nuptials, the reception for which was a real feast of piping.
Tommy Returns!
Legendary balladeer Tommy Makem returns to Louisville for the sixth annual Irish Family Fest (September 22-24 on the grounds of Bellarmine College).
"The Bard of Armagh" made musical history in the '60s folk revival with The Clancy Brothers in Greenwich Village in New York City. However, the latest rage in NYC is Black 47, whose pounding blend of Celtic rock and rap is the most recent expansion of the envelope. Rounding out this year's headliners is Andy Irvine, whose membership in Planxty and Patrick Street make him a darling of Irish folk music aficionados. This year's Fest starts on Friday night with a cabaret style concert by regional favorite Fannigan's Isle. Of course there is much more than space allows, so call the Irish Fest Infoline: 502-245-6676.
Flotsam & Jetsam
Be on the lookout for the Locust Grove Irish Festival, October 2, for a mellow day in a beautiful setting.
Rock has enjoyed your cards and letters, including some demo tapes sent by Celtic band Stark Raven from Columbus, Ohio and a balladeer calling herself "Dunoon" after her birthplace in Scotland, from the Washington, D. C., area. It is gratifying to know the LMN gets so far afield. All for the craic ...