September 1995 Articles
Cover Story
Bob Bahr
Features
Darrell Elmore
Bob Bahr
Columns
Berk Bryant
Robert Gruber
Decimus Rock
Mike Stout
Paul Moffett
Keith Clements
Todd Hildreth
Duncan Barlow
CD Reviews
Mike Stout
Darrell Elmore
Robert Gruber
Mike Stout
Kory Wilcoxson
Kory Wilcoxson
Robert Gruber
Bob Bahr
Bob Bahr
Michael Campbell
Allen Howie
Mark Clark
Bob Mitchell
William Brents
Robert Gruber
Allen Howie
Performance Reviews
Mike Stout
Mike Stout
Allen Howie
Ninette Shorter
Wally Stewart
Kevin Gibson
Calendar
Bob Bahr
News Item
Opinion
Photos
LASC
Earl Meyers
Jean Metcalfe
Paul Moffett
Blogs
Got Shows?
Send Them To Us
Bookmark Louisville Music News.net with these handy
social bookmarking tools:
Available RSS Feeds
- Top Picks
- Today's Music
- Editor's Blog
- Articles
Add Louisville Music News' RSS Feed to Your Yahoo!

Issue: September 1995
Onstage: Buffalo Springsteen
By Darrell Ray Elbmore
I wish I could say something really cool-yet-incomprehensible about this band, you know, like that guy at the Courier-Journal: "This band looks, feels and sounds like somebody ripped one of those Jack-in-the-Box clownheads from its speaker pole, welded it to the chassis of a '57 Merc, replaced the car's engine with a two-stroke Honda 50 cc motorbike, stuck a few non-skid flower-pattern shower stickers on the side and then just said to hell with it when the damn thing wouldn't start on the first kick..." Oh yeah: "... in hell!" But I can't write like that ... mainly because I don't' think like that.
What I saw/felt/heard at the last Buffalo Springsteen concert was more like three guys having a heckuva lot of fun playing rock and roll music. I guess that makes for pretty boring copy, but it's the truth ... I swear.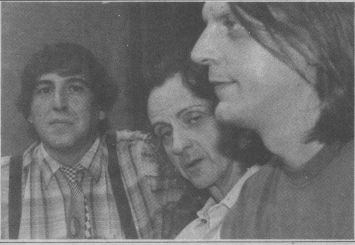 Left to right: Roger Crowe, Bob Strehl and Dirk Gaskey. Photo by Darrell Ray Elmore
Dirk Gaskey, Roger Crowe and Bob Strehl have been around for what seems like forever ... and they've probably al- ready had their rock and roll heyday, back in the '80s, in bands like The Core of Resistance, One Red Romeo and The Hollidays, respectively. But that doesn't mean their musical careers are over. Far from it.
Dirk, who does lead vocals (he claims he quit being a guitar player about the time The Core broke up), has been around the local scene for years. You might better recognize him as that "nearly deaf' sound guy at places like Tewligans and Uncle Pleasant's (both of which, like The Core, are long gone now. Sigh ...).
The boys cook up a pretty full sound for a trio. Contrary to popular opinion (Dirk's, mainly), Mr. Gaskey still displays a certain amount of control over his instrument - that is, his guitar. Bottom line is that they have FUN playing music – a rare sight in these days of petulant angst-rock.
Roger, who played bass with One Red Romeo, does the same here, but Bob tells me he moves around a lot more now than he did in the old days.
Roger was all set to go to Austin, Texas, to be an engineer for Motorola Corp. when Bill Clinton said the wrong thing to some Chinese delegate at a dinner party and Motorola lost a $3.6 billion contract with the Asian superpower ...but hey, Roger says he doesn't hold it against Bill – he didn't much want to be an engineer anyway.
Bob beats the skins like a pro. He admits that he's a banger, that is he hits 'em pretty hard, but he wasn't able to drown out the sounds of Dirk's guitar or Roger's bass. The boys rip through originals and covers, from John Lennon's "Cold Turkey" (an old Core cover/standby), to George Michael's "Faith" (pretty weird, coming out of Dirk's mouth, I've got to tell you).
They' ve got the coolest name of any new local rock band and claim its inspiration came from an all-night martini marathon at The Back Door, courtesy of Mary Ann (whose martinis are legendary, let me tell you).
Anyway, I saw 'em at The Flashback, which, true-to-form, is to other local bars what Buffalo Springsteen is to a lot of other local bands: a refreshing change from the coolie/holier-than-thou hangouts popular among the terminally hip. From its Jimi Hendrix posters to its cheap drink prices ($1 drafts, $2 wells) on Wednesday night "Stress Free Music" nights, The Flashback is a kind of homage to the days when you didn't have to stand around looking bored to show how much you appreciated the music.
Sure, it's fun to sit in an angst-filled bar full of coolies who have important careers (not the ones they want, mind you) and watch them strut their stuff while the band looks mad, or bent out of shape because they have to bear the responsibility of the "secret knowledge" that you don't have a chance in hell of ever understanding, mainly because you're not bored enough yet ...
Yeah, it' fun to watch the angry young men and women check each other, barely nodding to acknowledge their "Hey we're all too hip to deign to recognize you" men- tality.
But I think it's a lot more fun to go somewhere where people smile and throw their lot in with all the other peasants and have a good time based on flat-out enjoyment and shared good will. A Flashback? You bet. I'll see you there next Wednesday.