September 1995 Articles
Cover Story
Bob Bahr
Features
Darrell Elmore
Bob Bahr
Columns
Berk Bryant
Robert Gruber
Decimus Rock
Mike Stout
Paul Moffett
Keith Clements
Todd Hildreth
Duncan Barlow
CD Reviews
Mike Stout
Darrell Elmore
Robert Gruber
Mike Stout
Kory Wilcoxson
Kory Wilcoxson
Robert Gruber
Bob Bahr
Bob Bahr
Michael Campbell
Allen Howie
Mark Clark
Bob Mitchell
William Brents
Robert Gruber
Allen Howie
Performance Reviews
Mike Stout
Mike Stout
Allen Howie
Ninette Shorter
Wally Stewart
Kevin Gibson
Calendar
Bob Bahr
News Item
Opinion
Photos
LASC
Earl Meyers
Jean Metcalfe
Paul Moffett
Blogs
Got Shows?
Send Them To Us
Bookmark Louisville Music News.net with these handy
social bookmarking tools:
Available RSS Feeds
- Top Picks
- Today's Music
- Editor's Blog
- Articles
Add Louisville Music News' RSS Feed to Your Yahoo!

Issue: September 1995

Cowboy Corner
Jackson Vies For Six CMA Awards
Vince Gill, the top Country Music Association award winner (total of 14), will announce the winners of The 29th Annual CMA Awards at the Grand Ole Opry House in Nashville, Tenn., Wednesday night, October 4, at 8 p.m. EST. This three-hour gala will be telecast live on CBS.
Once again, Alan Jackson walked away with the most nominations — a whopping six, including Single of the Year for "Gone Country," Music Video of the Year for "I Don't Even Know Your Name," Vocal Event of the Year along with George Jones on "A Good Year For The Roses," Album of the Year for Who I Am, Male Vocalist of the Year and Entertainer of the Year.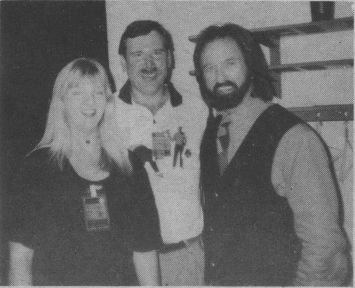 Stacy & Mark Hollowell with Duane Allen of the Oak Ridge Boys. Photo by Jenny Stout
Veteran Vince Gill captured four nominations as did a rookie nominee, Rounder Records' bluegrass queen Alison Krauss. Gill is nominated for Music Video and Album of the Year for "When Love Finds You," Male Vocalist of the Year and Entertainer of the Year. Krauss is nominated for Vocal Event of the Year with Shenandoah for "Somewhere In The Vicinity of the Heart," Single of the Year for her remake of Keith Whitley's "When You Say Nothing At All," Horizon Award and Female Vocalist of the Year. Krauss was originally also nominated for Album of the Year for her current smash album, Now That I Found You: A Collection, but was disqualified when the CMA nomination committee discovered that it was not eligible under CMA rules because less than 60 percent of the album's material was recorded during the eligibility period.
Krauss' fellow rookie nominee, the hot Canadian Shania Twain, was nominated for three awards, including Single and Video of the Year for "Any Man Of Mine" and the Horizon Award.
To much surprise, big nominees such as Reba McEntire, Garth Brooks, George Strait and Brooks & Dunn received only two nominations each.
The following is an entire list of nominees: Music Video of the Year: Shania Twain's "Any Man of Mine," The Tractors' "Baby Likes To Rock It," Alan Jackson's "Don't Even Know Your Name," Garth Brooks' "The Red Strokes," and Vince Gill's "When Love Finds You"; Song of the Year: Craig Martin and Larry W. Johnson's "Don't Take The Girl," Bob McDill's "Gone Country," Burton Banks Collins and Karen Taylor Good's "How Can I Help You Say Goodbye," Gretchen Peters' "Independence Day," and David Ball, Allen Shamblin and Stuart Ziff's "Thinkin' Problem."
Vocal Event of the Year: Chet Atkins and Suzy Bogguss' "Sorry Seems To Be The Hardest Word," George Jones and Alan Jackson's "A Good Year For The Roses," George Jones and Tammy Wynette's "One," Shenandoah and Alison Krauss' "Somewhere In The Vicinity Of The Heart," and Diamond Rio, Lee Roy Parnell and Steve Wariner's "Workin' Man Blues"; Single of the Year: Shania Twain's "Any Man Of Mine," The Tractors' "Baby Likes To Rock It," Alan Jackson's "Gone Country," Tracy Byrd's "The Keeper Of The Stars," and Alison Krauss & Union Station's "When You Say Nothing At All"; Musician of the Year: Eddie Bayers (drums), Paul Franklin (steel guitar), Brent Mason (guitar), Mark O'Connor (fiddle) and Matt Rollings (keyboard).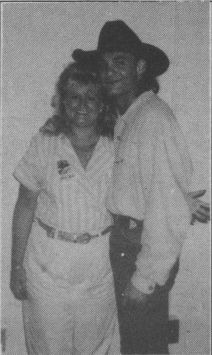 Leigh Meers and Wade Hayes. Photo by Jenny Stout
Album of the Year: John Michael Montgomery's John Michael Montgomery, George Strait's Lead On, Patty Loveless' When Fallen Angels Fly, Vince Gill's When Love Finds You and Alan Jackson's Who I Am; Horizon Award: David Ball, John Berry, Faith Hill, Alison Krauss and Shania Twain; Vocal Duo of the Year: Bellamy Brothers, Brooks & Dunn, Brother Phelps, Sweethearts of the Rodeo and John & Audrey Wiggins.
Vocal Group of the Year: Blackhawk, Diamond Rio, The Mavericks, Sawyer Brown and Shenandoah; Female Vocalist of the Year: Mary-Chapin Carpenter, Alison Krauss, Patty Loveless, Reba McEntire and Pam Tillis; Male Vocalist of the Year: John Berry, Vince Gill, Alan Jackson, John Michael Montgomery and George Strait.
And the big enchilada, Entertainer of the Year: Brooks & Dunn, Garth Brooks, Vince Gill, Alan Jackson and Reba MeEntire.
Congratulations to all the nominees and good luck!
And The Winner Is ...
I'd like to thank all you readers who took time to enter our Kentucky State Fair "Cowboy Corner Country Concert Frenzy Contest." Congratulations are in order for our three winners: Leigh Meers, Stacy Hollowell and Becky Kihnley. Leigh won fifth-row seats to the Wade Hayes / Mark Chesnutt/Brooks & Dunn concert August 17 and had the great opportunity to meet Wade Hayes and Mark Chesnutt after the show. Stacy won backstage passes to meet the Oak Ridge Boys before their free August 20 concert. And Becky was fortunate enough to meet Ricky Van Shelton after his free August 23 performance in Cardinal Stadium.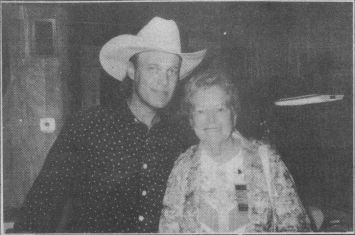 Ricky Van Shelton and Becky Kihnley. Photo by Letha Marshall
Congratulations to all of our winners! It was a pleasure.
Country Burns Up The Airwaves
The spring radio ratings listed by Arbitron in the category of listeners over 12 years of age were recently released and country music captured a big chunk of Kentuckiana's air-waves. 97.5-FM WAMZ held onto its number one spot, regaining the amount of listeners it lost in the winter ratings. WAMZ had an average of 247,000 weekly listeners, accounting for 15.8 percent of the Louisville audience. 107.7-FM WHKW captured the number 9 spot with 4 percent of the audience, meaning more than 89,000 listeners. WAMZ's sister station, 98.9-FM WKJK, held the number 12 spot with 3 percent of the audience, while country oldies station WTMT rounded out the top 20.
Congratulations to country radio, the program directors and the disc jockeys!
Keep country comin' our way.
Country And Rock Join To Aid Farmers
Farm Aid has helped save America's family farms for ten years and, come October 1, you'll have the opportunity to do your part when Louisville hosts the tenth anniversary Farm Aid concert in Cardinal Stadium. Farm Aid President Willie Nelson will be joined on stage by co-founders Neil Young and John Mellencamp. In addition to these fine musicians, the hot bands Hootie and the Blowfish and BlackHawk will perform, as well as other acts to be announced as the day draws nearer. Tickets are currently available through TicketMaster and cost a mere $25. Don't wait to purchase your tickets because the capacity of 50,000 seats is expected to sell out.
You'll also want to attend the Ohio Valley Harvest Festival, the official kick-off celebration for Farm Aid '95, from noon to 6 p.m. Sunday, September 17, on the Belvedere. This festival is intended to create public awareness about Ohio Valley agriculture, encourage the buying and eating of fresh, healthy, locally-grown produce and to promote area chefs and growers. Over 50 local farmers will team up with area chefs to prepare farm-fresh dishes for p ublic taste-testing. Bluegrass performers Gary Brewer & the Kentucky Ramblers will provide entertainment and one or more Farm Aid '95 celebrities (which are to be announced) will appear.
Nelson recently stated, "We are proud to hold our 10th Anniversary Concert in the Bluegrass State. Kentucky is full of dedicated men and women who work hard to make a living on the land. This concert is a chance to remind the nation that the work of these and all family farmers is vital to America."
Kentucky Governor Brereton Jones said, "Agriculture remains the backbone of Kentucky's economy. We know first-hand the struggles facing families who are trying to make a living from the soil. Farm Aid has done an excellent job of shining a light into the dark comers where the problems facing family farmers are often hidden."
Farmers are very near and dear to Nelson's heart. He recently told me that he grew up in a small farming community in Texas where everyone was either a farmer or helped the local farmers. Nelson's title of Farm Aid President is not just a title either: Nelson personally signs every Farm Aid check distributed to farmers. He loves to meet and speak with farmers every day as he travels America!
Hats off to Willie, Neil, John and all others involved in helping the family farmer survive.
Other Live Country
If Farm Aid is not quite your speed, then I'm sure the lovely Connie Smith is. Smith went from being a small-town housewife to winning a local talent contest at Frontier Ranch near Columbus, Ohio. It was there that she met Bill Anderson, who encouraged her to come to Nashville to make demo tapes and in turn helped her land a recording contract with RCA Records. Smith will be performing two shows at the Shepherdsville Country Music Show on Sunday, October l, at 2 and 6 p.m. Performing along with Smith will be Rick Aiken & the Country Cookin' Band. Tickets are $10 and S12. The Shepherdsville Country Music Show is located on Highway 44m just two miles west of I-65._For more information, call 502-968-6358
Billy Ray Cyrus fans are in luck. The original "Achy Breaky Heart," Flatwoods, Ky's own Billy Ray will be performing at the Palace Theatre Friday evening, October 6. He'll be sure to perform hits from his multi-platinum and critically acclaimed albums, Some Gave All, It Won't Be The Last and his current release, Storm In The Heartland.
Hot New Country
All you country fans will want to rush out to your favorite local record store and pick up some hot new country. Alabama's In Pictures, which includes "She Ain't Your Ordinary Girl," is now available. Rodeo fans will want to pick up Chris LeDoux's new rodeo collection CD. George Strait fans won't want to miss his new 4-CD box set titled Strait Out Of The Box, which includes 31 number one hits as well as new and previously unreleased material.
Dolly Parton fans are in for a special treat when they pick up Something Special, which includes remakes of Dolly's 1970s smash hits "Jolene" and "I Will Always Love You," the latter as a duet with Vince Gill. Dolly has already taken this record-breaking tune to number one twice, once in the seventies and once in the eighties, while pop songstress Whitney Houston took it to amazing heights at number one for several weeks earlier in the nineties. It will be interesting to see what becomes of this version.
If you've fallen in love with Collin Raye's "One Boy, One Girl," then you can find this on his latest release, I Think About You. Lf you're as crazy about "Let's Go To Vegas" as I am, then you'll definitely want to rush out and pick up Faith Hill's It Matters To Me, the follow-up to her smash platinum debut Take Me As I Am And last, but certainly not least, Sawyer Brown fans will be able to quit wanting and soon have their latest, Wantin' And Havin' It All.
Well, that's it for now. Always remember: Keep yourboots sinned up and your hat on straight, 'cause country music is comin' your way.