This page was generated in 0.05 seconds.
September 1995 Articles
Cover Story
Bob Bahr
Features
Darrell Elmore
Bob Bahr
Columns
Berk Bryant
Robert Gruber
Decimus Rock
Mike Stout
Paul Moffett
Keith Clements
Todd Hildreth
Duncan Barlow
CD Reviews
Mike Stout
Darrell Elmore
Robert Gruber
Mike Stout
Kory Wilcoxson
Kory Wilcoxson
Robert Gruber
Bob Bahr
Bob Bahr
Michael Campbell
Allen Howie
Mark Clark
Bob Mitchell
William Brents
Robert Gruber
Allen Howie
Performance Reviews
Mike Stout
Mike Stout
Allen Howie
Ninette Shorter
Wally Stewart
Kevin Gibson
Calendar
Bob Bahr
News Item
Opinion
Photos
LASC
Earl Meyers
Jean Metcalfe
Paul Moffett
Bookmark Louisville Music News.net with these handy
social bookmarking tools:
Available RSS Feeds
- Top Picks
- Today's Music
- Editor's Blog
- Articles
Add Louisville Music News' RSS Feed to Your Yahoo!

Rocking and Rolling With Little Richard!
By Wally Stewart
Most longtime fans of old-time rock and roll have know and loved "Miss Molly" for many years. When Little Richart struted onto the Cardinal stadium stage August 18, in a sequined white suit and shouted "Good Golly ...!," those years vanished and a long love fest reunion was jump-started.
This was the first night and the first "free" concert of this year's Kentucky State Fair but it felt like the Rock and Roll Hall of Famer was in your living room, entertaining you and a few thousand of your close friends.
He and his powerful eight-piece band roared through classic songs "Lucille," "Jenny, Jenny," "Tutti Frutti" and others. At 62, Little Richard may not employ all of yesterday's flamboyant moves but his remarkable keyboarding and mighty voice still bring magic (Hearing him makes you wonder what might happen if he had the right producer one more time.)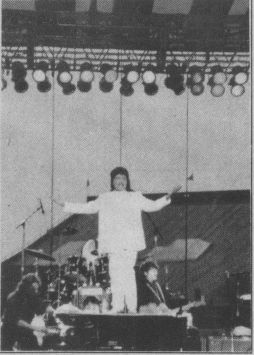 Kuttke Rucard atop his piano at the fair. Photo by Wally Stewart
This living legend showed continuous affection for the fans — teasing, using his trademark "Shut up," and three times bringing a dozen of them on stage to dance. As the band boogied on "Itsy Bitsy Spider," a 7-year-old boy and -girl hoofed on top of the grand piano.
The event concluded with a warp-speed version of "Long Tall Sally" that provided one last rocking celebration.
Little Richard has come a long way since his youth in Macon, Georgia, But the mutual love expressed this evening showed that he's still quite a peach.