September 1995 Articles
Cover Story
Bob Bahr
Features
Darrell Elmore
Bob Bahr
Columns
Berk Bryant
Robert Gruber
Decimus Rock
Mike Stout
Paul Moffett
Keith Clements
Todd Hildreth
Duncan Barlow
CD Reviews
Mike Stout
Darrell Elmore
Robert Gruber
Mike Stout
Kory Wilcoxson
Kory Wilcoxson
Robert Gruber
Bob Bahr
Bob Bahr
Michael Campbell
Allen Howie
Mark Clark
Bob Mitchell
William Brents
Robert Gruber
Allen Howie
Performance Reviews
Mike Stout
Mike Stout
Allen Howie
Ninette Shorter
Wally Stewart
Kevin Gibson
Calendar
Bob Bahr
News Item
Opinion
Photos
LASC
Earl Meyers
Jean Metcalfe
Paul Moffett
Blogs
Got Shows?
Send Them To Us
Bookmark Louisville Music News.net with these handy
social bookmarking tools:
Available RSS Feeds
- Top Picks
- Today's Music
- Editor's Blog
- Articles
Add Louisville Music News' RSS Feed to Your Yahoo!

Issue: September 1995
Brooks & Dunn / Mark Chesnutt / Wade Hayes
By Michael W. Stout
What better way to kick-start opening night of the Kentucky State Fair than a sure-fire triple-header consisting of multiple award-winning vocal duo Brooks & Dunn, Horizon award winner Mark Chesnutt and the hot newcomer Wade Hayes? And Freedom Hall was swarming on August 17 with cowboy hats, cowboy boots and some really, really big belt buckles.
Wade Hayes had the crowd roaring right out of the gate, blinding the audience with the reflection from his own "Old Enough to Know Better" belt buckle, celebrating his debut number one single. Hayes performed a brief (25 minutes) but vocally and instrumentally powerful set that left the crowd screaming for more. Singing hits from his debut album, including "Old Enough To Know Better," "I'm Still Dancin' With You," and "Don't Stop," Hayes graciously thanked the good Lord above, the fans and radio for helping fulfill his dreams by making his first two records number one hits right out of the box.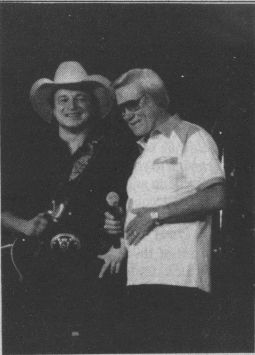 Mark Chesnutt, left, was joined onstage by George Jones. Photo by Michael W. Stout
Just as the crowd began to cool down from Hayes' set, Freedom Hall once again fell dark and Mark Chesnutt hit the stage with his recent country rocker "Going Through The Big D." He continued with hits such as "Bubba Shot the Jukebox," "Almost Goodbye," his current single "Down In Tennessee," and a new song titled "Trouble" from his forthcoming fifth album. Chesnutt was soft spoken during his 45-minute set, but couldn't have been more outspoken musically, being one of the most truly traditional, yet versatile, country boys out today. He's a no-frills kind of guy who loves to just get out there and sing and pick that guitar, with very little small-talk and a whole lot of classic country crooning. That's just fine, because he had a truckload of hits to squeeze into a short set.
And who made a surprise (even to Chesnutt) appearance'? None other than the "No-Show" man himself, George Jones. Jones made a brief and very well received appearance to announce the $10,000 winner of TNN's "Where's George?" contest in which viewers tried to guess at which one of five Mark Chesnutt concerts the Possum would appear. Jones came out just long enough to make him nervous, Chesnutt declared, but he recovered beautifully before tearing into his next tune.
To top off the evening, country met rock when the fireball duo Brooks & Dunn hit the stage, Appearing from behind two larger than life cow skulls while race cars roared across the video screens, B&D immediately tore into "Little Miss Honky Tonk." The duo continued to feed the fire during their 90-minute set with hits such as "Rock My World (Little Country Girl)," the foot-stompin' "Boot Scootin' Boogie," and the latest smash single from their number one Waitin' On Sundown album, "You're Gonna Miss Me When I'm Gone."
Ronnie Dunn tumed in a four-star performance, but Kix Brooks just wasn't quite up to par, especially on the Eagles' "The Best Of My Love." His fancy footsteps and crazy antics must have diverted the rowdy crowd's attention though, because they cheered just as loudly for him as they did for Dunn.
These two boys have the perfect chemistry for foolproof success: Dunn adds sweet, smooth, powerful vocals, along with some fine guitar licks, to this formula while Brooks adds the energy and entertainment, as well as vocals and some mean guitar, to create this musically ecstatic concoction. Anyone who walked into this concert a non-Brooks & Dunn fan surely must have walked out converted.