This page was generated in 0.05 seconds.
September 1995 Articles
Cover Story
Bob Bahr
Features
Darrell Elmore
Bob Bahr
Columns
Berk Bryant
Robert Gruber
Decimus Rock
Mike Stout
Paul Moffett
Keith Clements
Todd Hildreth
Duncan Barlow
CD Reviews
Mike Stout
Darrell Elmore
Robert Gruber
Mike Stout
Kory Wilcoxson
Kory Wilcoxson
Robert Gruber
Bob Bahr
Bob Bahr
Michael Campbell
Allen Howie
Mark Clark
Bob Mitchell
William Brents
Robert Gruber
Allen Howie
Performance Reviews
Mike Stout
Mike Stout
Allen Howie
Ninette Shorter
Wally Stewart
Kevin Gibson
Calendar
Bob Bahr
News Item
Opinion
Photos
LASC
Earl Meyers
Jean Metcalfe
Paul Moffett
Bookmark Louisville Music News.net with these handy
social bookmarking tools:
Available RSS Feeds
- Top Picks
- Today's Music
- Editor's Blog
- Articles
Add Louisville Music News' RSS Feed to Your Yahoo!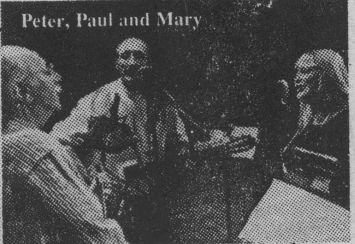 Peter, Paul & Mary
?>
Upcoming Live Music
By Bob Bahr
Having trouble keeping track of your musical calendar? We've decided to help you by supplying this handy-dandy September Music Checklist. Just marks the concerts you want to attend, clip, and save!
Things To Do
The Violent Femmes (Sept. 1, The Brewery).
College rock's early gateway to punk. Think "Blister In The Sun," "Add It Up," "Gone Daddy Gone."
New Duncan Imperials (Sept. 2 Butchtown Pub)
Sophisticated hillbilly party music for the Little Debbie-dependent.
Southern Culture On The Skids w/Bodeco (Sept. 2 Cherokee /Tewligans)
Greasy food, white trash rock and Link Wray.
George Thorogood and The Destroyers (Sept. 3, Coyote's)
Rock blues with a gravelly voice that inhabits those millimeters between a red neck and a blue collar.
Bobby "Blue" Bland w/Carence G. Carter (Sept. 8, Palace Theatre)
Authentic soul and blues from the masters
The Coctails (Sept. 15, Butchertown Pub)
They used to be lounge-y but now they're a bit more serious about their alternative rock.
Travis Tritt, Doug Stone and the Charlie Daniels Band (Sept. 16, Rupp Arena)
Road trip! Go to Lexington for country with definite rock influences.
Yer Girlfriend (Sept. 16, The Rudyard Kipling)
Hear 'em unplugged for this set.
The News Boys w/Josh McDowell (Sept. 20, Louisville Gardens)
Popular act that makes music with an agenda: Jesus.
Rocket From The Crypt (Sept. 21 Cherokee/Tewligans)
Loud guitars, in your face, not sweetly.
Cactus Brothers, Another Colour, Winston Hardy & The Roadmasters, Juggernaut Jug Band, Karen Dean (Sept 23, Baxter Ave. & Hepburn)
It's the Original Highlands Fest.
Floating Me, Supafuzz, Groovezille, The Galoots, Voodoo Love Taxi (Sept. 23, Butchertown Pub)
The Pub always seems to have at least one night that exceeds the maximum density for great acts.
Bob Rosenthal, New Horizon (Sept. 23, St. Francis of Assisi)
Music worth hearing at a parish picnic. Whatta concept!
Peter, Paul & Mary (Sept. 23, Palace Theatre)
These folks give folk a good name. "Puff The Magic Dragon," "Lemon Tree," "Leavin' on a Jet Place," "If I Had a Hammer" … get the picture?
Various acts (Sept. 23, Stagedoor Johnnies
It's the Harvest Showcase! Enter it! Attend it! It's for a good cause! It's organized by Chaz!
Kinghorse, Erchint (Sept.26, Butchertown Pub)
Those were the days, my friend. Punk of old, right here in 1995. Viva el Raton!