September 1995 Articles
Cover Story
Bob Bahr
Features
Darrell Elmore
Bob Bahr
Columns
Berk Bryant
Robert Gruber
Decimus Rock
Mike Stout
Paul Moffett
Keith Clements
Todd Hildreth
Duncan Barlow
CD Reviews
Mike Stout
Darrell Elmore
Robert Gruber
Mike Stout
Kory Wilcoxson
Kory Wilcoxson
Robert Gruber
Bob Bahr
Bob Bahr
Michael Campbell
Allen Howie
Mark Clark
Bob Mitchell
William Brents
Robert Gruber
Allen Howie
Performance Reviews
Mike Stout
Mike Stout
Allen Howie
Ninette Shorter
Wally Stewart
Kevin Gibson
Calendar
Bob Bahr
News Item
Opinion
Photos
LASC
Earl Meyers
Jean Metcalfe
Paul Moffett
Blogs
Got Shows?
Send Them To Us
Bookmark Louisville Music News.net with these handy
social bookmarking tools:
Available RSS Feeds
- Top Picks
- Today's Music
- Editor's Blog
- Articles
Add Louisville Music News' RSS Feed to Your Yahoo!

Issue: September 1995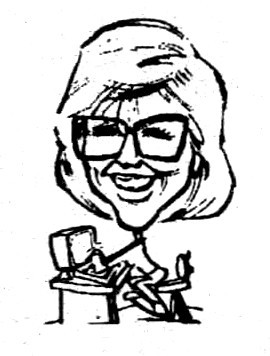 Newsical Notes
Help Me Rhonda
Ran into Rhonda Rainwater in Mike Linnig's '50s diner at the Kentucky State Fair on the 25th. She was sitting with her husband, Doug Smith, awaiting her turn at the karaoke stage inside the chow tent when my trio arrived to order up a meal of Linnig's tasty fish sandwiches. (The fish portions were so huge that I didn't get around to my favorite state fair activity: gorging on corn dogs.) Anyway, it was a kick to have Rhonda provide part of the dinner music as we sat at our umbrella table just outside the tent. Her selection of "Cry" prompted my husband to remark, "l haven't heard that one in a long time."
Thanks tor bringing that Johnnie Ray favorite back, Rhonda. And congratulations to you and Doug on your first wedding anniversary (which, if I'm not mistaken, was just a few days away when we saw you).
Party On, Wally!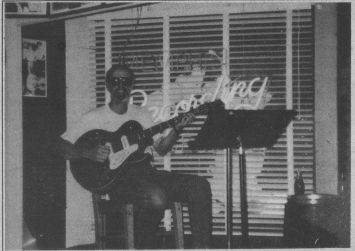 Wally Stewart in the window of the Sun Records Museum in PMemphis. Photo by a Little Old Lady From England
Wally Stewart, CPA (Certified Party Animal), is probably soaking up some jazzy sounds at the August 26-28 Rally's Jazz in Central Park even as I throw together this column. His recent conquests include the fabulous fair, the Nashville nightlife and the Beale Street blues.
And as we all know, he makes friends wherever he goes. The photographs he brought back—at least the ones we saw — didn't include any unidentified ladies, but since several of the shots were of the CPA himself, we know someone had to fake those pictures. Did you say something about "Two Women from England," Wally? (Hmm, sounds like a movie title.)
I like Wally's motto: "Never pass up a chance to have a good time." Check out the evidence in this issue of the LASC Letter.
Trapper's Got a Keeper
Young Trapper Michael recently advanced to the Coco-Cola Talent Classic Semi-Finals and was slated to sing one of his original songs during the August 18-20 contest at the state fair. Haven't yet heard the final outcome, but in our book Trapper's already a winnah!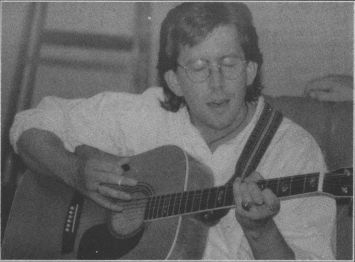 Ralph Sidway plays a tune at the guitar pull and song swap on July 17. Photo by Jean Metcalfe
Congratulations!
Layin' 'Em Down
Brooks Tucker has been working on a project at Vince Emmett's Melody Hill studio out in J'town recently. That guy's got a real fine voice and he's doing just what he oughta be dot lg.
Keep in touch, Brooks.
Guess Who She Saw
We had a note trom Clara Jacobs, a Seminar friend from Ohio, who caught honorary LASC member Alan Hhody in concert in Navarre, Ohio, recently. Said Clara, "He's a great songwriter, we knew, but he's also a wonderful performer. . . Can't wait tor his new CD." We agree, on all counts.
One on the Way
Linny Simkin, frequent Monday Night Open Stage host and now host of the Wednesday night Artist night at the Cherokee, recently passed along the news that she and spouse Jeff Jobson would be first-time parents sometime next April.
Congratulations, Linny!
Missing You
We sure have been missing all you backsliders at our member meetings. At the August 21 guitar pull there were almost as many new people present as there were members. One of them played and sang some really good songs and two joined the Co-op. (Welcome, Woody Fairchild and Dwight Smith.) Yes, we missed you, but we forced ourselves to have a good time anyway. See you on September 18. (Since September 4 is Labor Day, we're taking that night off.)
Songwriting Contest
Austin, TX — SONGWRITERS, GET YOUR DEMOS READY for Annual Songwriting Contest with cash prizes of $400, $200 and $100 in 5 categories: Country, Pop, Rock, Blues/Flap/Reggae/ Jazz and Singer/Songwriter. We also have 4 special categories: Tejano/Latin, Children's/Novelty, Religious/lnspirational and Adult Contemporary/M.O.R. Judging will be done by industry professionals and you do not have to be present to win. Entries must be postmarked no later than November 3, 1995. For more information and entry forms, write to the ASG Songwriting Contest, P.O. Box 2578, Austin, TX 78768, or call 512-338-1200.