September 1995 Articles
Cover Story
Bob Bahr
Features
Darrell Elmore
Bob Bahr
Columns
Berk Bryant
Robert Gruber
Decimus Rock
Mike Stout
Paul Moffett
Keith Clements
Todd Hildreth
Duncan Barlow
CD Reviews
Mike Stout
Darrell Elmore
Robert Gruber
Mike Stout
Kory Wilcoxson
Kory Wilcoxson
Robert Gruber
Bob Bahr
Bob Bahr
Michael Campbell
Allen Howie
Mark Clark
Bob Mitchell
William Brents
Robert Gruber
Allen Howie
Performance Reviews
Mike Stout
Mike Stout
Allen Howie
Ninette Shorter
Wally Stewart
Kevin Gibson
Calendar
Bob Bahr
News Item
Opinion
Photos
LASC
Earl Meyers
Jean Metcalfe
Paul Moffett
Blogs
Got Shows?
Send Them To Us
Bookmark Louisville Music News.net with these handy
social bookmarking tools:
Available RSS Feeds
- Top Picks
- Today's Music
- Editor's Blog
- Articles
Add Louisville Music News' RSS Feed to Your Yahoo!

Issue: September 1995


Bluegrass Beat
The Fall of Bluegrass
Is it really September? School is in, summer is gradually beginning to exit the stage and fall/autumn is coming into sight with all of the wonderful fall events that manifest themselves. Sounds like something to look forward to and it is. It is! I love summer but I do welcome autumn and what it has to offer. I know it sets the stage for winter and that can certainly be anticipated with mixed emotions. Winter does have a redeeming value, however and that is to set the stage for spring, thus completing the cycle.
Strictly Bluegrass Festival
Now that we have come full circle we are back to September. Gary Brewer is getting last-minute yeas or nays for the Iroquois Park Strictly Bluegrass Festival the 8th and 9th. As of this writing, this is a tentative, partial lineup: Bluegrass Cardinals, Gary Ferguson, Gary Brewer, Vince Combs, The Sullivan Family and Jim & Jesse (IF) — if J&J can arrange the proper schedule at a date they are playing just ahead of this that will enable them to make it here in time. And of course Gary and the Ramblers will be there.
Once more, as I was told, this is not the complete lineup, which was still being worked on to confirm dates, availability, etc.
Down the Pike, Around the Corner
If this is September, October is in sight and with October comes Shepherdsville. I don't have anything firm on their Friday night bluegrass shows, schedule-wise, as yet. Do know that Randall Hylton and the Sand Mountain Boys are scheduled in October. Also to look forward to during the BG season out there will be Larry Sparks, Ralph Stanley, Doyle Lawson and many other top-of-the-line bluegrass greats.
Tennessee Keeps Calling Me.
October also means the Tennessee Fall Homecoming at The Museum of Appalachia, Norris, Tenn. Those of you who have been following this column or my Sunday Bluegrass show on WFPL these past few years will already be pretty familiar with most of this information. For those of you who are somehow hearing/reading this for the first time, read closely and re-read for retention.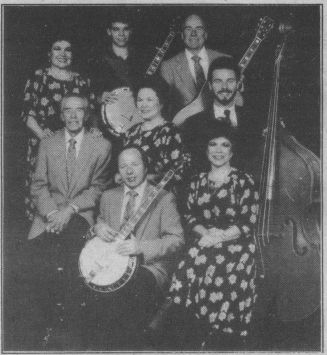 The Lewis Family
This event has been voted as one of the Top 100 Events in North America by the American Bus Association and chosen one of the Top Twenty October events in the Southeast by the SE Tourism Society for eight consecutive years. This information from the 1995 brochure: October 12-15. Music starts at 9 a.m. on three stages and does not stop until dark.
Among the headliners are Bill Monroe (Thurs. only, noon and 4 p.m.); Grandpa Jones and Ramona (T—S); John Hartford (Saturday only, 11 a.m. and 1:30 p.m.); Bill Carllsle (Sunday); Mac Wiseman (F-S), Raymond Fairchild and others. There are many other great entertainers, such as The (Bill) Stewart Family, The Lantana Drifters, The Old Time Music Group, Roy Harper, Marilyn Powell-Greene, Leroy Troy (all of these heard on my show regularly) and so many others that are not so well known but great groups nonetheless.
Oh, Oswald will be there also.
There is one of the best displays of arts and crafts, exhibits and demonstration that I know of. This is a glowing example of a you-can 't lose–or–go–wrong event for the entire family; three-four generations, all there for the same reason and all there to enjoy this event together. How many events of this kind — family-oriented — do you know of and how often? Don't miss it; I hope to see you there. Many folks I have talked to this year have said, "We'l1 see you there."
Bluegrass Rap? And More Surprises.
I obtained and played a number on my show this past month that evoked more immediate response and inquiries than any one number I have used on the show. Something new by a new group? Absolutely NOT! The set-up the performer says: "I've only been doing this 65 or 30 years." I call it Rap before Rap was ever thought of as such.
Immediate calls were something to the effect: "Where did you get that?" "I haven't heard that since I was five years old.,""l haven't heard that for fifty years." "Where or how can I get a copy of that?" In answer to those questions, call me on Sunday nights between 8:30 and 11 at (502) 574-1753 and I will give you all of the details. It can be made available.
What was this fantastic number?, you ask. "The Original Talking Blues" by Robert Dunn. A real bonus with this is that it appears to have been done with backup from the Jug Band, a.k.a. The Smokey Mountain Boys.
I also played something by DeFord Bailey, harmonica player and the first black on the Opry. DeFord was a member of the Opry back in the '30s. I hope to have another "surprise" old-timer in the near future. Stay tuned.
Get Well, John and Janis.
Prayers and sincere best wishes for recovery to John Gage, who is on the mend (which will take some time and patience, John) from a July heart attack. Also for Janis Phillips of the Lewis Family. Janis recently had a "thing" about the size of a pecan removed from her neck. Tests were to be run and I have heard nothing further at this time.
Happy Birthday, Pop!
Speaking of the Lewises, Pop is having a big birthday on September 10. It won't take much on our part and it will mean MUCH to Pop, to send him a card. How big is this milestone? it's his 90th. And if I recall correctly, Mom and Pop will celebrate their 70th wedding anniversary this fall. Bless you both and thanks from all of us, Mom and Pop Lewis, for such a wonderful family and all of the great, great bluegrass/gospel music all this Lime. KEEP IT COMING!