This page was generated in 0.05 seconds.
September 1995 Articles
Cover Story
Bob Bahr
Features
Darrell Elmore
Bob Bahr
Columns
Berk Bryant
Robert Gruber
Decimus Rock
Mike Stout
Paul Moffett
Keith Clements
Todd Hildreth
Duncan Barlow
CD Reviews
Mike Stout
Darrell Elmore
Robert Gruber
Mike Stout
Kory Wilcoxson
Kory Wilcoxson
Robert Gruber
Bob Bahr
Bob Bahr
Michael Campbell
Allen Howie
Mark Clark
Bob Mitchell
William Brents
Robert Gruber
Allen Howie
Performance Reviews
Mike Stout
Mike Stout
Allen Howie
Ninette Shorter
Wally Stewart
Kevin Gibson
Calendar
Bob Bahr
News Item
Opinion
Photos
LASC
Earl Meyers
Jean Metcalfe
Paul Moffett
Bookmark Louisville Music News.net with these handy
social bookmarking tools:
Available RSS Feeds
- Top Picks
- Today's Music
- Editor's Blog
- Articles
Add Louisville Music News' RSS Feed to Your Yahoo!

Rite of Strings LPS Summer Closer
By Ninette Shorter
In a room large enough to accommodate big egos if they'd brought them, three of the greater lights of jazz fusion shone upon the stage of KCA's Whitney Hall the night of August 9. This was the first show of the Rite of Strings American tour and the last of the summer's Lonesome Pine Specials.
Rite of Strings is an acoustic string trio formed by Jean-Luc Ponty, violinist; Al Di Meola, guitarist; and Stanley Clarke, bassist, all renowned artists who've spent prolific years leading their own bands and blurring jazz-rock boundaries. Devotees will know Clarke and Di Meola from Chick Corea's Return to Forever and Ponty from Frank Zappa's Mothers of Invention and John McLaughlin's Mahavishnu Orchestra, all '70s bands that pushed musical envelopes and from which these virtuosos emerged to make their own marks.
There's a beautiful audacity in pooling three prodigious talents into such a pared-down ensemble. Getting to hear this triad of creative jazzy rocker fusion gods, together for the first time and in a nearly naked acoustic setting no less, seems an opportunity not to be missed. But there are no guarantees with these kinds of things that look great on paper . . . no guarantees that it will be anything more than three prodigious talents playing at each other on the same stage.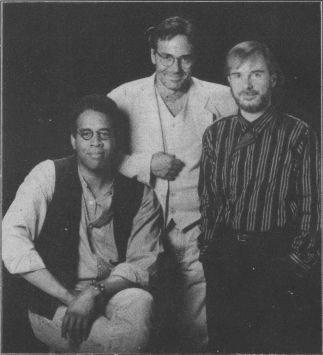 The Rite Of Strings
This trio made it work This was no contest to fill space, Throughout the show there was a definite sense of collaboration, even communion, with things happening musically that blossomed from the interplay. They played off each other gracefully. There was ignition. These accustomed leaders passed around lead and accompaniment quite naturally, giving both the other musicians and the music room to grow.
Yet they were somehow able to also celebrate their individual abilities, with no egotistical hot-dogging, lots of artistry and a touch of beginning-of-the tour rawness in the mix. A sense that the three felt their collaboration was primary, themselves secondary. No hidden agendas.
The set consisted mainly of selections from the Rite of Strings CD that recently landed in Louisville racks, mostly new works written by the members specifically for the acoustic trio. Clarke's 20year-old "Song to John," dedicated to John Coltrane, opened the set and set the mood.
Ponty and Di Meola used some electronics to add light effects to their sound, Ponty playing around with a bit of gadgetry to echo his lines and Di Meola MIDIing his guitar to get a percussive steel-drummish sound in a few spots. Clarke played upright bass with phenomenal ease and speed, funking and grooving as if on electric, exuding charm all the while. The trio's overall sound was crisp and alive, their instruments' voices full of power that was never overused.
Each trio member had his time alone on stage to solo, perhaps the safety valve that allowed them to connect as an ensemble. Ponty's cosmic background got some air time, Di Meola got to show his blazing versatility and world-music influences and Clarke got it on with his bass and the audience.
The groovinest number of the night was the encore, a most excellent choice to bring people to their feet, "Renaissance."
During the set, Di Meola dedicated "Morocco" to Jerry Garcia, who 'died in California earlier the day of the concert.