This page was generated in 0.06 seconds.
September 1995 Articles
Cover Story
Bob Bahr
Features
Darrell Elmore
Bob Bahr
Columns
Berk Bryant
Robert Gruber
Decimus Rock
Mike Stout
Paul Moffett
Keith Clements
Todd Hildreth
Duncan Barlow
CD Reviews
Mike Stout
Darrell Elmore
Robert Gruber
Mike Stout
Kory Wilcoxson
Kory Wilcoxson
Robert Gruber
Bob Bahr
Bob Bahr
Michael Campbell
Allen Howie
Mark Clark
Bob Mitchell
William Brents
Robert Gruber
Allen Howie
Performance Reviews
Mike Stout
Mike Stout
Allen Howie
Ninette Shorter
Wally Stewart
Kevin Gibson
Calendar
Bob Bahr
News Item
Opinion
Photos
LASC
Earl Meyers
Jean Metcalfe
Paul Moffett
Bookmark Louisville Music News.net with these handy
social bookmarking tools:
Available RSS Feeds
- Top Picks
- Today's Music
- Editor's Blog
- Articles
Add Louisville Music News' RSS Feed to Your Yahoo!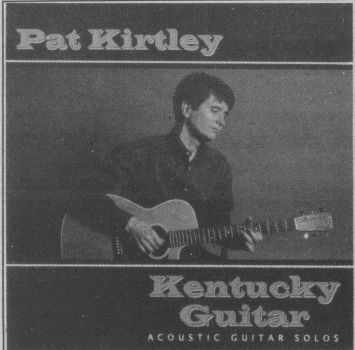 Kentucky Guitar (Mainstring Music)
Pat Kirtley
By Bob Mitchell
A box of Cracker Jack(s) has a surprise in every box. Pat Kirtley's recording has a surprise in every song! Kentucky Guitar is 41 minutes of some of the best solo acoustic guitar work you will hear. There are five traditional and 11 original tunes played on guitars by Martin, Kirk Sand or Yamaha, each with a distinctive sound. To make things more interesting for us, he also uses five different tunings. At times you will believe you are hearing more than one instrument but the music was recorded live to digital with no overdubs.
Several years ago I was at the annual Kentucky Music Weekend when a young guitar player blew me away. Until now, I could not remember his name. However, as I listened to "Old Joe Clark" I realized who that someone was. It was Pat. (He was great then and he is even better now!) If you play guitar, this set of tunes will make your fingers weep. But whether or not you are a guitarist, "PK" will provide hours of auditory pleasure. The recording is like a certain kind of potato chip. Except in this case we need to say "you can't listen to only one play."
Pat is an exceptional artist who deserves to be heard. My guess is that you will be hooked after the first 40 seconds of the initial cut, "Cedar Creek Rag." This is a splendid example of the thumb-picking style popularized by another Kentuckian, Merle Travis. Kentucky Guitar is a wonderful mix of slow and uptempo songs, some of which will reflect a deep respect for Chet Atkins and Jerry Reed. Additionally, songs such as "Friends," "Fanny Durbin" and "Wasn't It You" showcase other styles of playing.
My personal favorites are "Uncle Rufus," "Ripplin"' and "16 Tons." After a few listenings, you will also have favorites. I suggest you buy two copies because you will wear one of them out. worn out. So get to your favorite music store and order a copy or write to Pat Kirtley, 214 North Third Street, Bardstown, KY 40004. You won't go wrong with this one.