This page was generated in 0.05 seconds.
September 1995 Articles
Cover Story
Bob Bahr
Features
Darrell Elmore
Bob Bahr
Columns
Berk Bryant
Robert Gruber
Decimus Rock
Mike Stout
Paul Moffett
Keith Clements
Todd Hildreth
Duncan Barlow
CD Reviews
Mike Stout
Darrell Elmore
Robert Gruber
Mike Stout
Kory Wilcoxson
Kory Wilcoxson
Robert Gruber
Bob Bahr
Bob Bahr
Michael Campbell
Allen Howie
Mark Clark
Bob Mitchell
William Brents
Robert Gruber
Allen Howie
Performance Reviews
Mike Stout
Mike Stout
Allen Howie
Ninette Shorter
Wally Stewart
Kevin Gibson
Calendar
Bob Bahr
News Item
Opinion
Photos
LASC
Earl Meyers
Jean Metcalfe
Paul Moffett
Bookmark Louisville Music News.net with these handy
social bookmarking tools:
Available RSS Feeds
- Top Picks
- Today's Music
- Editor's Blog
- Articles
Add Louisville Music News' RSS Feed to Your Yahoo!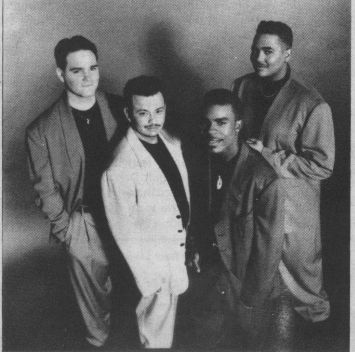 All-4-One
vocal foursome succeeds again
And The Music Speaks (Blitzz/ Atlantic)
All-4-One
By Michael W. Stout
All-4-One, the magically harmonious pop/R&B/soul foursome, exits the ring victorious, arms waving high in the air, as And The Music Speaks successfully overcomes the awesome feat of following up this group's smash self-titled debut album. You may have thought their debut album was just too good to be true, but this sophomore effort proves that these four young men have a rare and highly coveted talent, one that is truly genuine. As long as they keep making albums like this, All-4-One will have a place in music.
Throughout the course of this twelve-cut gem, these guys take the listener on a musical journey from sweet and tender ballads such as "I'm Sorry" and "These Arms," to the sock-hop style "Could This Be Magic," to the grooving beat of songs such as "Love Is More Than Just Another Four-Letter Word." And once again, All-4-One takes a smash country ballad sung by country heartthrob John Michael Montgomery and customizes it to fit their four-part harmony — and it fits like a finely tailored Armani suit. Their debut album included "I Swear" (which was a number one hit on both the country and pop charts) and this latest effort includes Montgomery's tender love song, "I Can Love You Like That."
This CD includes a minimal amount of instrumentation. What is there is quite effective, yet entirely unnecessary. All-4-One manages to create music as sweet as any instrument could with just their vocal harmonies. This one's a little bit of heaven on earth. Listen to hear how "the music speaks" for itself.