September 1994 Articles
Cover Story
Darrell Elmore
Features
Staff
Columns
Berk Bryant
Jim Galipeau
Rick Cain
Paul Moffett
Keith Clements
Todd Fuller
Darrell Elmore
Duncan Barlow
CD Reviews
Bob Bahr
John Goodin
Kevin Gibson
Mark Clark
Kory Wilcoxson
Kory Wilcoxson
Bob Bahr
Michael Campbell
Allen Howie
Allen Howie
Kory Wilcoxson
Michael Campbell
Performance Reviews
Wally Stewart
Jan Winders
Bob Bahr
Ninette Shorter
Beverly Howell
William Brents
Interviews
Bob Bahr
Calendar
Preview
Bob Bahr
Photos
Staci Core
LASC
Paul Turner
Staci Core
Jean Metcalfe
Paul Moffett
Blogs
Got Shows?
Send Them To Us
Bookmark Louisville Music News.net with these handy
social bookmarking tools:
Available RSS Feeds
- Top Picks
- Today's Music
- Editor's Blog
- Articles
Add Louisville Music News' RSS Feed to Your Yahoo!

Issue: September 1994
Jimmy Raney Tribute Concert at Bellarmine
By Bob Bahr
Four acclaimed jazz guitarists honored their friend, jazz legend Jimmy Raney, with a tribute concert Aug. 22 at Bellarmine College's Wyatt Hall. Attila Zoller, Steve Rochinski, Jeff Sherman and Scott Henderson played tunes with special significance to Raney during the solemn two-set performance. Raney is struggling to recover from a stroke he suffered last spring.
The event was the brainchild of Jeff Sherman, a guitar teacher and experienced performer based at Bellarmine College. Rochinski, who teaches at the Berklee College of Music in Boston, and Zoller, who contributes to jazz clinics and performs throughout the country, came to Louisville last month to be with Raney during his recent 67th birthday. Sherman said that when the guitarists realized a jam session was imminent, they decided to formalize it and honor their ill colleague. Henderson, who has played many duo dates with Raney in the past, joined the others for the moderately attended show.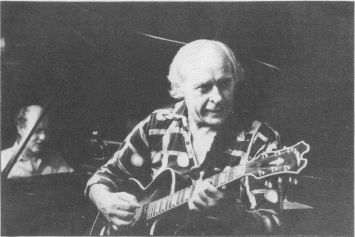 Atilla Zoller
Sadness pervaded the theater.
"We didn't think it would be right to do anything too cheerful, with Jimmy not doing well," Sherman said after the show. "We considered doing "Happy Birthday" for him calypso-style, or with a swing. But we decided against it."
Instead, the audience heard songs such as J.J. Johnson's "Lament," an already down tune played with poignant emotion by an unaccompanied Zoller. Sherman's turn at a solo piece brought an equally touching "Elegy for Ray Parker," which was written by Raney on the occasion of an artist-friend's death.
The show had its uptempo moments. "My Shining Hour" by Harold Roberts blistered by with Henderson at the helm and bassist Tyrone Wheeler providing torrid dashes of heated melodies and fat plucks of emphatic accents. Henderson ably illustrated his credo of "make it look easy," playing boiling, single-line melodies with fluid speed. Only a spirited but restrained "Billie's Bounce" matched that pace. Tim Turner handled drumming duties professionally, reacting carefully to each guitarist and bridging the gap between Wheeler's adventurous playing and some more traditional methods, particularly Rochinski's.
During the course of the evening, Sherman showed his mastery of subtle dynamics, stressing certain parts and elements with an understated grace. Rochinski proved that playing fast bop lines doesn't necessarily mean sacrificing a breezy and calm demeanor. Zoller, a contemporary of Raney, delivered some of the most memorable improvised melodies, giving Rochinski a run for his money. Henderson, as always, was engaging and brilliant. His duet with Rochinski on "Indian Summer" nearly captured the magic generated by live Raney-Henderson duets. The effect was like two creative, proficient painters working the same canvas, and producing something tasty and transient.
Other highlights included Sherman and Henderson's poignant duet on Raney's "Jonathan's Waltz," and Henderson's workout with Wheeler and Turner titled "I Wish I Knew."
The concert began and ended with all the players on the stage, trading solos and honoring Raney with "Motion" and, fittingly, "There Will Never Be Another You." Like the man in everyone's heart that night, the music was sweet and beautiful.