September 1994 Articles
Cover Story
Darrell Elmore
Features
Staff
Columns
Berk Bryant
Jim Galipeau
Rick Cain
Paul Moffett
Keith Clements
Todd Fuller
Darrell Elmore
Duncan Barlow
CD Reviews
Bob Bahr
John Goodin
Kevin Gibson
Mark Clark
Kory Wilcoxson
Kory Wilcoxson
Bob Bahr
Michael Campbell
Allen Howie
Allen Howie
Kory Wilcoxson
Michael Campbell
Performance Reviews
Wally Stewart
Jan Winders
Bob Bahr
Ninette Shorter
Beverly Howell
William Brents
Interviews
Bob Bahr
Calendar
Preview
Bob Bahr
Photos
Staci Core
LASC
Paul Turner
Staci Core
Jean Metcalfe
Paul Moffett
Blogs
Got Shows?
Send Them To Us
Bookmark Louisville Music News.net with these handy
social bookmarking tools:
Available RSS Feeds
- Top Picks
- Today's Music
- Editor's Blog
- Articles
Add Louisville Music News' RSS Feed to Your Yahoo!

Country Style
By Jan Winders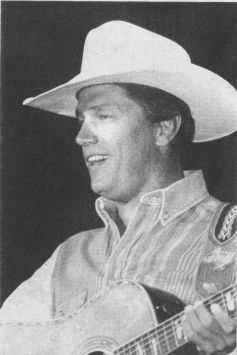 George Strait sang at the Start Fair on August 20. Photo by Letha Marshall
This month's deadline caught me in the middle of the Fair with four more concerts to go, but I know if they are as good as the first ones I can handle it. So far, so good. Working at the WAMZ booth during the day I have met so many readers. I really have enjoyed talking to you, guys.
Well, does anyone want to hear the latest? Travis Tritt is supposedly coming to Louisville in October. Lee Roy Parnell and Joe Diffie are on the same tour. Can you imagine these guys performing together? PARTY!
It has finally happened, people. Country Music Television (CMT) is now being offered in our area. I have been hollering about this for two years. I guess I have worried the stuffings out of TKR Cable. But it isn't TKR that will be bringing CMT to us; there's a new kid on the block: American Telecasting of Louisville, a wireless cable company in our area. I was talking to these guys at the Fair and got so excited about their cable system I just had to tell all of my country readers who have been waiting for CMT for so long.
Well, I've finally listened to the entire Crystal Ball CD. It was produced by Charlie Walls of Music Man Records, and it's another showing of the unheralded talent in the area. I enjoyed some of the more traditional material that you don't hear as often as you used to. I think you will enjoy it. Karen Kraft and our old buddy Ron Peake and the Other Smothers Brothers are some of the familiar voices you will enjoy listening to. It could be stamped pure country with a lot of flavor! Buy it. I really think you will enjoy it.
The Father of Bluegrass, Bill Monroe, has had his share of heartache in the past year. In '93 he injured his arm and a few months ago he fractured his hip. Debts recently forced him to put his 288-acre farm up at auction. This little fella was heartbroken. The ending of the story says there are still a few people out there with a heart. The owner of the Grand Ole Opry, Gaylord Entertainment, bought Mr. Monroe's property -- under one condition, that is. Bill had to promise to live in the $300,000 (the purchase price) rustic log cabin home until the day he dies.
I heard a lot of positive things about BlackHawke Xpress at the Fair. They must be winning over a lot of new fans. Good goin' guys! Winning the WAMZ band contest didn't make this very difficult for them, I would think.
Until the next time, keep it country!
•
Some Gave Too Much?!
While I was in Nashville for this year's Fan Fair I had an opportunity to interview Kari Reeves, daughter of Opry star Del Reeves.
Kari has written a book about Billy Ray Cyrus' personal and professional life, detailing the making of a megastar. She says his fans want to know everything about the man.
According to Kari, she and Billy Ray first met when he came to her office for an interview at Del Reeves Productions, where she worked with her father, Grand Ole Opry star Del Reeves. Kari ended up running the company, and spent her time helping others make their dreams come true.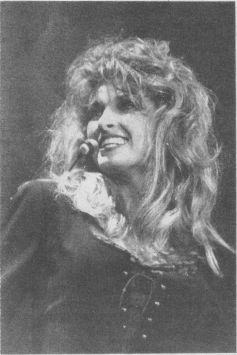 Linda Davis was at the Kentucky State Fair on August 18 with Reba McEntirn. Photo by Letha Marshall
Billy Ray was a married man struggling for fame when the two met, Kari said, and while working together to mold his career, they experienced a powerful attraction to one another. As Billy Ray's career skyrocketed and his fame spread through coverage in every magazine and newspaper in the U.S., the two became lovers, she further said.
Kari's book, "Some Gave Too Much" (Billy Ray's runaway debut album is titled Some Gave All) is a very detailed story of love, passion and fame.
Kari says she's not trying to demean Billy Ray, but rather is just giving his fans an opportunity to know the real Billy Ray and what a sweet, warm-hearted person he really is. She sets out to accomplish this through detailed stories and accounts of heart-warming events they shared.
This beautiful gal with a bubbly personality tells all in her book. I would suggest that parents of young teen-agers read the book before deciding whether to let their children read it.
"Some Gave Too Much" is published by Eggman Publishing, Nashville, Tenn. A check of several area bookstores indicated that sales of the book are good.
(There has been a great deal of controversy surrounding the role of the Reeves family in the career of Billy Ray Cyrus. Louisville Music News has not read Ms. Reeves' book nor can it attest to the veracity of the book's contents. -- Editor.)