September 1994 Articles
Cover Story
Darrell Elmore
Features
Staff
Columns
Berk Bryant
Jim Galipeau
Rick Cain
Paul Moffett
Keith Clements
Todd Fuller
Darrell Elmore
Duncan Barlow
CD Reviews
Bob Bahr
John Goodin
Kevin Gibson
Mark Clark
Kory Wilcoxson
Kory Wilcoxson
Bob Bahr
Michael Campbell
Allen Howie
Allen Howie
Kory Wilcoxson
Michael Campbell
Performance Reviews
Wally Stewart
Jan Winders
Bob Bahr
Ninette Shorter
Beverly Howell
William Brents
Interviews
Bob Bahr
Calendar
Preview
Bob Bahr
Photos
Staci Core
LASC
Paul Turner
Staci Core
Jean Metcalfe
Paul Moffett
Blogs
Got Shows?
Send Them To Us
Bookmark Louisville Music News.net with these handy
social bookmarking tools:
Available RSS Feeds
- Top Picks
- Today's Music
- Editor's Blog
- Articles
Add Louisville Music News' RSS Feed to Your Yahoo!

Issue: September 1994
Songwriter of the Month
Ray Burden By Paul M. Moffett
Louisvillians of a certain age might remember a regional hit out of Philadelphia called "Be My Honey Bee," sung by the duo of Wayne and Ray. Ray Burden certainly does; he was the Ray half of the duo.
"We were playing sock hops with Fabian then," Burden said. "We were set to record 'Twistin' USA,' a tune that Bobby Rydell eventually did."
Burden began playing guitar and singing at age twelve and wrote his first song then. That first step lead him to a staff position with Pamper Music.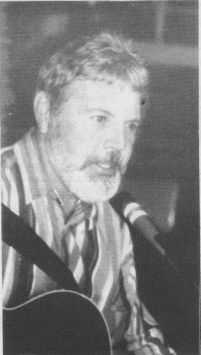 Ray Burden
"That was when Willie Nelson, Harlan Howard and Hank Cochran were around," Burden recalled.
He left Pamper Music when the opportunity came to record for Hal Smith's Gaylord Records in Philadelphia. It was in Philadelphia that the Wayne and Ray duo began, when Burden teamed up with Wayne Johnson and cut "Be My Honey Bee," which was written and produced by Shorty Long of RCA Victor and released on Mutual Records.
Then came the call that short-circuited many a career: a draft notice. In the early Sixties, doing anything other than showing up when and where ordered by the draft notice was nearly unthinkable. He reported.
"When I got out, music had changed," Burden said. "The Beatles and all that happened."
The Butler County native left the music business then and took a day job to earn a living and support his family. He is now a truck driver. His partner Wayne went on to play with Pee Wee King.
Recently, however, Burden has begun to write again, to see "if I still have it."
He has been bringing in writes and re-writes for critique and played on the August Showcase.
Burden has also had news lately that Tree Publishing, which bought Pamper Music, had renewed a couple of his tunes, although he has no word on any possible cuts.